News & photos from St Vincent (& Canouan & Bequia)

The Talulah's Web Diary
Ali Pery / Shane Warriker
Thu 25 Feb 2010 00:29
13:07.922N 61:12.102W
So on Friday 19th we eyeball navigated our way through the reefs on the east side of Canouan and anchored after a couple of hours, in 1.5 metres of crystal clear water, with not another boat in sight.  It was heaven, and despite the wind picking up, and the swell and rolling, we decided to stay overnight.  It was too good to leave.  We swam, snorkelled, played harmonicas and Perudo (an addictive dice game)….
The following day we had a fast (9 knots!) but lumpy 3 ½ hour sail to Friendship Bay on the south of Bequia Island where we BBQ'd on the beach and gorged on the most fantastic beef and lamb – a rareity, so we really stuffed ourselves!  On Sunday 21st it was around the headland and back to Admiralty Bay, where we ran into our friends "Luturna" and headed over to L'Auberge to listen to long-term live-aboards Stan and his wife play the Blues … Carol and Shane ate lobster. I didn't.  On Monday we sailed up north back to Young Island Cut, St Vincent.  Carol wanted to cook us her last meal aboard, and so had stocked up with lovely fresh veggies and tuna fish.  A few hundred yards from Young Island, the fishing lines we were trolling sprang to life, and as we tried to slow the boat down, Shane hauled up our first tuna!!  Oh sweet tuna, so meek and mild, with big innocent eyes, a joy after the menacing barracuda of the last few weeks.   Carol cooked up a feast, after we nibbled sashimi and seared tuna, we had our last night together in style.
We met a local, Ivan, who drove us to the airport to collect Carol on our previous trip to St Vincent, who then came and found us in Bequia, where he was sailing. He told us we could use his mooring in Young Island Cut. (It is impossible to anchor here). This has been fantastic, and saved us some $, and it has also meant that the locals and boat boys are keeping an eye on the boat whilst we are inland. (Sadly St Vincent has a pretty bad reputation now for yacht crime).
On Tuesday we took Carol to the airport.  It was such a sad farewell.  We so loved having her with us and I'll miss her terribly.  It is now Wednesday 24th, and we have taken Talulah around to Blue Lagoon to fill up with diesel and water (St Lucia has banned yachts taking on water due to the drought), we have been to the airport to "check out" of St Vincent & The Grenadines, we have done our laundry, bought food, and cleaned the boat … its hot and humid and still we persevered!
Tomorrow, Thursday 25th Feb, we are up at 5am for hopefully a day sail up to St Lucia.
It couldn't get better than this… we anchor in 1.5 m in the lagoon off reefs east side of Canouan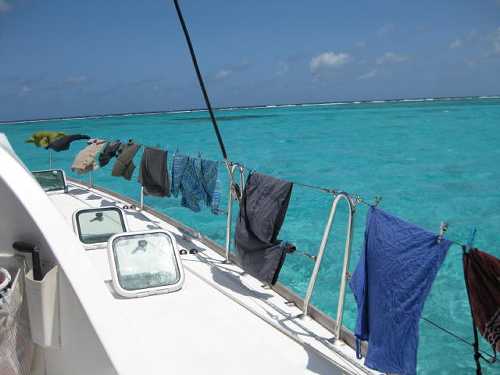 The wash day blues take on a whole new meaning….…
Shane dives for an empty conch shell
Shane preparing the tuna, in Young Island Cut, St Vincent
---