Getting ready to leave the Azores today + Bull running Photos

The Talulah's Web Diary
Ali Pery / Shane Warriker
Thu 24 Jun 2010 12:37
… And so sadly our adventure in the Azores is coming to an end. The weather looks good and the time is right to cast off our lines and start the final ocean passage back to England, although we could happily stay here for a very long time. We expect to cast off later this afternoon and with all things going well, we'll be back in Falmouth (our departure point from English waters a year ago) in about 10 – 12 days time.
Jon's wife, Kate, joined us on Sunday, and we have spent the last few days revelling in the annual festival here in Angra …. Music and dancing every night, costumed parades around the streets, and bands playing from one of many marquees dotted around the town (the largest and loudest and latest of which is only a few yards from where Talulah is berthed!) Last night was the "all night long" part of the festival, so a couple of sore heads on Talulah this morning.
We also hired a car for a couple of days and drove around the island (again we chose a wet and foggy day!) and explored the amazing caves: Algar do Carvao and Natal, the latter of which required crawling around on all fours wearing hard hats.
We had very mixed feelings about the bull running, though it is a huge local event, and the whole island congregates to cheer on both bulls and those crazy enough to take part, it was largely a rather benign affair with most of the bulls looking a bit bewildered as to what was expected of them. There was very little injury caused to man and even less to beast, and at the end of each run, the bulls seemed perfectly content to trot back into their transport crates. We've seen it now and it's not really something we'd like to see again but we couldn't really fault the treatment of the bulls.
We've been thoroughly impressed by the locals, who've been wonderfully friendly, and welcoming. We think this is mainly due to a rather underdeveloped tourist industry, which helps maintain an air of innocence about the whole place, which is also a welcome change after the more aggressive nature of the Caribbean.
The view of Angra do Heroismo, Terciera, from our Marina Berth.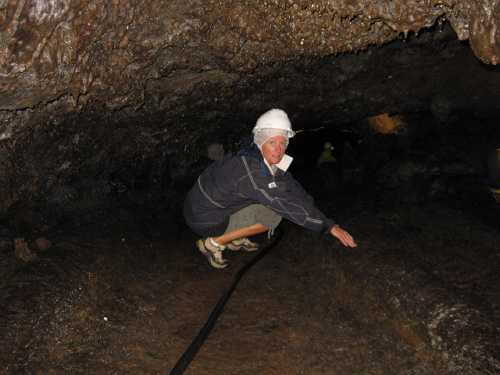 Gunk holing through the caves / lava tubes at Gruta De Natal (Christmas Caves), so called because of the church service held in them at Christmas.
Crazy Fools!! One bull running at them certainly makes a crowd scatter,
Although some of the bull dodgers were very nimble.
…and again.
At last… score 1 for the bull! The ambulance carries off the only casualty we saw.
All Terrain Bovine. Even these blokes on their raft weren't safe.
A far more sensible option. Our vantage point from on top of a shipping container with Gerry (Per Mare).
---