More news & photos, Grenada

The Talulah's Web Diary
Ali Pery / Shane Warriker
Wed 20 Jan 2010 22:22
We stayed anchored in Prickly bay for longer than planned as Shane had developed a nasty infection in his leg which spread around his body and required a few hospital visits and some serious drugs…. He is now fully recovered and very relieved. As am I. We celebrated by cooking a fresh (he had a good walk around the boat first) lobster, bought from a passing fisherman.
So on Sunday 17th we moved around the corner, a short hop away, to anchor off Hog Island, South Grenada, which consists only of Roger's shack bar tucked into the mangroves on a white coral sand beach, and that's it. We caught up with a few friends we met in the Canaries and Barbados, (Alex & Daria "Aleria", Andy & Sue "Spruce", Russell & Laura "Luturna"), made a few more, explored the surrounding bays in the dinghy, dinghied up to the beach in the afternoon for bbq, and simply chilled for a couple of days in a beautiful protected anchorage, where we were able to anchor just yards from the beach.
Yesterday we reluctantly realised we needed to tie up in a marina for a couple of days to get on top of boat problems. Everything seems to be breaking down, and her hole really needs filling, and we need water and provisions. So here we are, after a 3 hour sail, reef dodging all the way, in Port Louis, St George's, Grenada …. We have power, water and have already started repair work …
Iggy Pop the iguana – too cute to eat, (they do!), strolling past Talulah in Port Louis, St George's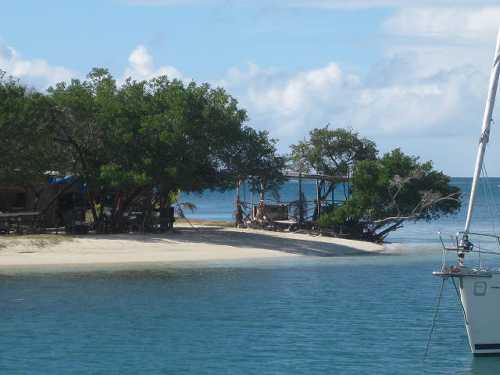 Anchored at Hog Island – view from Talulah - and Roger's bar for rum punches
Russell & Laura ("Luturna"), Andy, Ali & Sue ("Spruce") on "Talulah"
Roger arriving in the morning to open his bar, Hog Island
BBQ afternoon, Hog Island
Dinghies beached for sundowners….
Catching up with pals (Daria & Alex, "Aleria", to left of Shane) Roger's Bar
Buying vegetables in market, St George's, Grenada
…. and fruit too.
---