News & Photos from Angra do Heroismo, Terciera, Azores

The Talulah's Web Diary
Ali Pery / Shane Warriker
Sat 19 Jun 2010 15:45
38:39.169N 27:13.077W
We've been in the Azores for 16 days and we love it here so much we've only managed a 13 hour sail so far!
We stayed in Horta, Faial Island, for almost 2 weeks, joined by Alex and Daria on "Aleria" and a few other boats we met in the Caribbean. We walked, talked, explored, and on 15th June it was a big day – Jon's 50th birthday, we partied! Ali made a cake and we were joined by many friends for an evening on Talulah the night before. For his birthday, Shane and I decided to take Jon whale watching, marlin fishing, volcano spotting, dolphin playing and island cruising, but sadly the whales were elsewhere for the day, the marlins didn't bite, and the dolphins appeared only briefly, and our only excitement on our 13 hour motorsail to the island of Terceira was a rescue mission for our football which bounced overboard during an exciting game of back deck footie in the cockpit. BOB. Ball Overboard.
So here we are in Angra Do Heroismo, on the lovely island of Terceira. Meaning "third" in Portuguese, Terceira was the third island to be discovered and is also the third in order of size – 30km long and 18km wide. The city of Angro do Heroismo was declared a UNESCO World heritage Site in 1983 while restoration following the 1980 earthquake was still underway.
Gerry, our single-handed mate on "Per Mare" followed us here, and we have spent the last few days exploring the pretty streets of Angra Do Heroismo, and hiking the trails. On Thursday, Jon, Gerry and Ali went hiking around Monte Brasil for the day. Whilst walking through the thick vegetation, we were slightly disturbed by gunfire, which seemed to be getting louder and closer by the minute. A few hours later, as we reached the top of Monte Brasil, 3 Portuguese military personnel appeared with guns, and stared at us with a look of horror. They asked where we had been walking all day. We showed them our map of the designated walking trail we had been following, supplied by the tourist board. "You are very, very lucky not to have been shot" they replied, rather nervously. They explained that we had been walking through and behind their firing range for the last few hours. We explained that there were no signs to indicate such, and no-one had stopped or warned us enroute. After a lot of shouting into their radios, we descended the hill and heard not another shot – Gulp!
Our plan was to do an overnight 15 hour sail onto the island of Sao Miguel yesterday. However, plans change. We have been watching the locals prepare the city for their week long festival which begins today. Streets are colourfully decorated, huge marquees for bands and food are emerging, and along with the main bullfight, there will be the "tourada da corda" along the streets of Angro do Heroismo. This is the "bullfight of the rope" where the bulls run along the streets whilst those who dare follow and grab the rope. The bull is not injured. The place is bustling with excitement, and we have decided to stay for the festival, and if we survive the running of the bulls we'll be setting off on the Britain bound leg (12 -1500 miles, approx 10 – 12 days) of the trip sometime during the week. Jon's wife Kate flies out tomorrow to join us for the festival and return leg of the journey.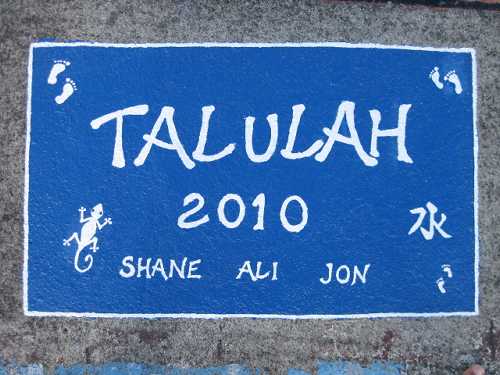 The completed artwork. Our "mark" on the outer wall of the marina quay in Horta.
Another view of Talulahs' "mark" nestled in amongst the others on "the Wall".
Our mate Gerry, single-hander on "Per Mare", wearing some of Jon's ice cream after being asked to smell it to see if it smelled fresh! There's one born every minute!
Whoa steady on there tiger! Larking about on the traffic bollards. Really should be old enough to know better! Overlooking Horta on Faial Island
With a mighty "Whoosh!" Jon manages to blow all the candles out on his birthday cake.
Angra de Heroisme, Terciera Island Street scene. It's wonderful to be back in Europe.
Hear no evil, see no evil, speak no evil. Butter wouldn't melt in their mouths… Honest!
Angra city scape.. Terceira. World heritage site.
About to go splat on top of Alex and Daria (Aleria ) and Gerry (Per Mare)
Honestly… they just don't take things seriously!
You were walking WHERE?! All smiles with the (relieved) soldiers on the top of Monte Brasil.
---