Preparing to cross the Atlantic from Antigua + photos

The Talulah's Web Diary
Ali Pery / Shane Warriker
Tue 11 May 2010 14:00
We are back in Falmouth Harbour, Antigua – our home away from home – and have been for the last week …. though it is now a very changed place! The regattas and races have finished, the classic and J boats have departed and the anchorage is rather empty, as most have gone north or south or started their journey back across the Atlantic. It is end of season, soon the start of hurricane season, and the bars and restaurants that were packed and jammin' are now empty and mostly closed.
After our few days off Green Island, we sailed back here to meet up with "Aleria" who had sadly (for them) had to return after only a day's sail out of Antigua with engine failure. They now sit and wait patiently for engine parts to arrive. Evenings have been spent BBQ'ing on the beach, fighting the mosquitoes, and meeting for sundowners. Meanwhile we have started work on the boat in preparation for the Crossing. After a few days here we sailed back up to Jolly Harbour to stock up at the supermarket, and had hoped to find parts we can't find here. As happens before a long passage, electrics, batteries, generators and radios start playing up and breaking down, (well better here than out there I guess!) So it was another few frustrating and sweat-filled days of taking the boat apart and replacing fuses, relays, wires and a bit of soldering. Shane has done wonders, and slowly slowly we're getting there…. (Ali also discovered a "free" water tap - water is more precious than rum - up the channel, and made countless trips in the dinghy filling up all the jerry cans).
Then a beautiful sail back down the east coast to Falmouth again. Never have we seen so many giant turtles in just a few hours (we do see them everyday swimming around the boat at anchor, but it was obviously a turtle picnic day out on the east coast of Antigua). We love their sweet faces with their sleepy slitty eyes as they pop their wee heads up for air and a little gaze around. We love even more the way their little eyes widen all of a sudden to huge round balls as they see your bows approaching. And then, after a big gulp, in a split second they're gone … we have never been able to photograph them in time before they make their surprisingly quick duck down under. Turtle turbo boost.
On Saturday evening our friend Jon (Plimmer) arrived from the UK, and still with his bag and enormous fins (remember pix of his flippers in the Canaries??) in hand, we took him on a rum tasting tour of Falmouth and English Harbour (Nelson's Dockyard) until the small hours. Yesterday we showed him the rowing boats (looking a little worse for wear since we last saw them in the Canaries) which arrived last month after their 60-90 day Atlantic Crossings. Jon (thanks to Ali), was nearly a participant in this amazing and courageous feat, after a crew member needed replacing at the last minute in La Gomera, the Canaries, soon before their departure. However, sadly for Jon, and much to Ali's relief, it never happened. (My last text as we set off across the Atlantic in very confused and lumpy seas was "Don' do it Jon!!"). The idea of being in that "sloshing washing machine" in a small rowing boat was nauseating to say the least. So Jon is now joining us for the Atlantic crossing back to the UK. And it's great to see him and his big fins again, and have someone so willing and able to join in with the preparations.
Last night, along with some other boats, we ventured up to the top of Shirley Heights again for the Sunday "jump up" and BBQ. Reggae and a brilliant steel band played all night as we looked out at the dramatic view and very moody skyscape, over the harbours and out to Montserrat.
So more last minute preparations, fixings and rig checks (up the mast for Shane) - with some swimming and snorkelling squeezed inbetween – we hope to set off in the next few days …. After checking the weather reports …. we will blog before we depart.
Local kids enjoying the Bank Holiday on Pigeon Beach, Falmouth Harbour, as seen from Talulah – anchored just yards from the beach.
Jon arrives (that's him on the left) - historic Nelson's Dockyard, English Harbour.
The wonderful bird that's the pelican catches a rest on one of the Transatlantic rowing boats that Jon nearly rowed across on.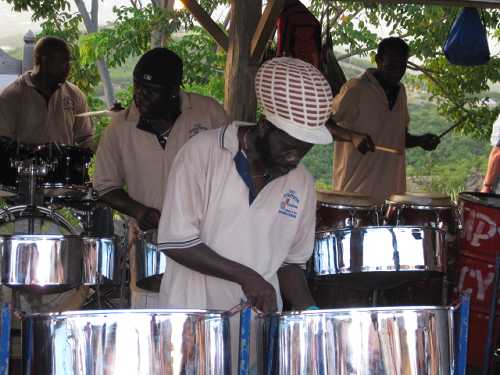 Steely concentration as they "feel da riddim" at the Shirley Heights "Jump up".
The same view again (from the top of Shirley Heights), but still spectacular.
"How ya doing up there?" Shane's view from the top of the mast. (How big are those feet?)
"Don't worry, I'm okay up here!"
Oops, don't let go!
Oh b***er. Forgot my spanner!
The view from the top of the mast in our "home" anchorage, Falmouth Harbour.
---