News & photos from Mustique

The Talulah's Web Diary
Ali Pery / Shane Warriker
Wed 10 Feb 2010 00:09
We are now in Mustique, however…..
On Tuesday 2nd February we anchored overnight in Clifton, Union Island, after clearing immigration, customs etc,  and Talulah rolled all night in strong winds near Newlands Reef (a stunning reef, brilliant green turquoise water, if a little too close for comfort!).  We are now experiencing the aggression of some of the boat boys, who power up to you – 2 or 3 of them competing -  dangerously close in their fishing boats, to try sell you a mooring, ("too dangerous to anchor"), whilst you are trying to avoid the reefs and drop anchor yourself.  We have heard horror stories of how insecure these moorings are, boats often ending up on the nearby reefs, but you have to make your own judgement.  We did, however, really enjoy exploring Clifton with its pretty multicoloured shacks and huts, and colourful fruit market.  We explored "Castello Paradise" –  a sort of combination of alcohol and art - a grotto of sculptures, paintings, little paths leading up steep cliffs to more grottos and tiny bars, all set up by an artist , Castello, next to a tiny pig farm (it actually felt so good to smell pigs again and made me a bit homesick!) 
We headed around the headland the next morning to anchor in Chatham Bay, on the lee side of Union, a large protected and beautifully quiet anchorage. My favourite so far. Though the wind comes over the hills in shrieking gusts, the views looking up to the hilltops are wonderful.  There is a long stretch of empty beach, beautiful clear turquoise water, (fantastic snorkelling), and hundreds of pelicans who spend all day diving into the water for fish.  We ate barbecued fish and lobster, alone on the beach, in the evening, and so enjoyed the peace and quiet…
On Wednesday 3rd we set sail north for Bequia, but did a last minute diversion to Canouan Island, as we crossed paths with our Australian friends Krissie and Phil on "Songline", who were sailing south!  We met them originally in Gibraltar and again in the Canaries, and with identical boats, we had a lot of catching up to do!  Shane caught our first barracuda on the way!!!  Big, really, really big (we don't have scales), and with fiercely sharp teeth, he wasn't so easy to kill once we had him in the cockpit…. This one took half a bottle of the 76% rum in the gills, and a sharper knife than the usual.  A fisherman and his dog swam to "Songline" with some lobsters, and together we barbecued lobster and barracuda – what a feast!
The next morning we had a 3 hour sail north to Bequia, where we anchored in Admiralty Bay, (yet again, next to "Aleria" … no kidding…)  Alex and Daria joined us for a barracuda dinner (you see, it really WAS big!!!!) and the following morning (Friday 5th) we had a very lumpy 2 hour sail north to St Vincent.  We took a mooring buoy in Long Island Cut, jumped in a taxi to the airport, watched the little plane land on the runway, and out popped Carol !!! (amongst others…)
Carol has joined us for 2 ½ weeks, and its so wonderful to see her again!!
The next morning, Saturday 6th, we sailed back to Admiralty Bay, Bequia, and had a meal ashore, where small bars and restaurants lie side by side on a tiny path along the beach.  It is the most civilised and lively place we have seen in a while.  Bequia is an island of sailors and boats, where boats are built on the beach, under palm trees, using simple hand tools – from "two bow" fishing boats to schooners.  It also has an active whaling station, apparently in a very low-key (and very traditional) way, though we witnessed none of it, thank goodness.  The whaling season is between February and April, and in some years they get nothing.
On Sunday, 7th, Andy and Sue ("Spruce") and Will and Tam from "Elmarleen" joined us for sundowners on Talulah …. it turned into a bit of a party.  We last saw Will and Tam sailing into Santa Cruz, Tenerife, and met up with them again in Grenada.  They have a wonderful story …. Will (Sayer) won the OSTAR (Original Single-handed Trans-Atlantic Race) this year on his Sigma 33C "Elmarleen".  The race is from Plymouth to Rhode Island, and it's against the prevailing winds all the way.  He bought Elmarleen in 2001, aged 21, for £7000 and spent the next few years rebuilding her from a bare hull.  Having won the race, he then sailed back across the Atlantic, single-handed, to kit her out with more appropriate cruising gear, and pick up his girlfriend Tam, and together they crossed again.  After a few months cruising in the Caribbean, they will return to England – this will be Will's 4th Atlantic crossing this year!  It's exhausting simply writing about it!
So with heavy heads, Shane, Carol and I set off on Monday morning, bashing into the wind all the way, to Mustique, where we are now.  Mustique is unique among the Grenadines – it is a privately owned island … with a list of glamorous names who own (or have done) property here…. from Princess Margaret to Mick Jagger.  The island remains beautiful and unspoilt, and is one of the best preserved Grenadine Islands.  The water around us is a conservation area, and much of the island has been left wild.  Today we walked down tracks and along the beautiful, empty coral beaches …. Tomorrow we shall explore more.  Last night we dinghied over to Basil's Bar, perched on stilts over the water, and were so happy to discover we have 3 nights left of the Mustique Blues festival, organised by Basil himself.  We listened to some wonderful Blues …  
Nurse Shark (swimming the other way)!  Union Island
Time for contemplation.  Ali researching our next port of call in Chatham Bay, Union Island.
Look at the teeth on this thing!!  It told you it was BIG!!!!  Barracuda caught on passage between Union Island and Canouan Island.  Delicious marinated in Coconut milk.
Ghost ship drifts slowly by.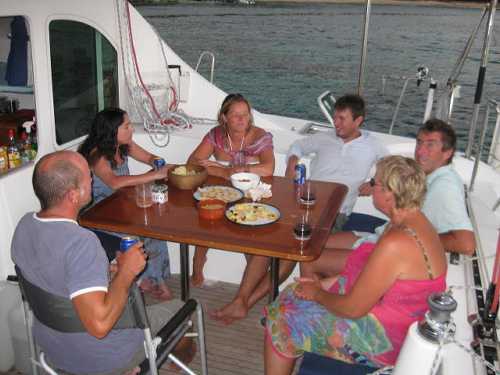 Carol's welcoming party on board Talulah with Tam and Will (Elmarleen) and Sue and Andy (Spruce) in Admiralty Bay, Bequia.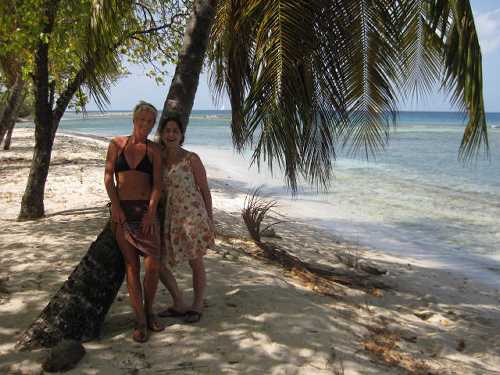 Babes in the wood.  Ali and Carol scratch their backs on a coconut palm. Mustique.
Not bad this…and the snorkelling's good too. Lagoon Bay, Mustique
---