News and Photos from Antigua Classics Regatta

The Talulah's Web Diary
Ali Pery / Shane Warriker
Sun 18 Apr 2010 14:38
It has rained, really rained, hard unrelenting rain, non-stop for the 10 days we've been in Antigua. At least its warm rain. No need to shower as we only need to step on deck nowadays for a quick wash, the boat is also washed daily, and we've been repairing leaks which even the Solent downpours couldn't have produced!
However, the Antigua Classic Regatta has begun, the anchorage is full of participants and observers, and every night there has been a party ashore for all, usually involving free drink all evening, great music, live bands, and obviously, the prize-giving. What a social and exhausting week! All the old gang from the Canaries, Barbados and Grenada have gathered together, along with a lot of new friends, and on Thursday we tied our dinghies up together (it was quite a cute sight) on a home-made mooring and jumped onboard "Aleria", where Alex and Daria motored us out to watch the races close-up. Some of the world's most prestigious classic yachts are taking part, as well as the regionally built boats such as the Carriacou sloops. Most are simply stunning, beautiful and graceful, with fine lines and acres of canvas. It is a real joy to see them racing.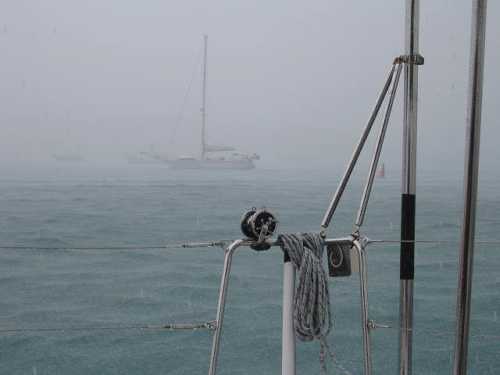 The everyday wet and rainy view from Talulah at anchor, Falmouth Harbour, Antigua
Our mate Roy on "Guiding Light", (a beautiful boat) who won the prize in his class for best presentation. Roy sailed across the Atlantic single-handed, the same time as us. He sailed right through the middle of the Cape Verde islands and decided not to stop as he was having too much fun sailing. By the time he got to Barbados he couldn't steer his boat into the anchorage as his propeller had come loose and jammed against his rudder, so after waving at the people on the beach, he had to abandon plans to anchor and headed for the north of the island. Again he couldn't steer into the anchorage, and so decided, rather than throw his hands up in despair, to sail all the way onto St Lucia (where we met him), where somehow he just managed to get in and drop the hook. Classic and awesome seamanship!
All aboard Aleria to watch the races up close and personal
Alex helming Aleria whilst Sue and Andy ("Spruce") do the rain dance (free showers for all!)
Some of the old gang reunited in Antigua: Ali, Keith & Welly ("Rapau"), Shane, Tam & Will ("Elmarleen"), Daria & Alex ("Aleria")
The melee at the start of the big race
The race begins
Underway
So close ….
---