Still in Portimao

The Talulah's Web Diary
Ali Pery / Shane Warriker
Thu 3 Sep 2009 18:39
Well here we are with a serious case of the holiday lazies, and still in Portimao, Portugal. We're having a wonderful time sitting out at anchor and really getting into the scene, mixing with other liveaboard yachties. Our real excuse for staying so long, is that we're waiting for a new waterpump to arrive for one of the engines, but it's been a real pleasure to be stuck here. Portimao itself isn't the most beautiful of towns, but it's been quite interesting wandering around looking for various suppliers, and we've had glorious weather, without a cloud in the sky day after day. Every afternoon sees the wind pick up quite a bit, but it does help to cool things down. Even the wind's warm though – lovely!!
For us though, the best bit has been the people we've met. On our last update, we mentioned the VIP passes to hospitality tent with Audi Med Cup (a sailing race thing) and so it came to pass that we spent a fantastic evening with Tommy, Jim, and John off the Irish boat "Reflections". Ah well, the craick of the Irish lived up to it's billing, and we drank copious quantities of wine and laughed until our heads span…Yes really!! (It would have been rude not to, they were giving the stuff away after all… the wine that is, not the laughter. That was provided by Tommy and crew). Somehow (against the odds) we stumbled back to the dinghy, and even managed to get back to Talulah and got our heads down (albeit it in the cockpit) for a long, long sleep.
Since then we've accumulated a British Lions team of new friends (Scotts, Welsh, Yorkshire, and other parts of England). First came Rob and Liz and their gorgeous daughter Ella (on Destiny) who invited us to the nearest beach bar for sundowners. It's a lovely rock bar (I'm talking geology not music) tucked beneath the cliffs with a really chilled out Moroccan atmosphere. They then introduced us to Scottish Andy (on Levington Lass), who has an incredible anthology of songs tucked beneath his cap, and entertained us all with his renditions and stories on an evening on Talulah. Unfortunately he's weighed his anchor and moved to "the other side" (ie crossed the river, and taken up his winter berth in the marina). Andy introduced us to two of his friends Ken and Sian (Yorkshire and Welsh on Fair Joanda). Everyone is fun, very experienced and have all done plenty of sailing and liveabording – all over the world - over the last few years - and have all been very handy to talk to and get advice from.
We had a lovely reminder of home on the afternoon of Saturday 29th when the Graces - Will and Frog, Claudi and Tilly, and their friend Ads, (our friends from Sussex) joined us on Talulah for a few drinks, and swimming and diving off the boat. They were holidaying nearby in a villa.
So inbetween boat hopping most evenings, days have also been spent working through the ever-growing list of things to fix on the boat. As we sit stuck with only one working engine, we ponder our next port of call. Our deadline is to be in the Canaries by December (January?) to cross the Atlantic to the Caribbean. We will head through the Straits of Gibraltar into the Western Med meanwhile ……possibly N Africa, though it will be hard to drag ourselves away from the Algarve, but we know there are new horizons out there…..
Liz, Rob & Ella ("Destiny")
Andy entertaining us all …. ("Levington Lass")
Sian and Ken aboard "Fair Joanda"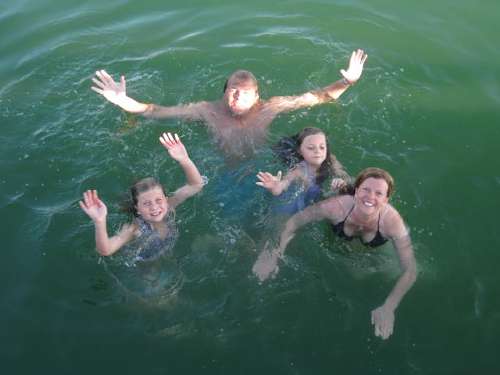 A pod of Graces….. enjoying a dip off Talulah
About to prove that not all Carpenters can walk on water…
While the artist scratches about for yet more canvas….
---