Setting off for Gibraltar

The Talulah's Web Diary
Ali Pery / Shane Warriker
Fri 9 Oct 2009 15:11
So here we are making preparations to set off for Gibraltar at about midnight tonight hoping to arrive at about 11:00 tomorrow morning, Saturday 10th October, before the strong easterly winds forecast make the trip impossible. We have managed to book a space in a marina there for a couple of nights – incredibly lucky, as Gib is full of the world rally boats and all those others getting ready to cross the Atlantic – we will spend the next couple of weeks anchored off La Linea. Its an important place to stop to stock up on those absolute essentials, namely duty free and baked beans. And some boat parts. We then hope to make the passage over to the Canaries from Gibraltar towards the end of October…. And thereafter (December) the Atlantic Crossing.
After leaving Rota, we managed to get a spot in the marina at El Puerto de Santa Maria. What luxury! Well in truth the facilities are pretty basic, but it does make you feel a bit special when all you have to do to get ashore is step off the boat and walk. After months being at anchor, the novelty is appreciated.
El Puerto itself is a really attractive town, and we had a lovely walk around today and soaked up a bit of culture. We managed to sneak into the bullring and have a peek, but were discovered and ushered out. It is an impressive bit of architecture, and even though there was nobody about, it wasn't hard to imagine the atmosphere inside when the place was full. What a pity it's used for such a barbaric sport. We then headed into one of the Bodegas (Sherry distribution houses), in a word "Wow!" Unfortunately we were too late to take the tour, but fortunately the shop was still open!
A few photos' of previous events…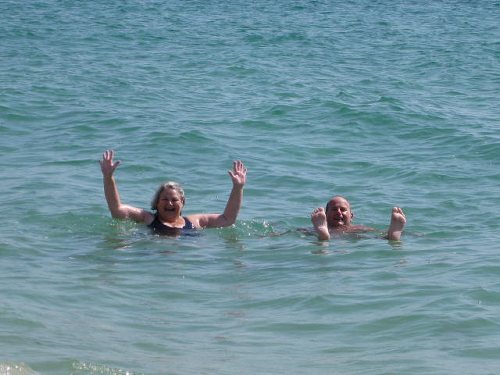 Denise and Shane having a swim in the sea off Culatra, Portugal
I don't think Denise is concentrating on the way ahead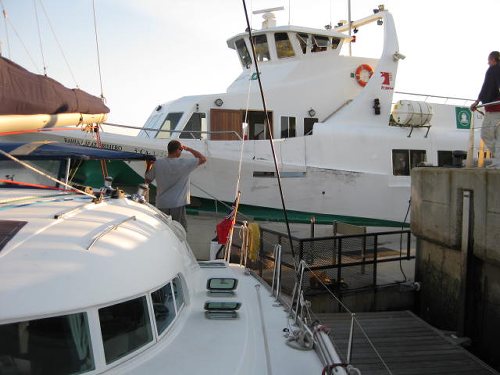 I say… don't you think your ferry's a bit close (Rota)
---