Left Portimao at last

The Talulah's Web Diary
Ali Pery / Shane Warriker
Thu 17 Sep 2009 19:03
37:00.078N 007:50.103Wc
Dear Friends, at long last we've left Portimao (on 17 Sept 2009), and headed about 33 miles down the coast to the island of Culatra near Faro, anchored in a large but very exposed natural harbour, but still in Portugal. If the wind ever dies down, hopefully we'll make it ashore as we long to explore the desolate island and its wildlife, with its quaint, colourful fisherman's cottages on the shore.
We hadn't intended to stay this long, but one thing led to another and before we new it nearly a month had past. It's not like we spent the whole time loafing. We actually had quite a bit of stuff to do on Talulah, like changing the water pump on the engine, fix the generator (which works now, but still causes worry), carry on tinkering with the batteries and charging system (which work but still cause worry), change the main halyard and main sheet (the ropes that hoist and control the mainsail), and re-bed one of the bulkheads that had come away from the hull (rather important to get that one fixed!!) Phew, how does one man and his gorgeous assistant manage to do all that and still find time to relax?
Of course we had some really good times with our new cruising buddies, and of course we put in a bit of effort to make some new ones too, (Frenchman Francois on "Lintie Flora" and Ben on "Rosina"),not to mention having Carol come down and visit us from Blighty for 4 days as well. It was lovely having dear Carol onboard. She more than pulled her weight and fitted right in. So although sad farewells all round (how many farewell parties did we have?) we suspect we will bump into a few of them again in the next few months/ years…. We will especially miss the lovely "Fair Joanda's", Ken & Sian, special people, but unfortunately not crossing the Atlantic (this time!)
It feels very good to get some wind in the sails again, and to feel water slipping by under Talulahs keels, but we are very relieved to have dropped anchor (in a solid 27 knot gusting 35 of wind (this one's for the yachties out there) again after a hair raising entrance into the harbour. It's always stressful going into somewhere new, but we had a (strong) wind (completely contrary to 3 different weather reports) and current against tide situation, which made things very lumpy and the entrance is a bit too narrow for comfort in those situations. The next viable harbour is another seven hours down the coast so we decided against that. At least we managed to hook a fish along the way so it's sushi for dinner tonight! (Shane will have to do the seaweed rolling however, as Ali has a swollen stump for a hand that she caught when we accidentally gybed whilst she was centring the mainsheet traveller … in preparation for a planned gybe!) (ie. Ouch)
Ali is delighted to discover the dinghy goes much, much faster with only one aboard, whilst she does the daily errands….
The cliffs of Portimao, where we spent a good few days at anchor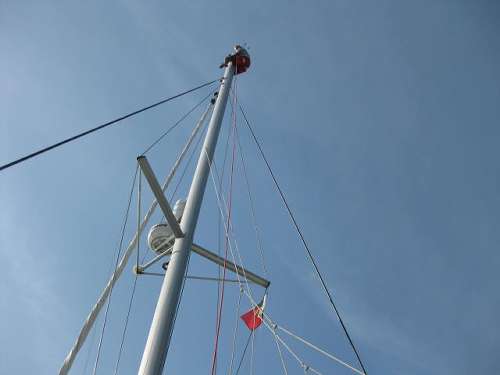 There's no birds up there, mate…. Shane changes the main halyard (& Ali winched him up by the way, phew….!)
Ali & Carol, reunited
Ali, Carol, Francois, Ken, Sian, Shane … at our local, the rock bar. Who's leaving party was this??
After a month of cursing every speed boat circling Talulah in the anchorage, Shane finally decides to hitch a ride with the locals …. If you can't beat 'em, join 'em …. And promptly b***ers up his back!
---