What`s luck got to do with it.

Penguin
Wed 2 Jul 2008 06:08
We pulled into the Ria Muros for a few reason, it was an excellent place to position Penguin so that we could check out weather forecast's and once a decision had been reached
We would be straight out round Cape Finnistere and into the bay of Biscay. The other reason being that over the previous few years I had become aware of the Catholic pilgrimage
Cathedral of Santiago De Compostela, it would be a shame to be so close and not make the effort to visit. Jane, Eddy`s Mum would also be most impressed that I was now
Catering for both her sons Spiritual and cultural needs, Which might go some way to eradicate my previous attempts to encourage his new found Port drinking experience. Wednesday
4th of June Niamh Eddy and Rob are waiting at the bus stop in Portosin waiting for the local bus, not for us the real experience of walking there no public transport was by far the
easiest option, an hour and a half of bums on seats was to be our chosen ordeal. I don't think that we would be getting our pilgrimage certificate from the priest. We did have a great
day seeing the casket in which the mortal remains of the Apostle Mark is thought to be buried.
West Gate of Cathedral
Part of the Stone work at the Cathedral.
Dramatic stone images from the Cathedrals Museum.
So a very enjoyable day was spent, not sure that is exactly what the catholic faith consider to be the idea behind a pilgrimage. On the way home we had to change buses and whilst
Waiting at the bus station I rang home to catch up with Jacky and the family, and it was great to find out that she had a member of the Whangarei tennis team visiting her, Margrete
Was over visiting UK and was spending a couple of days with Jacky.
Thursday Morning One final chance to get a hot shower and for Eddy to chose the flying option. The Young Man was not to be scared of he was part of the crew and was up for the next stretch. Once again the wind had turned and was blowing straight into the Ria so we were forced to beat out to sea, as we were doing this we had the pleasant thought that if
We had a westerly wind it would make our sail in Biscay nice and easy. But the weather Gods had a different plan for Penguin as we approached the Cape so the wind Veered to the
North, What a surprise we would be beating again up through the Bay of Biscay at least this time the conditions would be a moderate force 3, if we had to sail into the wind this was
As good as we could hope to get.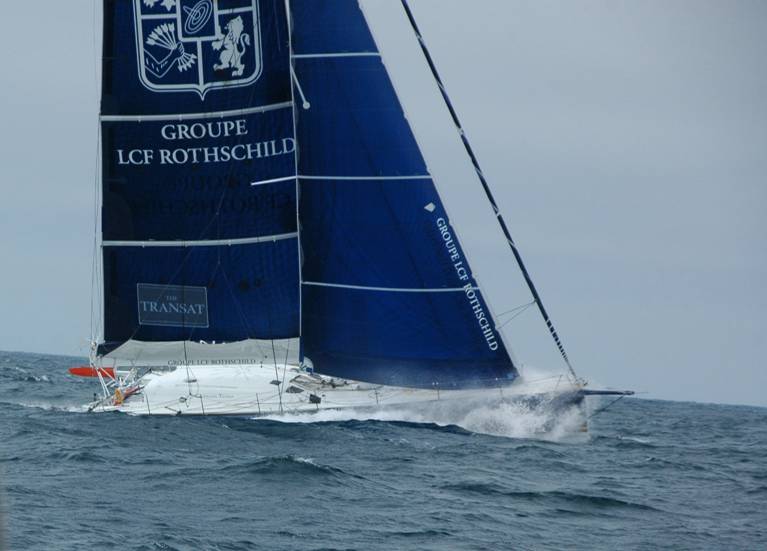 Transatlantic Racing Yacht, Penguin needed a quick sidestep to miss this charging Unicorn.
It was the first time that Eddy had sailed offshore, so it was a completely new experience for him he was hoping he would see Dolphins and maybe if he was
Lucky Whales. He had just finished his first year at Plymouth University and was studying Geography, so I suppose he thought coming out and joining in as part
Of our crew would add a little to his travelling experiences and give him a look at some European countries. He was not to be disappointed sailing up to the Scillies
Was very pleasant we had visits from dolphins and even a pod of whales including an 8metre long whale surfacing alongside Penguin, if you had stepped of the side
You would have landed on its back, what a sight. The picture above is taken half way across Biscay, perfect conditions for blasting through the ocean heading for
Home, I don't think Penguin would be able to stay close to this awesome machine. But we did make excellent progress despite having continuous northerly winds and
Sailed 700 miles in just under 6 days. So another virginity lost but this time the memories would be sweeter. Moral of this tale, Sailing across Biscay in May or sailing
Just north of the equator from Cape Verdes to the Canaries, The best experience was Biscay, but during our trip south Jacky Norman and I had been given a good
Pasting whilst sailing France to Spain. I suppose that is what keeps things interesting things are always changing.
I had been promising Niamh that the Scillies Isles were as beautiful a group of Islands as you could ever wish to visit, and what was more they were within 130 miles
Of Southern Ireland, but there had to be one added ingredient sunshine and settled weather, so with this combination and the lure of English fish and chips how could
We not have a fabulous visit. Eddy and Niamh getting so carried away by the beauty of it all that they could not resist and dived into the water in only their swimming
Costumes, just because it looked like a tropical paradise reality followed very quickly, Water temperatures at 50degrees north don't quite match the waters around the
Equator. Beautiful beaches and clean clear water, The Isles of Scilly, you also get a whole beach for yourself.
Penguin anchored, the one with the tall mast if you are stuck.
Not everything is perfect, Jelly Fish washed up on the beach. Below That's Cornwall in the background of the Islands.
In an attempt to get winds from the west we left a little sooner than we would have wished for so after only a brief 3 day stop we were on our way to Cork, but fate
Had planned our return journey and with a large high pressure system following us up from the Azores we ended up beating into NW winds very quickly, Eddy just
Thought that this was just the normal way to sail. Zig zagging ones way towards your destination, but with only 130 miles to Ireland and our most northerly point in
Cork we were not to unhappy and resigned ourselves to are fate. Besides Niamh was so excited at the thought of sailing into home waters I don't think a Gale would
Have upset her. I am at my desk in Stanpit at this moment and have just been able to finish this diary entry of. Only a few stories left to go so I will get down
To those soon bye for now, C U in Cork for the next episode or is that sod.
---