Filling in the gaps.

Penguin
Fri 10 Aug 2007 21:02
I have just been looking back to find the last web diary, it was sent from Singapore, their
Must have been lots to distract me during the last month or so, But we are back at sea
Crossing the Indian Ocean on route to Sri Lanka, So I have no excuses any longer.
Well that was a good start a further week has past during which time we have been
Moored up In Galle Harbour and have also spent 3 days in a van travelling around Sri
Lanka, But first things first, Singapore, Malaysia, and Thailand.
The Good news is I have managed to steer clear of all dangerous areas and Penguin
Spent 3weeks on the hard having her hull tended to, so She is once again in perfect
Condition. Amazing what three weeks of pampering in Thaiand can do for you. But I
Digress.
Singapore in the Rain.
From Batam Indonesia it was 15 miles across the straights to Singapore, we were also
Able to watch the enormous thunder clouds build up over the city and the amount of
Shipping moving backwards and forwards was truly unbelievable, So on the 15thof June
At 1300hrs we checked into the totally efficient system that is the Singapore Harbour
Control, there are so many ships Anchored , docked or transiting through that nothing
Short of the most well run system would be able to cope. Once we had rendevoued with
The control launch and they had checked our papers and issued us papers we were clear
To find ourselves a birth at a marina. Singapore and Malaysia have aspirations to have
The worlds super Rich bring their super yachts to hang out and be seen in their marinas.
As a result there are a number of very smart Marinas that have been built with fantastic
Facilities all of them about a quarter full, as a result they are desperate for any yacht to
Come in and fill a space up. So we scummy Cruisers get to use all these great places for
Bargain prices. Penguin ended up being Parked at One 15 Marina Sentosa Island five minutes from downtown Singapore, the most expensive address in town.
Whilst in Singapore I managed to hook up with Paul Langlois a friend from school who
I had not seen since I was 19 an awfully long time ago, He had spent a good deal of his life living and working in Singapore and around the area and was happy to show us around the City in his Flash BMW.
Singapore is an oasis of 21century living surrounded by a lot of very poor areas so
At every street corner their was another shopping mall a world away from what we
Were used to in Indonesia, But the best thing I found in Singapore was Little India
And all the Indian curries and Nan breads. No visit to Singapore would be complete
Without a visit to Raffles and a Singapore Gin Sling. Gin and tonic being a favourite
When it comes to enjoying ourselves at the completion of a passage on Penguin.
Monkey Creek Lankawi.
After 5 days it was time to head north through the Malaca Straights towards Thailand
Our original intention was to sail straight their, But Paul had told me off a couple of
Places in Malaysia that should not be missed, Going up between Malaysia and Sumatra
We would be in one of the most congested seaways in the world and everyone would
Be grateful not to be sailing continuously day and night for 5 days. So we pulled in at
Port Dixon and then at Lankawi. And then finally up to Thailand arriving at 03.30 on the
29th of June. Jacky was due to arrive in Phuket on the 3rd and Penguin was booked in to the Boat Lagoon for some well deserved pampering on the 2nd of july. We did manage
to spend one day on one of the beautiful Islands off the south of Phuket and then off to
meet Kevin at Solidar Marine. The entrance to the lagoon is one mile into a Mangrove
Swamp and involves getting up through a dredged channel at high tide as we were a
Couple of hours early it meant that on a couple of occasions we dragged the keel through
The mud. So that was that we were in Phuket , their was another list of jobs to do
But first their would be two weeks with Jacky in Thailand so that was just going
To have to wait.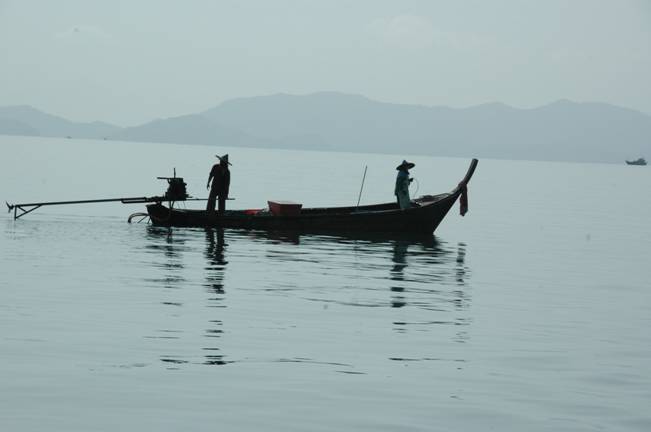 Thailand
Niamh had got a few things she was keen on doing in Thailand some related to
Diving and some related to meeting up with a friend from Ireland. Will had also
Got plans for Thailand, which had envolved him jumping ship a few days early
So that he could get to a full moon party at one of the beaches, I can't imagine
What goes on at those.
So that will have to do for now, Thailand and all its pleasures will have to wait
Until the next instalement.
Penguin Making her way slowly up through the mangrove to meet the boatdoctor.
---