Maldives

Penguin
Tue 25 Sep 2007 04:07
The sail between Sri Lanka and Maldives was not very eventful, Total Distance in a straight line
Being 430miles we eventually sailed a distance of 555 miles, the journey taking us 4 ½ days on
Account of having to sail into wind, we also had long periods of very little wind with our trusted
Diesel engine doing the work for us. As is the usual practice Penguin was cleared into Port Male
By the port Authority by 20.30 and at 2100 the anchor was down and the Gin and tonic was in the
Glass ready to celebrate another completed passage.
After a good night sleep the following morning we were meet by our new agent and a Posse
Of the Maldives civil service to clear us into the country, all was handled very efficiently without
Any Alcoholic sweeteners to make things happen. The Maldives would appear to be a very well
Run Moslem Country with Perhaps just a little to much control from on High. The People look to
Be very affluent not lacking for the latest mobile phone`s or in any way struggling to make end`s
Meet. We were given a Location to which we had to take Penguin as the main island Male was so
Congested with boat traffic that their was not a spare inch to park anything that was not operating
Commercially. The Island of Male is the most tightly congested area in the world, it takes about
10 minutes to walk from one end to the other and 5minutes to walk from one side to the other. Every
street is tightly packed with smart 4 or 5 story property, The shops have all the 21centuary`s choice
products, so we were once again back in the first world. The Place was so up to date that we struggled
to get internet anywhere,that was because their were no internet café`s as everyone had broadband in their homes so their was no need for it for the ordinary Jo public.
The Maldives is one of the World`s outstanding dive areas so as one can imagine we had a certain Dr
Niamh a little excited at the prospect of getting out onto the reefs, so within a couple of days we were
Out exploring the north Male Atoll. As a holiday destination I would think These Islands are hard to
Beat if the water is your thing then you will be in heaven. Everywhere we snorkelled we had a great
Time and it was not long before we were swimming amongst Manta Rays what an awesome experience.
The people of the Maldives are a superb bunch we had a couple of fisher men and a mobile phone help
Us sort out our alternator when that stopped working in one off the outer Islands. On another occasion
We Parked up against a large commercial tuna fishing boat to see if we could arrange to get some diesel
For the onward trip to the Seychelles. The boat had about 20 crew members and it was not long before
Most of them had been down into penguin for coffee and we too had had the grand tour of their smart
Vessel. They also rang through to arrange the fuel for us and by the three crew of Penguin had
Been invited to join their freshly prepared curried tuna lunch complete with raw onion garlic and chilli
All washed down with hot sweet coconut milk. Very very Good This lovely feeling of friendship and
Camaraderie was soon destroyed by the local customs official who had come over to tell us we
Had parked on an island reserved for locals only, and us foreigners could only use Gan Island at the end
Of the Atoll where the airport was located, it seemed that the authorities did not want us westerners messing up the well ordered Moslem society that was being shielded from our corrupting ways.
I was going to put a few pictures on now to keep you awake Jo but as we are near the bottom of the
Page you will just have to keep going for a bit longer, I promise they are coming soon and they will be
Worth wadding through all this shite to get their.
We had been making our way south through the Atolls stopping when we could to enjoy the fantastic
Waters and scenery. So by the time we had got to Gan on the southern tip of the Maldives we had once
More crossed over the Equator, our reasoning was that we would only get into good trade wind heading
In our direction well down below the equator at about 5degrees south. In Gan we filled the Boat with diesel their was 1100 miles to the Seychelles the first 400or so miles would either be in no wind or in
Rain Squalls. And so with just 8 days to cover the distance to the Seychelles Before Niamh`s friend
De flew into Port Victoria Seychelles to meet us, This was going to be a very tight deadline, but it is
Lovely to consider the relative VMG and travelling modes. Penguin 8days 1100 miles achieved
Airoplane 10hours 4500 miles . Plane 450 MPH Penguin 5MPH Which way do you like to travel.
I was going to write in the Seychelles as part of this update, But we are leaving today 25/09/07 and
Need to go to the market before we go to stock the boat with fruit and veg. So I will end now and send this if we have time I will do the Seychelles at the last minute as the anchor is being hoisted. We will get
Very little internet access in Madagascar, We have some great photos to come in Seychelles so I
Promise to do my best. Enough shite, as promised here are some Photos.
Manta Ray in full flight
Watch where you put your feet.
This is called a Clown Trigger fish Part of the amazing underwater world.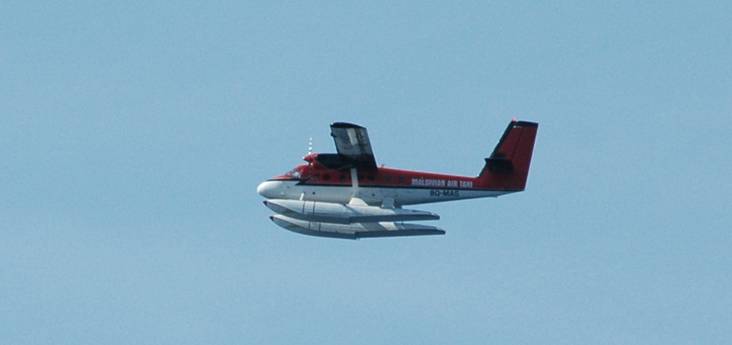 Taxi service to the Islands for the rich tourist.
---