Seychelles Garden of Eden

Penguin
Tue 25 Sep 2007 08:41
So here goes, two web diaries in 24hours an all time record. Seychelles What a fantastic name for a
group of tropical Islands at 5degrees south of the Equator. I had first heard of them because a rugby
playing friend used to visit his farther who had settled their after living in Kenya. The stories he came
back with about the beautiful Islands had made me vow that one day I would get to see them.
1100 miles in 8 days an average of 5 knots on a superb sleek 44ft sailing yacht, What an easy trip that
was going to be! Our Plan was to keep heading south as much as we could to get ourselves into the SE
trade winds then we would have 15 -25 knot winds and current heading for our destination. The problem
was that it took us 5days to cover the first 550 miles, We had winds from every direction and every strength
we used every possible sail combination and angles, but after five days we had only reached half way, what's
more we had also managed to use up 2/3 of our fuel about 250 litres of diesel. It appeared as if De would be in the Seychelles at least 2days before we made it. But Penguin is not one to miss a date, by day 5 we had got
down to the magic 5degrees the trade winds kicked in and for the next 3 days we had winds of between 15 and 50 knots plus a 1knot current all headed in our direction, Welcome aboard the Seychelles Express.
By 1o clock on the 3rd sept Penguin was Moored outside Seychelles Yacht Club having completed all
Entry formalities and we were in the bar having a beer and looking forward to our guest arrival. We had
Completed the 2nd half of the trip 550miles in three days, and still had 180 litres of fuel in our tanks.
As is the Penguin buzz words Timing is everything, it appeared that their had been a tropical storm further
South in the Indian Ocean the last 3 days we had been riding the stronger wind generated by that, what a
Ride.
The Seychelles was only discovered 300years ago the people are made up from French Plantation owners
French Pirates and African Slaves freed by the British from the slave trade. It was taken over by the British
150 years ago to control both the pirates and abolish the trade in slaves. So these uninhabited had a superb
collection of wildlife and fauna. On Discovery it was Name the Garden of Eden.
Female Tortoise enjoying the human touch. The male Tortoise`s are a bit on the heavy handed side.
Perhaps the French Pirates are still here.
Beautiful Seychellois Kids Playing in the waves.
Babes in Paradise. Below Encounter with the monster`s from the deep Rare Whale Sharks. + snorkeller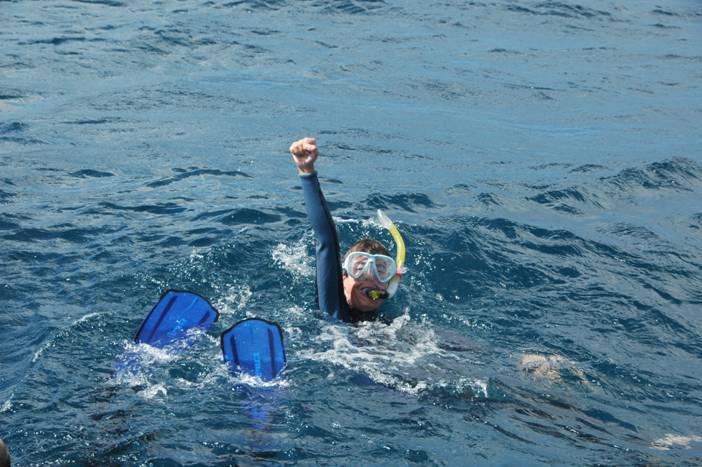 Look`s like someone is having a good time. Feeding time for the Shark.
So their you go What a place to get to for a visit. I must be Almost the luckiest Man In The World, But how
Can you stay in the Garden of Eden Without Your Beautiful Woman with you. Paradise is always so elusive
The Pictures will give you a Rosy glimpse of what its like here, We also managed to catch some good fish
Including yellow Fin Tuna Superb Barracuda and Good Mackerel, for our meals.
There is of course the minor stains to this beautiful picture, We had the window of our hire car smashed and
All the bags nicked with a great deal of gear that is very difficult to replace around here, and the cost of everything is expensive. But I will have to get used to that when I am back in UK.
I have no Stamina when it comes to sitting in front of computers so this has been a Marathon session, I will
Fill in the spaces on the Seychelles in the next Diary, as we have only 1 hour before we get returned our
Passports and have to depart from the Port. So that`s it for now.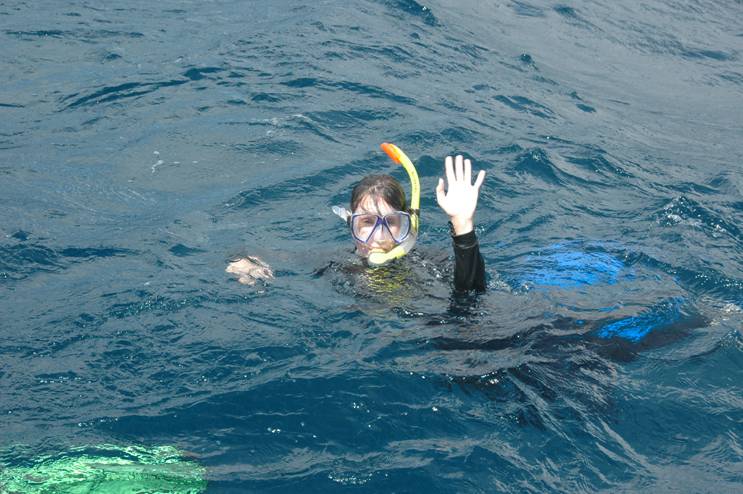 Bye Bye.
---