Farewell to NZ

Penguin
Wed 4 Apr 2007 07:42
January was the last month that Jacky was going to be in New Zealand as febuary had
Had been set aside to complete as much work as possible to prepare Penguin for the
Next nine months at sea. Jacky having decided she would be happier back in UK than
In the boat yard. So we decided to get ourselves down to the south Island and enjoy
The scenery their. We flew from Auckland to Queenstown and had stunning views of
The mountains and coastline. We stayed in a backpackers lodge with great views out
Over the lake, one evening we had a fantastic view of a comet. The walks close to
The town were great and got you up into the mountains, this whole area is the centre of the South Island ski resorts in the NZ winter. We also got ourselves up for a Paragliding
Trip with various degrees of enjoyment. Most of the following two weeks were spent
Looking for areas to walk in and enjoying the fantastic country and mountains. This
Was a period of time with no other distractions and we were able to do and go were
Ever we wanted. We did our pilgrimage to Milford sound and Jacky
Had a mornings horse riding in the Dart valley, Riding on the horses used in the
Filming of Lord of The Rings. All to soon the days had passed by with and once again
It was time to head back to Auckland, for Jacky to catch her flight back to UK.
Nick and Jo had got themselves out of Sydney and were travelling around Northern
Australia they too were making plans to return to UK but would be at least another
Month in Aus. So on the third of February we were once again at Auckland airport
This time it would only be one of us boarding and not knowing when we would see
Each other again. With some luck Jack will get herself to Thailand or somewhere
For a few weeks to meet up again, otherwise it will be xmas before I can fly back
From South Africa.
Whilst we had been away one of the other Boaties, Dave had been working hard
Doing the interior varnish work so I returned to find a Beautiful bright varnished
Boat, so the following three weeks were spent doing as much as we could to get
Penguin in great shape for the next 14000miles of her journey including the first
Step her return to Queensland Australia and the completion of her Circumnavigation.
Being a lone person at the boatyard has one advantage, You are felt sorry for and
Get adopted by one of the generous couples. Dave and Mary seemed to adopt
Me and I had lots of parcels of fruit and invitations for dinner. Much appreciated.
So with Penguin back in the water sea trials having taken place, all in good shape,
It was time for me to leave Whangarei and get myself down to Auckland to meet
Niamh who was flying in from Aus and Will Stone a new Crew member from the
USA. My trip to Auckland included a stop at the Great Barrier Island, once again
Another fantastic beautiful place New Zealand is truly blessed and the biggest bonus
Is there is very few people to spoil it all. From the Barrier Island it was a day sail into
Auckland where I had found a berth outside the Maritime Museum in downtown
Auckland a definite contrast from my previous anchorage.
So by the 14 march both Niamh and Will had been meet at the airport, and we once
Again we had our full crew and were ready to go sailing, the weather gods had
Other ideas and the next two days we spent tied to the dock whilst 25-30 knot
Wind and rain persuaded us to enjoy the delights of the city for a few extra days.
Colin who had sailed across from Panama with us had kept in contact and was
Keen to hitch a lift with us to Indonesia, I had told him that he was welcome to
Join us but had to get himself to Opua Bay of Islands by the 20th. We did in fact
Pull in to Whangarei for some final work which is were he caught up with us. It
Had also been an outstanding request that Niamh would get a chance to Dive at
The Poor Knights, as her broken wrist had made that impossible in October. We
Finally got to Opua on the 22march and got our Clearance out for Australia
On the 23rd The weather across the Tasman was looking reasonably good so the
Decision was made and we departed Opua at 12.30. It was a great feeling to be
Setting of with a crew you were confident in and had enjoyed so much with during
The previous year, Penguin was also in great shape after her NZ refit and pampering.
Another fine mess you got me into.
Glorious
I might be a film star But I Can`t talk.
Penguin waiting for crew outside Maritime Museum Downtown Auckland.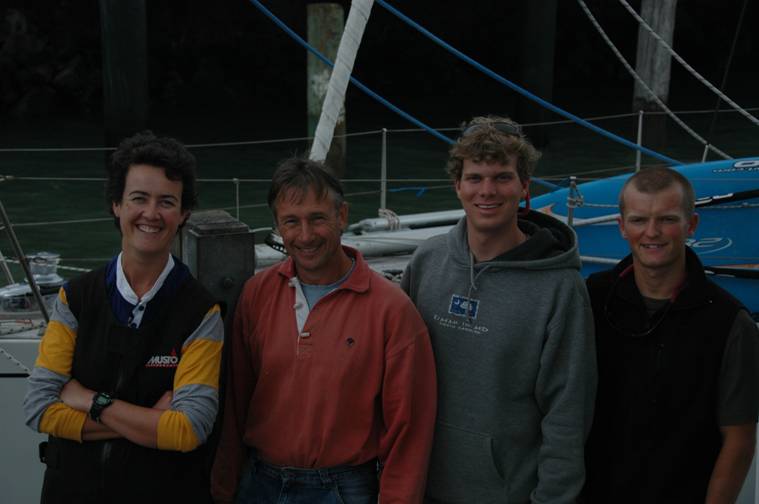 Ready to go, the crew at the Dock Opua. Niamh Rob Will Colin.
---