Canaries to Azores, Puting things back on track, with a little help from friends.

Penguin
Thu 12 Jun 2008 21:56
Penguin Is a lucky Boat, In all our travels certain things need to come together in the right place and time
And a situation that looked to be really dire can be turned around into something that is manageable.
So here are the magic ingredients , a crew that is for ever enthusiastic and positive that we can sort things
Out, and what the heck it's a sailing boat we`ll sail home whatever the situation. A wife who turns up at
Exactly the right moment and can speak a Spanish, another great understanding lady. Franco an Italian
Who sells rides on para gliders from the beach, and Pedro the Guy with a second hand boat sales yard.
The final ingredient is the donkey who does the grunting and work. So this is how to mix it for a result.
We sailed the last 400metres into Christanos harbour in a fading breeze, on our previous visit we had been
Able to anchor in the harbour, but all that had changed. The harbour had been section up an there was no anchorage any longer. So as is are way we hailed out to a local fishing boat who kindly towed us into the inner fisherman's harbour and we choose a spot alongside the local lifeboat moored to a quay wall to whom
We tied up. Another great ability of penguin is to announce one entrance so that everyone knows that we have arrived. It was not long before the lifeboat men wanted to know why they could no longer use their
Boat without a growth attached to its side, tourist whale watching boats wanted to have a bit more room for
Them to manoeuvre the fisherman carried on their work regardless. The local harbour police got all very
Excited as we where messing up there well ordered harbour. As we could not speak any Spanish other than
Smile and sign language they did not achieve to much. They did manage to get a local mechanic to the boat
Pretty quick to confirm our dilemma. It was at this point that Jacky got around to the boat to help out.
Phil and Alison had been packed for a couple of hours so once we were attached to the dock they jumped
Ship heading towards Medano and the windsurfing beach to se if it was possible to restore any of their sanity
And more importantly to recover some flesh to cover Alisons body. We all meet up the following evening
For a little Sangria and a great deal of food.
Back in the harbour the Police decided that all they could do with us was get another fisherman to tow us
Into an area of moored local boats to which we could raft up and sort ourselves out. And this was finally achieved during the afternoon. By which time all of Christianos Harbour and town it seemed knew of our arrival. Penguin spent the following week tied up in the harbour whilst all sorts of activity went on around.
Friday evening spent chasing around trying to work out our best options, and in the evening Niamh, Jacky,
And I went off to meet P & A for a good meal. After 36hours ashore and a bit of food they seemed in great Form no doubt much relieved to be heading home in a day or so with hopefully good opportunities opening Up for them on their return. All These have survived to tell the tale.
The reason fffor Jacky's visit to the Canaries was to enable the two of us to get together and once again to walk on the fabulous island of Gomera and as the weekend was just starting we choose to take the Ferry
Across, we should have been sailing across and mooring up there but one must allow for the occaisional
Change in plans. We booked into a hostel in San Sabastian, very old and full of character, and rented a car.
If there is anyone wanting to find a place to go hiking with Volcanic mountain scenery I can only recommend you give this island a go. Saturday and Sunday was spent walking the hills, Jacky I am sure On a mission to try and get me fit and we were keen to enjoy the fabulous mountains, half the fun being trying to locate the trails as they don't seem to warrant much attention from the local`s as they already know how to get around and would find it difficult to get lost on there small island. Monday we returned to Tenerife much refreshed full of good Spirit and a Plan hatched in our brains. We had decided that if we could mount a 25hp outboard motor to the stern of Penguin we would be able to continue sailing and use the Out board to get us into the harbours. On Monday Afternoon we had meet up with Franco on the beach, He could not sell us an outboard but he knew a man who could, he spent the next ten minutes on his mobile ringing around all his contacts finally coming up with Pedro who had exactly what we were after. The following day after finally overcoming our scepticism and coming to the conclusion that we had very little other options we contacted Pedro, He only spoke Spanish but we managed to arrange for him to come and collect us to show us the engines he had.
At 7o clock a very smart new Mercedes pulled up outside the hostel that Jacky and I were staying at to take us to look at the engines. Pedro turned out to be an Hombre Correctico as is the phrase in Spain, Jacky was able to handle all the talking and I managed the sign language and a deal was struck on a virtually new 25hp Johnson Outboard to be delivered To the boat the following day after an exchange of Euros. On Wednesday morning we had an outboard laying in the bottom of our tender all that was needed was a method of lifting and mounting it on the back of A penguin that was sure to be fun. Outboards are designed for motor boats not yachts so a fair amount of Improvisation was required to make it all happen.
Wednesday night was Jacks last so we met up with Niamh in a great bar for a beer and a bit of Dinner. Having Once again been in the right place at the right time, the last time she had prearranged our arrival in New Zealand Jacky caught the bus to the Airport in the morning and left us to get on and sort ourselves out. By 11 the donkey was hard at work and by we had a fully functioning engine mounted to the stern. It would still need to be adjusted to get decent angles for the propeller to drive us through the water but it was attached to the Boat and we could raise the engine off and onto its mounting. We were back in action and would probably be able to continue on with our original passage plans in tact with a bit of luck..
We now get to the final ingredient The Crew who has enough faith and courage to say lets do it when things
Are not as you would wish them to be but that is as good as we can achieve at that moment. We made a plan
To sail to the closest Island Gomera asses our ability make adjustments and then continue on to the Island of
Palma and park at the Marina there. This was now pretty essential as we were now out of Gas,Water and Electric we needed to get to a Marina to get all these filled or recharged. Friday midday saw Penguin Painfully slowly dragging herself back out from between the moored boats then out of the harbour on her first voyage under two stroke power. We got ourselves clear of the Harbour being watched by a number of
Interested bystanders. Once clear up went the sail and we were of Penguin Doing what she does best Sailing.
The Plan worked out fine we anchored in a bay on the lee side of Gomera and the following day sailed on to
Palma. What a bonus that turned out, we managed after a fair amount of trouble to get parked in the Marina.
Then it was a day of hard work sorting things out then one day of sightseeing and what a beautiful Island. The Mountain rises to 2430 metres well above the clouds the valleys are steep and stunning and when you get to the top you have the amazing astrological station. So after another successful pit stop Penguin and
Crew were back in good shape to continue on to the Azores. Once again extricating ourselves from the marina was a little difficult added to which the wind that had been quiet all day decided at the very time we
Wanted to leave to start blowing . You have to imagine that we are now moving a truck around with a motorbike engine then you can see the difficulties, the propeller from the out board is more like an egg whisk
So we can only manoeuvre when we have achieved forward movement and we have no brake.
We had made the distance to the Azores slightly shorter 750miles but again we would be sailing a lot of the
Time into wind added to which we would be ailing into the centre of the High pressure system that is centre
There. Once again we wanted to arrive on time to meet up with Niamh`s Dad who had volunteered himself
For this leg, for a time we had been worried that we would be unable to keep this meeting, but things had come together once again our good luck and willing helpers had got us back on track.. And so it was we had a good sail up to the Azores even for a short period having the spinnaker flying. We sailed a distance of 900
Miles in 7 days arriving in Ponta Delgarda San Miguel on the 20th may, Niamh dad arrive on the 21st so another perfectly timed arrival. The only issue being that the Marina was full of French boats on a Rally between La Rochelle and Quebec. So that left little space for other visiting boats but the marina staff were
Great and a space was located on the main wall which was easy to get to. That's it, see if I can find some photos that will make things interesting. Walking the hills.
The fantastic mountains in La Palma.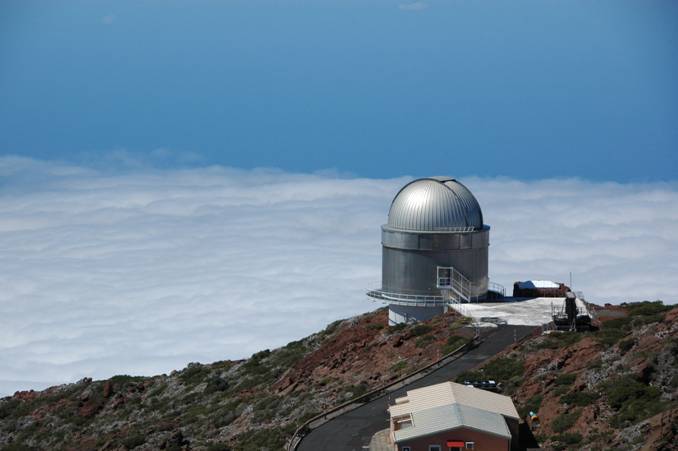 ---