Sines - at anchor

Iola
Lesley & Derek Mercer
Sun 14 Aug 2011 18:34
37:57.2N 08:52.1W
We have now arrived at Sines and are at anchor in the harbour. Idyllic spot in lots of ways, apart from the "music" from the beach, which hopefully will stop at dusk.
Avid readers will have realised that there has been a slight change of plans. A meeting of the crew was held, and the first motion was that the Captain did not have a vote! We then reviewed the carefully laid plans for getting to the Canaries in good time. It was clear that the stopping places had been carefully selected: they depended on their location, how easy to enter irrespective of the weather/swell, and the reputation of the marina. Unfortunately, this was deemed inadequate. Factors like "historical" "interesting" "not touristy" became uppermost in some peoples minds, and so a rethink of our route took place. We have chosen to spend more time in and around Lisbon with all its history, and curtailed our time in the Algarve. We spent a day getting to and from Sintra, visiting the Palace at Pena, and the Mouros Castle (originally set up by the Moors to keep an eye on everything going up and down the coast). It was for this reason that we ended up in Oelias marina, which, by the way, was excellent. We needed a day out for IOLA as well, filling up with diesel, washing her down, filling the water tanks and working the "spare anchor" as hard as possible.
Fully refreshed, we set off early this morning and arrived in Sines 8 hrs later, having motored, motorsailed, and sailed as the wind slowly picked up. We hope to leave early tomorrow and drop an anchor just before or just after Cape St. Vincent, and then on to Lagos.
For keen sailors, I would point out that the Portuguese Coast is littered with lobster pots – I have never seen so many. I can't understand what they hope to catch in 120metres of water! When you think how much diesel they use to get to these pots, the cost of all that rope, and the time it takes to haul it all up, I can't see how they make a profit, let alone know what lurks in such depths. Attached is a photo showing what suddenly pops up in front of you.
There is also a prize for the first person to find the skeleton on the photo of the excavations at Muros – the hint is that it is thigh bones you will see!
Mouros Castle

Skeletons at Mouros
Palace at Pena:
Cabo de Roca lighthouse
Lighthouse hidden by clouds
Lobster pots
Sines (Vasco de Gama birthplace and museum)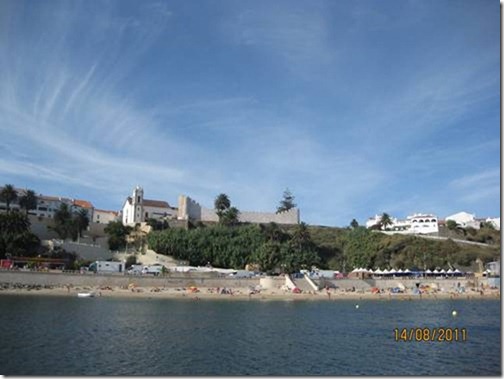 ---