Ibiza 2

Iola
Lesley & Derek Mercer
Sat 5 May 2012 06:28
38:54.6N 01:26.1E
Safely tucked up in Ibiza in a marina. The trip over from Espalmador only took about 1.5 hrs, and we left early. Interesting little sight on the way over: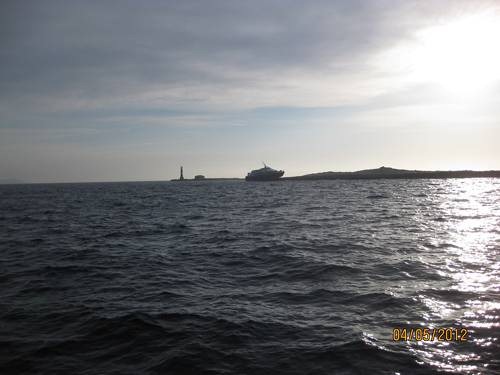 This was a ferry taking a "short cut", and he has ended up on the rocks! Makes for a perfect marker for less adventurous sailors like me, but can you imagine what it must have been like hitting those rocks at 25 knots!
The marina is good, but we have upset the locals by carefully locking the pontoon gate every time we go ashore. They are used to it being propped open, and there was at least one chap who was clearly frustrated and was chatting away into his mobile for ages, trying to get it opened somehow.
We have been to the Consulate, and I will be able to get an "emergency travel document" for moving on. It's all a bit complicated, as these documents are specific e.g. for flight on day x from Ibiza to London, and not geared to people wandering around the Mediterranean on a boat, at the whim of wind and waves. To be brief, we are going to head off today (Saturday) to Palma in Majorca, stopping overnight in a bay. There I will pick up this "document", and we will head off almost straightaway to Sardinia as the winds are favourable next week. Things can obviously change, but this is the latest plan. We can then spend a few weeks "doing" Sardinia before everyone arrives, and I will be able to fly out from there as planned. We are determined to come back to the Balearics, but that is for another day.
---