Cartagena

Iola
Lesley & Derek Mercer
Sun 9 Oct 2011 07:49
37:35.8N 00:58.8W
In Cartagena
Sorry about the delay in updating the blog, but we reached here a week ago and have been unwinding since then.
Cartagena is great. A natural harbour, and reputedly the "best" one in the Mediterranean. I can believe it, as the entrance is deep in a bay, protected by two natural headlands, and surrounded by hills. The wind and sea have a tough time getting in, and the marina has an excellent mole to protect us from any stray waves. No beaches nearby, and hence not a tourist resort, but the city describes itself as "the port of culture".
They have taken sculpture to heart, and the place is full of bronze statues etc… A few examples: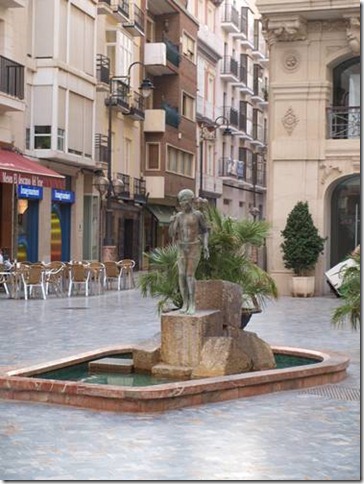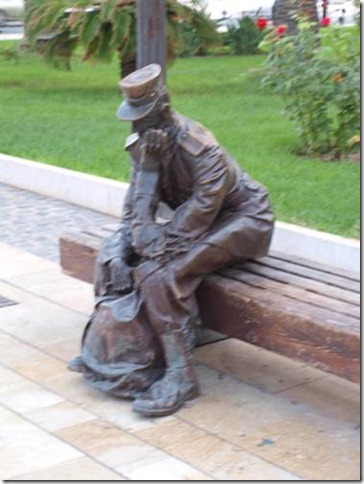 It boasts many fountains as well, but the real effort has gone into the archaeology. We have bought a 2 week pass for all the big tourist sites in the city, and have so far seen the castle, the roman theatre and the Punic walls. All very well presented (in English), and they clearly take great pride in their past. There is also a lot to see in the surrounding area, but we are putting this off until we come back in a month's time. Short term, we return to London on the 15 October, but come back for 10 days in November.
There is quite a community in the marina – lots of people have left their boat here and returned home, and I guess about 10 people are planning to spend the entire winter here. They have organised Spanish lessons, and we have met some of them. Most are delightful people, some experienced cruisers, others more recent converts such as ourselves. Our first evening here, one of our neighbours came over for a chat until the "Memsab" called him back! I think he enjoys escaping as much as possible.
We are slowly bedding IOLA down for the winter and finding various tasks to do. The engines have been serviced, I have found a leak in the cold water tank to sort out, I am trying to sort out butane for the cooker etc…. Fortunately it is still T shirts and shorts weather, although tonight the winds picked up to over 20 knots. Gales are funny in the Mediterranean – clear blue skies, warm weather, but big seas and big winds for about 3 days. Very different to the UK.
I am going to shut this blog down now until the spring when we will set off again for ????
---