Oeiras and 3 firsts!

Iola
Lesley & Derek Mercer
Thu 11 Aug 2011 19:35
38:40.5N 09:19.1W
Left Peniche around 7 am, casting off on my own. It was easy as we were on an outer pontoon, and there was very little wind.
Was motoring, but decided NOW was the time to try out the Parasailor. For non yachties, this is an enormous spinnaker type of sail that costs a small fortune, because a clever German chap found that if you cut a horizontal slit in it, and fit a sort of wing which helps to keep the sail up. It is a brilliant piece of engineering, well made and horribly costly, but is the bees knees for sailing with the wind behind you, and in light airs. With 10 knots of wind, it was definitely the time to try it out.
It took us half an hour to rig all the lines, shackles, blocks used to control the sail, mainly because I was not sure of myself and kept checking and rechecking everything. Eventually we flew the Parasailor, and it WORKED. Nearly 5 knots of speed for 10 knots of wind is a result. One or two minor glitches with the way I set the lines up to control the sail, but these will be eradicated by the next time we fly her. The advice had been to take her down at 15 knots of wind initially, so we did around noon. The winds tend to pick up after lunch, and I was keen to get the parasailor down earlier rather than later until we have more experience. After that we sailed with a reefed main and the genoa, happily travelling at 5 knots. First first.
Earlier in the day, I had decided to put the fishing line over the side with some left over feather lures from Gosport. It was more in hope than expectation. I had not seen any activity, but decided to check the line by hauling it in. Look what I found:
My first real fish!
It was quickly turned into fillets and eaten for lunch!
A second FIRST!
The final first was not quite such fun. As we rounded Capa da Roca, the most westernmost part of Europe (see photo)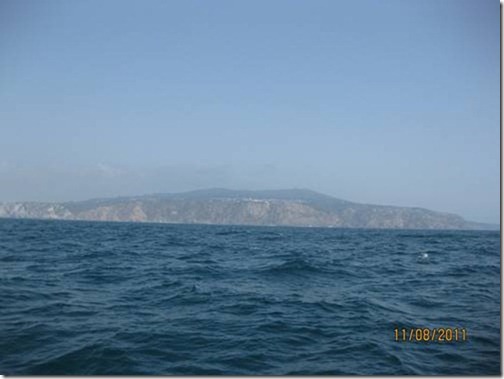 we hit something I have never experienced before : an acceleration zone. I have read about these, but never experienced one. In 10 mns the wind went from a rather banal 17 knots to over 50 knots ( I think this is gale force 6, or thereabouts). What happens is that the wind is pushed around the headland, and because a fixed amount of air has to get to the other side it "accelerates", even if the seas are calm. They are common in the Canaries, and I know of them, but this was my first experience. Frightening, but we came through OK.
After that it was downhill all the way. We came into the estuary where Lisbon is situated, and pasted Cascais marina and sort of tried to join the America's cup:
They didn't pay much attention to us, which was probably to the good!
Arrived safely in our marina around 6 pm and looking forward to some home cooking (meat this time).
---