Sunday 23rd September - A trip round Sydney Harbour

Wild Carol does Australia
John and Fiona Fraser
Sun 23 Sep 2018 16:00
John decided it would be a good idea to walk to the other ferry stop at Taronga Zoo… Half an hour later and after a lot of up and down we arrived only to see the ferry departing the quay! But it wasn't long until the next one and we were soon on our way to Circular Quay. It was a tad chilly but the air was clear and the views stupendous. A quick change of wharf at Circular Quay and we were on the ferry to Watson's Bay for our Sunday lunch appointment at Doyles. We arrived with time to spare so we walked through the village and out to the Heads where we watched the yachts racing. It was windy but we'd at least remembered to bring suitable clothes for the cooler climate. We did a quick tour of South Head and returned to Doyles where, to our surprise and delight, we had an outside table. The waiter was Brazilian and pleased to hear a few words of his own language. But only a few! We ordered the works along with a decent bottle of wine and watched the comings and goings of the ferries whilst we ate.
After lunch we took the ferry to Manly and had a quick walk to the beach there but we found it to be not quite as nice so after a quick coffee stop we got on the big ferry back to Circular Quay, then caught the ferry back to Mosman and then a short walk back to the Airbnb. A very pleasant day.
On the ferry to Circular Quay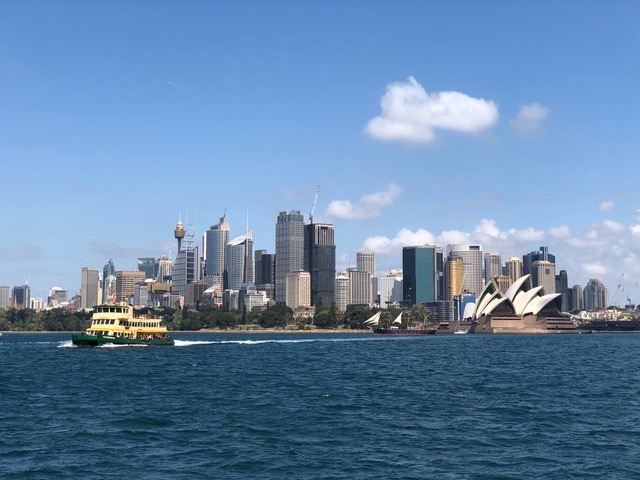 Getting buzzed by a seaplane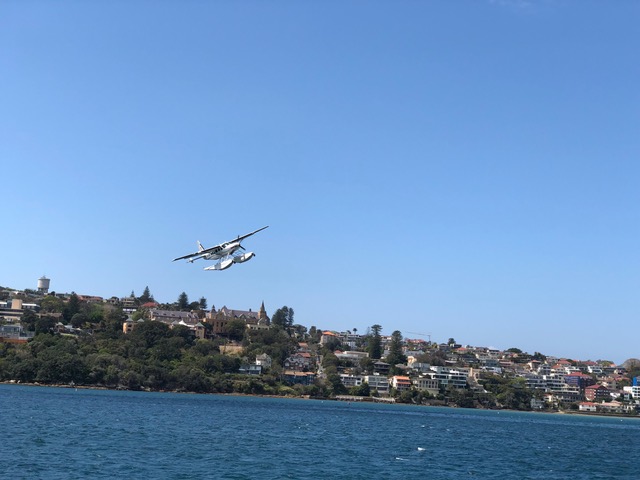 Watsons Bay wharf
Doyles restaurant - not quite open yet
View back to the city from the beach
A typical cottage in Watson's Bay
One of the cannon that was originally in one of the emplacements at the Heads
Hornby Lighthouse
A happy couple lunching at Doyles.
---