Saturday 7th July - Exmouth

Wild Carol does Australia
John and Fiona Fraser
Sat 7 Jul 2018 17:00
21:56.263S 114:7.836E

Snorkelling off beach on Sunday, joined Ocean Eco Adventures boat 'Latitude 22' for a whale shark swimming trip. Unfortunately the trip was all booked up for the swimming so we joined as 'observers' but had a great day nonetheless. We snorkelled on the reef in the morning. Very nice boat and we had a great view from the top deck. All the energetic 'go go go', into the water, out of the water, when a shark was spotted looked a bit too physical for us ancients. I think they'd have to hoist us out with the crane by the fifth swim! Everyone else was about half our age. They swam with five different sharks then we had a gourmet lunch and then went whale watching. The 'humpies' are on their migration and we could see loads of them 'blowing' and at least two breaching off in the distance. We came across a group with a female sleeping with three males circling her to keep guard. We watched for about 20 minutes then all of a sudden she woke with a big snort and off they went on their travels again. Brilliant...real David Attenborough moment!

The day finished with another snorkel off the reef. A brilliant day and definitely the highlight of the trip so far. We leave tomorrow for Karratha, then Port Hedland, Fi's old stomping ground.

Will post more pics after I get them off my camera.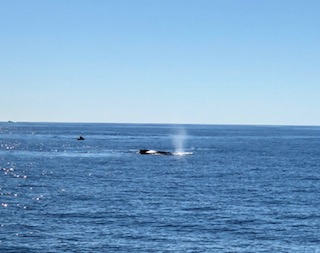 ---