Saturday 18th - to Cape Tribulation and Daintree Rainforest on the Bloomfield Track

Wild Carol does Australia
John and Fiona Fraser
Sat 18 Aug 2018 11:00
16 11.45S
145 24.9E

We left Cooktown around 10 and drove back along the road we'd come for 27 km before turning off towards Wujal Wujal. We stopped at the Lions Den hotel for a coffee. Established in 1875, it is, as Fiona described it, "a man's pub". It had an interesting little museum, a campsite by the river, and lots of graffiti and mementoes on the walls. Certainly would be a great overnight stop for the hundreds of 4WD campers on their way north to Cape York. This little road turned out to be one of the busiest we had been on.

We carried on, passing places with names like 'Home Rule', 'Lorna Doone' and 'Bonnie Glen'. Just after the aboriginal community at Wujal Wujal we stopped at the Bloomfield Falls. John was looking forward to crossing the causeway over the Bloomfield River, described in our map as 'requiring great care when water is flowing - there are no depth indicators - and saltwater crocodiles make wading across a risky option'. However, when we got there, there was a bridge!

On we went and the road turned into a dirt track. This would be our last off-road drive before handing our beloved Landcruiser back on Monday. We reached a section where there was a sign telling us to engage 4WD low range. We had rarely encountered this in our 10,000 km that we've come so far so we wondered what was ahead. It turned out to be very steep gradients, as steep as 1 in 3, both up and down rutted and washed out track. There were several sections like this before the road turned back to tarmac after about 30 km. This was the longest period we'd had the car in low range the whole trip.

The road twisted on, up and down, through the rainforest. Finally, we arrived at Cape Tribulation and stopped so that Fi could walk on the beach. It was hot! The beaches are beautiful here but you can't swim because of the crocs. At the entrance to the footpath from the car park to the beach there was a station with a bottle of vinegar for the stingers, although we couldn't understand how you'd get stung if you couldn't swim!

We started to think about our campsite for the night. Cape Trib camping looked nice but was full. We stopped at Daintree Rainforest Village, which had space, and turned out to be one of our nicest overnight stops.

There was a good view of the sunset behind the mountains and we could see the scar left by a massive land slip.

We went to bed in our rooftent for the second-last time.




The Lions Den Hotel



The bar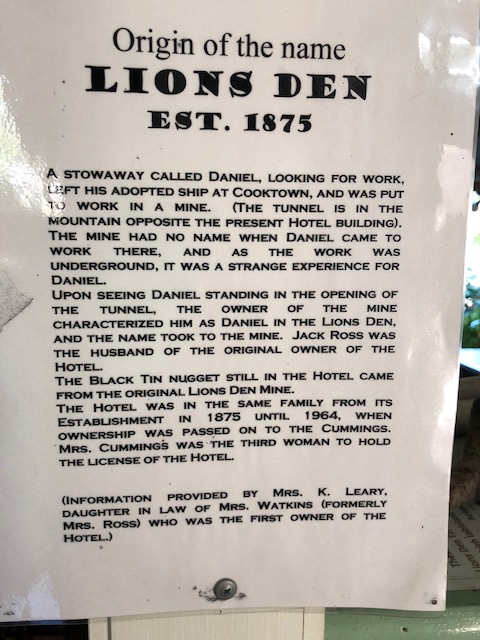 Interesting museum exhibit!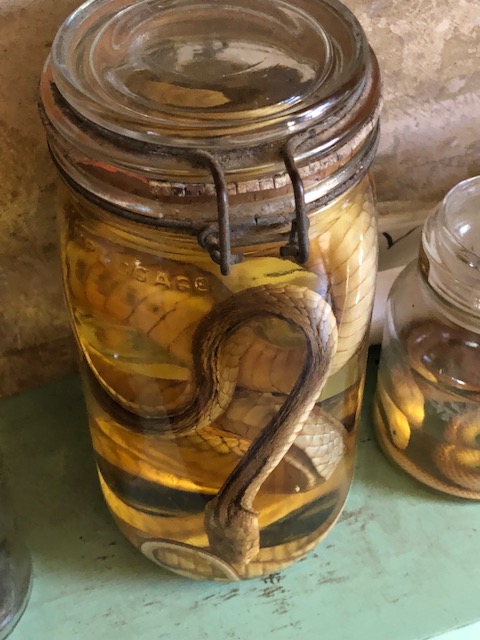 The Bloomfield Falls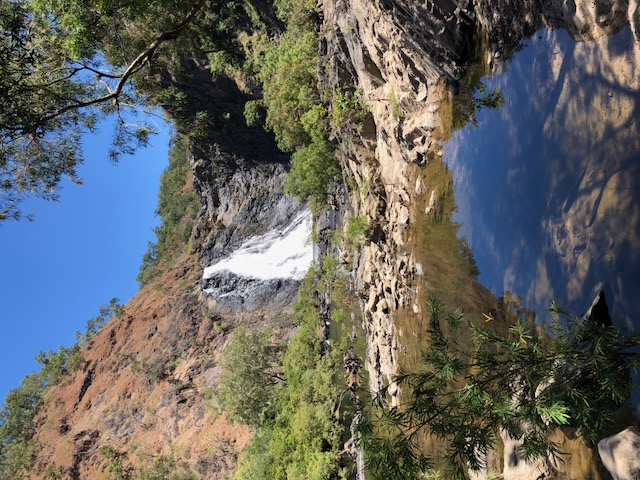 Cape Trib Beach, finally!



Cape Tribulation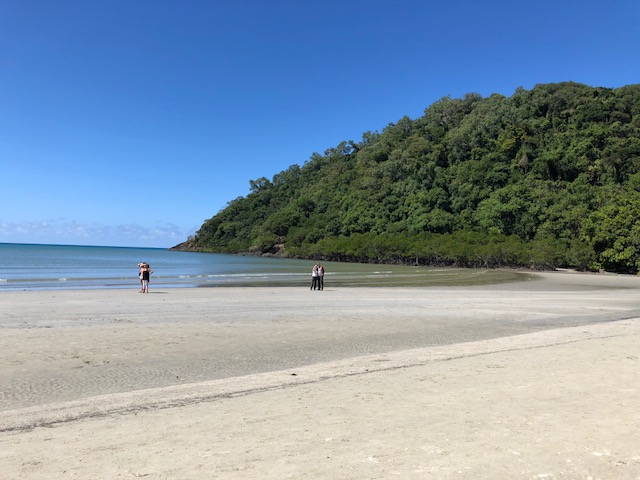 ---