In La Coruna at last...and on the move again

Wild Carol does Australia
John and Fiona Fraser
Thu 23 Jun 2011 07:34
43:22.02N 8:23.18W
Thursday morning
Well, we finally arrived in La Coruna yesterday morning at 10.30. We were all glad to see it I can tell you! After we posted the last entry the wind strengthened again from the west and we were back to plugging away with our poor little engine again, banging through the waves. The log impeller disintegrated (as we discovered on pulling it out in port) with the banging and progress was terribly slow. Wild Carol's engine is just not big enough for on-the nose wave bashing. She's designed to sail not motor but no sailing boat can sail straight into the wind so we have to put up with it. The right answer of course is to have infinite time so you just wait for the conditions to be right before leaving which is what they did in the days of sail before engines were invented. But...we're on a timetable...3 days to La Coruna when it should have taken 2 and a bit in good conditions.
Alex has departed back to London so we are down to four. We've filled up with diesel again and we're just getting ready to head out. 50 miles to the west then we turn south and follow the Spanish then Portuguese coasts. Our next destination is either Lagos or Portimao in the Algarve with a possible stop in Lisbon if we have to let Graham off. We should have northerly winds most of the way (good!) but there is a developing threat with strong easterly winds forecast coming out from Gibraltar. We have a 25 mile leg east to do after we pass Cape St Vincent at the SW end of Portugal so that will be another slog I'm sure.
We've now decided to leave the boat in Portugal as we've had too many delays and have run out of time. We'll come back later in the year to complete the trip to Alicante.
After all the on-board food we decided to eat out last night. Graham and Max had been shopping earlier and Graham struck up a rapport with a local taxi driver. He was duly summoned back to "take us to some tapas bars" in Graham's best Spanish. We then embarked on a high speed tour through La Coruna, wending our way through streets and up hills eventually arriving in a fairly non-descript kind of area where he pulled up beside a tapas bar - what seemed to be the only eating place nearby. There then ensued a dialogue with Graham insisting that "La vista no esta bien..." - the driver finally twigged and took us to the beach where we found a decent old bar that served up some decent beer and some decent tapas. We headed out and decided to flag down a taxi to take us back to the boat...who should be the first car to pass? Yes, it was our new friend. And that's the extent of our sight seeing here.....
Here's a few photos from the last couple of days (more dolphins I'm afraid...)
First sight of La Coruna - The Tower of Hercules
Land - Hooray!
La Coruna's impressive Harbour Control Tower
Castelo de San Anton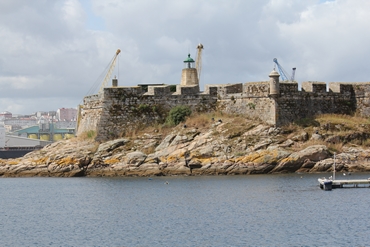 ---