Wednesday 18th July - Bell Gorge and Silent Grove campground

Wild Carol does Australia
John and Fiona Fraser
Wed 18 Jul 2018 14:00
125 14.913E
We packed up and were away from Windjana by
8am
after saying goodbye to family from Melbourne, our camping neighbours for the last two nights. Mum, Dad and a boy and a girl around 6 or 7. He is on a 3 month sabbatical and they have been everywhere with their trailer tent. Came up through the middle and are heading over to Broome/Dampier peninsula for some wild beach camping for 3 weeks, then heading south down the west coast and back across the Nullabor eventually to Melbourne. The Aussies love this lifestyle. No phone signals, the kids have no internet or iPads - they don't seem to miss them!
It was about a 2 hour drive along the Gibb. We stopped off at Silent Grove campground to pick a shady site and dropped off our tent, tables, chairs etc to claim our spot, then carried on another 10km or so to the Bell Gorge car park.
We parked next to a kitted out Disco 4 but it still looked a bit too genteel compared with the rufty tufty Japanese trucks that are the norm here. But I was surprised at the number of Land Rovers we came across, mostly Discos but the occasional Defender too.
We walked in to the top of the falls, not far. Beautiful spot and not too busy compared with what we'd been led to expect. We crossed the river, climbed a bit, then down into the gorge below the falls. John went swimming - a wee bit cold at first but OK once in. There were a couple of young lads 'tombstoning' from the top into the deep part to impress their girlfriends. Fi had a quick dip but too cold for her. Sitting on the bank taking in the rays is her preference!
We stayed a couple of hours then returned to the campsite where we encountered our first problem with the tent - broken zip. Eventually managed to fix it but it will need watching.
Pork steak, beans and rice for dinner - finished the red wine!
Nice to see the occasional Land Rover!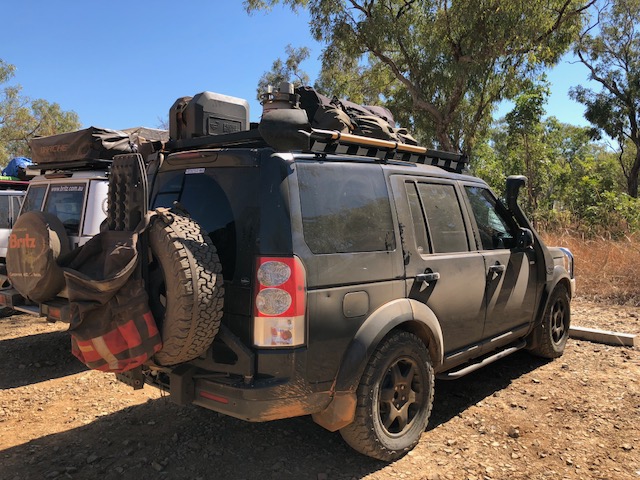 ---