Mitchell Falls - at last!

Wild Carol does Australia
John and Fiona Fraser
Tue 24 Jul 2018 11:00
Shortly after leaving big Merten we arrived at the top of Mitchell Falls. Fiona cooled her feet in the water while John climbed up to find a good spot to take pictures.

We then hiked a few hundred metres upstream to a small set of falls and pools which was a great place to cool off and have our lunch.

After a pleasant hour or two we crossed the river to the viewpoint and took some more photos before heading for our 13:45 with our return transport. Yes, we have to own up...we cheated and took the helicopter back! It was great to get the big picture from the sky. I took mostly video during the trip so will have to see if I can get some good stills from that later.

Once back at camp we borrowed kiosk Keith's drill again and completed the repairs. No showers in this bush camp so we tried the solar shower for the first time. Nice hot water after the day in the sun.

End of a brilliant day!

View of first fall
Next level
Panorama shot
Feet get hot!
Cooling off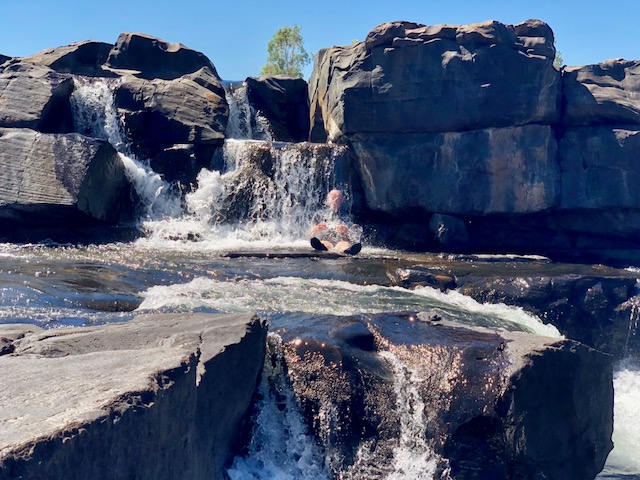 Best view from land
Departure gate!
Our transport back to camp..
I'm enjoying it really..
Last sight of the Mitchell Falls
---