Farewell from Graham

Wild Carol does Australia
John and Fiona Fraser
Sun 26 Jun 2011 09:54
38:41.45N 9:25.1W
Well folks, this is it .. the wrap up blog of GC in the port of CASCAIS.
It is 23:30 on Saturday 25th and we have just returned to Wild Carol after an evening ashore. ( though some might say it is 02:00 hrs on Sunday the 26th - sceptics such as they are ... )
I cannot remember all the stuff that I forgot.. but here is a brief summary of the things I should have mentioned ...
We sailed away for a year and a day to the land where the bong tree grows....which roughly translated means that we left Scotland and sailed to Portugal.
With pots of honey and lots of money, wrapped up in a five pound note ... again this really means we had lots of great food and plenty dosh to ensure a pleasant sojourn ..
Then something about a pea green boat ... but my memory fails at this point so suffice to say that this refers to the white and blue Wild Carol ...
It just goes to show that there is poetry in everything and that life can be kind at times....
I was told that we had never mentioned our meal in Falmouth .. I thought I had ... but perhaps not .... anyway - we had a meal in Falmouth......
It was in a wee restaurant and all I can say is that on the 8th Day Big G invented Seafood. It was quite probably the best seafood meal I have ever eaten ... phenomenally fine would not be an overstatement. The Grilled Lobster with crab claw was out of this world and the wine was excellent ... nothing in Aberdeen could have compared... which is the rather sad part ...
Alex came on board in Falmouth ... very much as expected .. except that his luggage - comprising of a single bag the size of Hampshire ( for he hails from South of the Border ) - was sufficiently large that it could have housed a herd of zebras, or kudu, or Aberdeen Angus, or ... well I am sure you get the picture.....Alex also arrived with some unspecified lurgy ... which laid him pretty low for much of the voyage ... but he had brief spells of lucidity and also managed to prepare some pretty fine puddings ... Apple crumble and a fancy rice pudding to name them ....amongst other delicacies...
Actually - Alex and I were on watch together and made great improvements on all the errors made by the "B" Watch .... a point which will no doubt be wildly disputed by Max and Iain ... but you folks will know I speak with a straight tongue .
Hey ho - anyway, as you know we dumped Alex and his extremely large bag in La Coruna - and we departed with at least 3 feet more freeboard...and sailed 2 days to Cascais in Portugal ... what a lovely place ... great marina and all the facilities near hand .. and a short walk into town . If you don't know the place ... Google it and you will see. The sun shone all day - hitting 29Deg in the cabin ... and so the best thing was to head for town and have a beer .. and so to town .... Then back to the boat for a short time to change attire for returning to town for dinner ( evening meal !! ) .. we found a great square ... it was near the middle of town and could therefore be described ( by some at least ) as the town square ....and after some delays we succeeded in securing a table at one of the many restaurants - however, this entailed our having to consume several unscheduled beers in passing the time.
The meal was excellent - seafood or steak ... and of course the mandatory beers and red wine ... An accident occurred during the early phase of the meal ... shortly after Max- "The Teller of (mis)Fortunes" predicted such an event - in this case a glass of beer was tipped over accidently ( or not ?? ) onto Iain ... I cannot tell a lie - it was Max's fault... and again he will no doubt try to weasel his way out of it ... but you know who to believe.
Somehow, en route back to the boat we shipmates managed to get separated in the extremely busy crowds on the foreshore... and we lost our fine Captain from our line of site ... We charted a reciprocal course, undertook a finely tuned grid search of the area, and appealed to McMurdo via Goonhilly for satellite tracking ... but to no avail ... we were distraught and required some resolve to continue in our duty.. and headed for a bar. Only a short time later we mustered sufficient resolve to soldier on ... back to a silent ship ... but Hurrah !!! ... Our trusty Captain had navigated true and reached the sanctuary of the vessel before us .. and obviously equally distraught ... he had gone to bed to mourn his apparent loss of a most trusty and loyal crew .....
Well, now I am alone in the saloon and all I can now hear is Max snoring like a buzz saw in the forepeak, and the lads aft in the vast Owners Suite are rather silent ... I am packed up and ready for a taxi at 6 a.m. to take me to Lisbon Airport and the Flight home... must say it grieves me to leave, as all this shipboard malarkey was working out rather well... but I have chores to do - logs to cut and stuff to potter at ... and then it is back to work.. I had a great voyage .. managed to teach lads a few tricks along the way ... and thoroughly enjoyed the company and the passage...
So until the next voyage .....Adios, Hasta Luego, .....and something about a runcible spoon ....GC.
Thanks John for inviting me ... Max, Iain and Alex ... I really enjoyed it all ....See you back home on Scottish soil...or perhaps on the Spanish Main ...( or perhaps that should be the Spanish Med.... )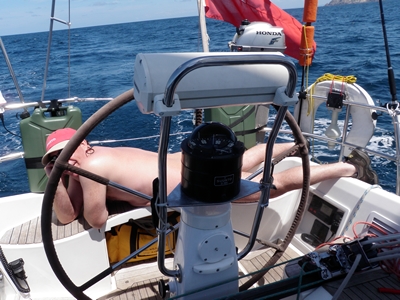 ---