Wednesday 8th August - Daly Waters

Wild Carol does Australia
John and Fiona Fraser
Wed 8 Aug 2018 21:50
16 15.253S
133 22.139E

After a fruitless visit to the Katherine Tourist Information Centre to try to find info about the conditions on the Borroloola - Hells Gate Road we headed for Daly Waters, arriving about 3:30pm. Daly Waters is famous for its quaint old pub, now a serious tourist attraction. There is a WWII airfield here and it was also a refuelling stop for the first international flights fro Australia to Europe.

We signed up for the beef and barra bbq and went there to catch the end of happy hour at 5:45. It is stuffed full of memorabilia and souvenirs that folk have left, including, for reasons unexplained, a huge collection of bras.

We sat at a table with another couple our age, the lovely Joanna and Geoff Taylor. It turned out that they are both from England originally but they came to Australia over 40 years ago so they sounded Australian. He's a semi-retired GP and she was a nurse. The amazing coincidence was that they both worked for six months in the same Port Hedland hospital as Fiona, but a couple of years earlier, so they had a lot to talk about.

After eating, we danced the night away to AC/DC and the time warp, among other fine tunes...

To Borroloola tomorrow.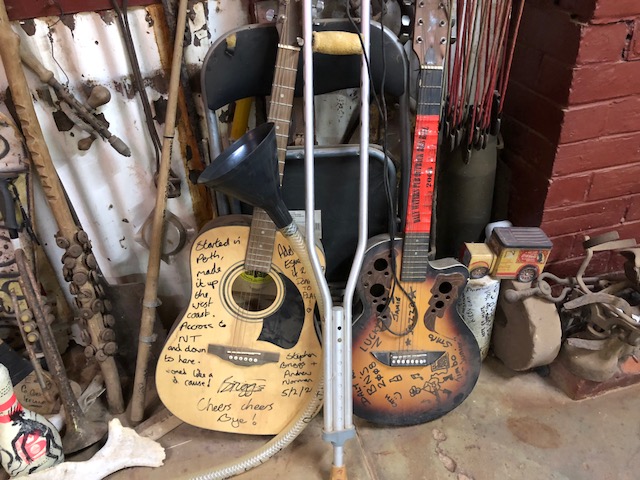 ---