Vava'u - Tonga - (69)

Beaujolais
Sun 29 Aug 2010 07:23
We arrived in Tonga on the morning or the 18th August via the eastern entrance. The route around the north of the island was much easier but the advantage of the eastern entrance was that we could pass many of the anchorages and islands of the group on our way to the main town of Neieafu,
We were greeted by very friendly officials but it was soon obvious that they could be unfriendly as well. This was clear when I was asked if I had some gift for him. I said "no, sorry, I don't have anything" to which he responded with a heavy frown and the words "so exactly how much and what alcohol are you carrying?" A few more exchanges made it clear to me that without his present, this was going to take a long time. So, he got his 1/2 bottle of Beaujolais and promptly made it clear to all other officials as they they came aboard that they should get one to. So 20 minutes later we were cleared into the country, swiftly and without problem but also 5 beaujolais down. Roger was not a happy bunny! Officials in other countries may have been somewhat officious but they never made it so blatantly clear that the clearing in process could take a long time without a "souvenir". Another yacht was there and he cleverly pre-empted this by having a 6-pack of Sprite on the cockpit table and when asked if he had anything reluctantly said they could have the 6-pack and that satisfied them. Lesson learned. Guess who has a 6-pack of sprite on board now? Anyway, good that Janice had stocked up the ½ bottles or it would have been expensive.
The so-called free wireless internet is no longer free. Vava'unet has tied that up nicely providing the most appalling service I have yet to experience, especially given the unreliable connectivity and v-e-r-y s-l-o-w speed, at exorbitant prices. It was no better at the internet cafes. Maybe it's the fault of the telecom provider, I don't know, but the service delivered in no way resembles that promoted by the Internet Providers.
OK, moaning finished.
Tonga is beautiful and the people, like most Polynesians, very friendly and helpful. Right of the main town, the water is not only clear but also very deep so there are a large number of good quality moorings to pick up. This is great, saves anchoring and at US$6 per day, quite affordable.
The main harbour and mooring field of Neiafu
The main street (1)
The main street (2)
The Vegetable and banana Market
Darryl's State Farm bear in Tonga
Moorings have a charter base in Vava'u and so all the anchorages have been numbered. Maybe not so romantic but as most of the names are unpronounceable, quite practical. We went to anchorage #7, also called La Maurelle as it was named after the Spanish sailor who first anchored there. It was really lovely with a sandy beach and crystal clear deep blue water. However, 3 attempts to anchor with the CQR failed so I changed to the Danforth which held first time. This is often the case when the bottom is a thin layer or sandy coral or had coral or limestone. The islands are either raised limestone which provide lots of caves, chasms etc. to explore or the archetypal and idyllic white sand, South Seas Island beaches with coconut palms.
Caves everywhere
Protected cruising waters and islands all within a hour sailing of each other
That night there was a Tongan Feats being held at the nearby Barnacle Beach. At 5;30pm we went around the headland of the bay in the dinghy, along with the crews of as few other boats that were also anchored in the same bay.
First to get a parking place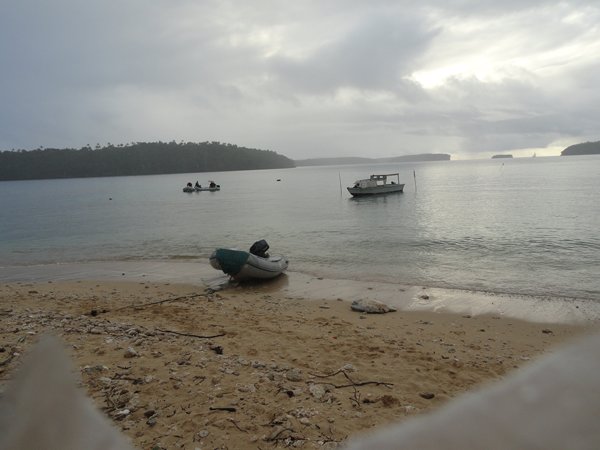 The house is only about 10m from the high water mark and was construction from a wide variety of natural and man-made materials.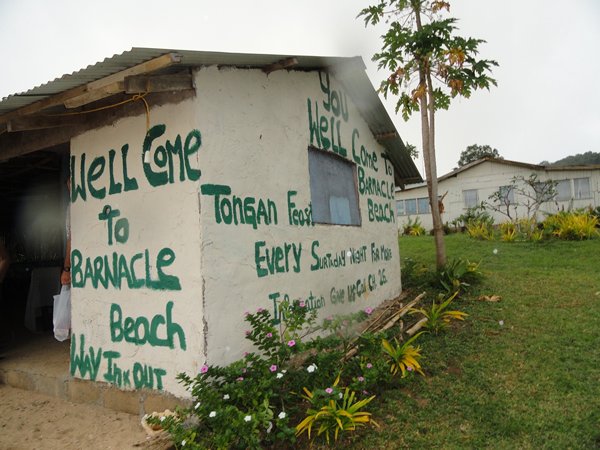 The Tongan Feast venue (note their own large house in the background)
All together there were about 20 to 30 guests. First we drank Kava which is made by pummelling the root of a pepper tree into powder adding water and then straining it though muslin type material.
Traditionally, young maidens would have chewed it to a mush and then with the water added, a particular bark would be passed though it to remove all the bits.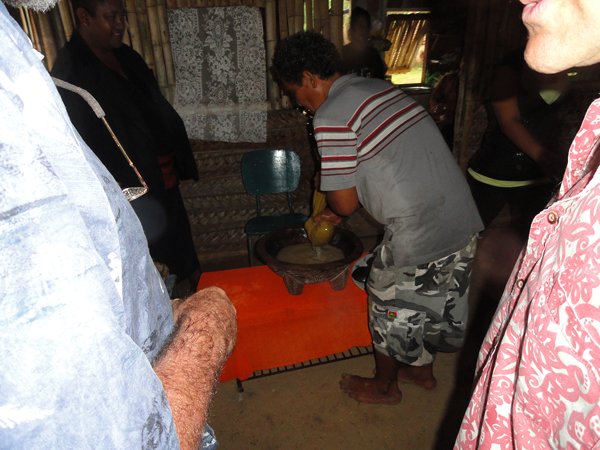 Hmmm, yes, well, let's put it this way; its visual resemblance to the water you had just washed your socks in did not disagree with the taste you could imagine that water would be like. But it did lave a mild tingling on your lips; so probably no difference there either!
The meat part of the meal
The whole family is involved, including the local parson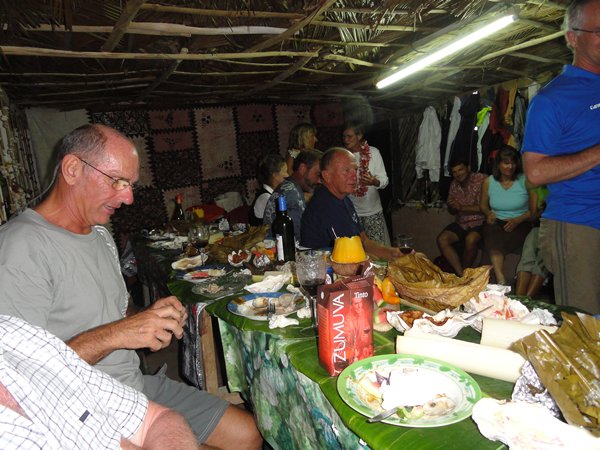 It was byob and leave the mess
Carriages at 9pm (It was quite cool and had rained earlier)
The next day, I went snorkelling around the island of Ava and it was great. I saw reef fish that I have not seen before, humungous sponge corals, blue and pink starfish, and a 2-3m black tipped reef shark that quietly glided passed me about 10m away. I do confess that I swam much closer to the limestone and coral walls and turned my head several times to check on him before resuming relaxed swimming mode.
Blue and pink Starfish were everywhere
Starfish can be quite shy at times
The photo does not capture just how pink this one was
Such clear water, this was some 3m away from me
There are a few very well known caves in Vava'u.
Swallow's cave is accessible by dinghy. It is a large high entrance that immediately opens out into a huge cavern with water some 5 metres or more deep.
Best visited around 3pm to 4pm, the afternoon sun pours in and lights up the water with the most intense shades indigo trailing off towards lighter turquoise at the edges.
Magnificent! It is possible to tie up the dinghy, swim about 2 metres and climb up further into the cave.
Looking back at Darryl on dinghy watch
It then comes to a large flat area were historically, feasts were held.
Very high above is a hole in the roof through which food and drink would be lowered on the equivalent of a Polynesian dumb waiter. With a torch (flashlight), you could walk still deeper into the cave to a third but smaller cavern. All along the way, the ceiling is full of birds and the air of birdsong. Apparently, they are starlings, not swallows.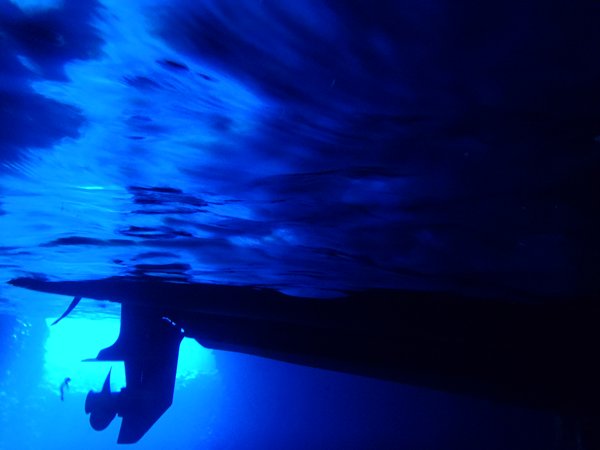 Roger's arty pic
Back at the boat, it became clear that at sometime in the cave, my new waterproof camera had decided to have a card corruption moment, a bit like a senior moment I suppose, and could not recall a single picture. I had no choice but to re-format the card! Darryl had taken some on his camera but from quite different angles so we went back the next day and repeated the adventure to re-shoot some of those from my perspective. So the above pics are a mixture of Darryl's and mine.
We fired up the Yamaha outboard and went planning along to a neighbouring island to seek and find Mariner's Cave. Now, for those of you who are still persevering with all of this, this next part really IS interesting, honest.
Mariner's Cave is accessible only from underwater and to find it you have to go along veryu slowly looking for the underwater opening! To get in, there is no other way but to scuba or snorkel. The lower entrance is at about ten metres, the upper at two. There is nowhere to anchor outside; ten metres from the cliff face the bottom drops off instantly from about 20m to 60/80m. So you go along in your dingy or with your big boat and while someone stays on board, you dive in and "do" the cave. Darryl took dinghy duty and I dived in and not without a wee touch of apprehension, duck dived down the necessary 3m and swam the 4 or 5 metres until I saw the water above separate from the rock and then surfaced into this cave some 25m in diameter. WOW! That was exciting despite the fact that I dive deeper and for much longer all the time, there was something about there being only rock and no air above that added an extra dimension to the experience.
The only light comes through the submerged entrance
Once inside, the air pressure increased and decreased as every swell from outside forced more water into the cave. With the increase in pressure, the air condensed into a fine mist that instantly disappeared a few seconds later when the swell receded.
From the inside, looking out
Swimming out, I did not time the swell quite as well as I did on the way in so had to swim that little bit harder but it really was ok. For people new to snorkelling, Mariner's Cave could be quite an intimidating experience but one that would never be forgotten.This is a MUST DO if ever you visit Vava'u.
Luckily, I was finished and already back out when a dive boat arrived with a dozen or so people who then spent their time with the instructors doing what I had just done. I am so glad that we got there before them as doing it with a crowd would have taken away a lot of the pleasure.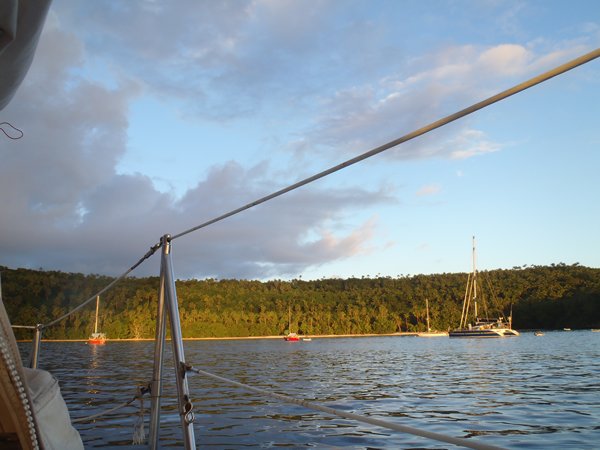 Back at the anchorage
The fish and birds were going crazy so I worked really hard to catch some fish...
...but to no avail.
Next day it was back to the main town to provision, clear out with the authorities and re-fuel in preparation for an early departure for Fiji the next morning.
We were up bright and early and arrived back at the main wharf for clearing out. Only after clearing customs are you allowed to buy duty-free fuel and as the price difference to normal fuel would amount to about US$200, I had reluctantly waited to do this on the last day. I know, memories of Nuku Hiva leap to the fore.
The procedure is simple; you phone the fuel depot, which is 5Km outside of town, order a quantity of fuel (I needed 360ltr), the fuel truck turns up an hour or so later and pumps it straight into your boat, you pay the driver, the customs man has seen that the fuel went into the boat, signs the delivery man's papers and everyone goes away happy.
It had been happening like this, without hitches for numerous other boats all week but the day we had chosen was the day the delivery truck decided to break down. It was not going to be repaired for a week, as parts were needed from New Zealand. As much as I would love to have stayed in Tonga for another week, we have to meet Darryl's wife Lynne who is flying into Fiji next week to join us on the boat. Staying was not an option, we needed the fuel, US$200 is a lot of money, and they can not deliver the fuel.
No way to solve this one I was told by several people. This is a really long story but I will try to be brief. I decided if I could get enough jerry cans, maybe I could persuade the fuel depot people to send someone with me to confirm the fuel went to the boat. For that though I knew that I would need face to face contact; phoning to ask them simply would not work but they were 5kms out of town. By now, I am at the Tropicana cafe owned by a very friendly and helpful Kiwi called Greg. He is also a port captain for the Island Sailing Club.
Greg offered to help me by loaning his car to me, there it is in the pic, so that I could go and do whatever it was that I had to do.
Anyway, they agreed to deliver the fuel to the boat but only in two, 200ltr (50gal) drums. I would have to sort out transferring it to the boat. This will work I said, the wharf is much higher than the boat so I can siphon the fuel straight into the tanks and my extra Jerry cans. Great, it is all organised but they could not deliver for another 2 hours. Ok. That is fine I thought. The drums arrive and they leave them for us to do our thing. Unfortunately I have only a very narrow pipe so the flow rate is very slow – and the tide is now on the rise! You got it, the boat gets higher, the flow rate slows even more until it stops. Then we have to manually chock up the drum, still with fuel in it and restart the siphon. "Time and Tide wait for no man" Oh was this so true. We finally completed the process, washed the cockpit and side deck areas which were covered in diesel and left the wharf to pick up our allocated mooring ball. It was now gone 9pm as we threaded our way through the anchorage and mooring field in the pitch dark as there was no moon yet. Another yacht had taken our mooring ball! We radioed for another but without luck, so ended up just taking one that was available. It was 10pm by the time we sat down to have something to eat, the first since breakfast.
So Tonga – Vava'u is a lovely island group with lovely people and scenery. I liked it but "doing" Tonga in 5 days is like "doing" Europe in 10 days. This is one place to which I would like to return sometime.
As we left Tongan waters the next day, we passed the island of Late and I quite liked the picture so I captured it.
Oh, by the way, I haven't seen Skinky, Minky or Splitky lately but I have seen our new baby Tinky. Sorry he was too quick for me to get a photo but he is sooo gorgeous!
---