The San Blas, Panama (1)

Beaujolais
Tue 12 May 2009 21:02
Forgive me readers for I have sinned, it is 15 days since I last wrote to you!!!! Actually we have been having a ball and have not had the time, or the energy to write, plus the fact that I can't post this yet hasn't helped.
Having not written for so long and having done so much has posed something of a problem for me, how do I write this and convey how thrilling it has been, without it being repetitive?
I have decided that I will try a new format for these entries to try and overcome this. So I hope you will enjoy it just as much and get a taste for the life of the Kuna here in Kuna Yala, otherwise known as the San Blas!!!
THE STORY SO FAR……….
With the fridge and freezer working again, we let go of the lines and went to the fuelling dock to refuel. Our trip down from Honduras had used most of our diesel and we also wanted to get more petrol for the 'dink'.
I managed to get the 'old town' skyline I had been trying to get all week.
It certainly is lovely there is no denying that.
The weather was good and it promised to be a nice sail up to Kuna Yala, otherwise known as the San Blas islands.
The passage took 43 hours in total and was uneventful, with lovely moonlit nights and sunny days. But best of all the Beaujolais symphony orchestra seemed to have jumped ship, hooray!!!
It was April 5th, my birthday, when we sailed into the anchorage at Waisaladup island in the West Hollandes Cays of the Kuna Yala. I tell you, not many people get taken to such a beautiful place for their birthday. It's picture perfect, a lovely coconut tree covered island fringed with gorgeous white sandy beaches and azure blue water, ahhh paradise. Such a dramatic contrast to Cartagena. In fact for me it is probably the nearest I have ever come to paradise, in so far as not only is it beautiful, but there are no sand flies or mosquitos!!!!!!!
FORMALITIES
For those of you who are not yachties this is the boring bit, so now would be a good time for a cuppa!!!
Clearing in at Porvenir is straight forward and not as daunting as we had been led to believe. We have heard stories of people having to wait for days and having all sorts of problems. Once again we believe that it comes down to the 3 A's, Attitude, Approach and Appearance.
We always dress smartly, in smart clean shorts and polo shirt. Roger is always clean shaven. After all you make the first and lasting impression in the first few seconds!!
Also be organised, have all your papers and copies ready, just try and make their life as easy as you want them to make yours!!! ( Sorry if I'm preaching to the converted, but you would be surprised how many people don't do these simple things) It's also showing respect for their authority.
We telephoned the Port Captain to find out when he was going to be at his office.
We anchored off the island and dinghied ashore. The 2 buildings with the red roofs right in front of the jetty are the immigration, port captain and congresso.
First stop is the Immigration. He will want a copy of your Zarpe and 2 copies of your liste de tribulantes ( crew list) you will pay a fee of $30 for which he will stamp you passport and give you a receipt. You then go to the port captains office and he will require your zarpe and liste de triblantes. BE WARNED!!!! If you arrive from Panama you have 36 hours to report to him or you will be fined. We had sailed up from Cartagena and had left on the 2nd and not checked in until the 16th, he was not happy and I think if we hadn't have developed a good rapport with him in the first instance, he may well have fined us. I think 2 weeks is pushing it. Also if you do come from Cartagena and David gets your Zarpe to say Cartagena to Colon Via the San Blas, in the hope and belief that you don't have to clear into the San Blas, you will be fined $200 when you reach Colon if you haven't cleared into San Blas, because it is not valid (according to the port captain).
Now a few words about the Port Captain. He is not a happy man! Why? Because he has only 1000 yachts a year to deal with (probably a 1000 permits per year not yachts) most arriving between Jan and May and Panama will not let him have a secretary.
So he is doing a secretary's job as well and doesn't think he should be! So it is worth trying your Kuna or at the very least Spanish and remember he feels badly done by, so be sympathetic. I have heard stories that he expects gifts, all I can say is that was not what we experienced nor was there any indication that was what he expected ( perhaps he is new and it was a previous port captain). So don't go bearing gifts, it sets precedents that none of us want, nor should it be encouraged.
He asked where we were going and then offered us a 1 year cruising permit for $280. As we didn't have that much in $ we opted for the 3 month at $69. But he offered the extended permit to us without being asked, which would certainly have made our lives easier when leaving the boat in Shelter Bay and coming back in 6 months time, so it was very thoughtful of him. We have since learned that you can only have a 3 month permit and then you have to renew so perhaps he wasn't being so nice after all? So it is safer to just get the 3 month rather than risk paying for a longer permit only to find out that it is not valid elsewhere in Panama!!!
After you get your permit, you then go to the Kuna Congresso and you will meet Snr Anni Alberto. Once again try your Kuna, he certainly appreciates it. You will pay $24 (Toorgwen kaka barkay bark in Kuna) well that's what we paid as there were 2 of us on our boat. But he will also tell you that some islands will charge you $5 to anchor off them or visit them and that is legal. When you leave the Kuna Yala you will need to get a Zarpe (even if you are still sailing in Panamanian waters) and that will cost you $32 (that includes the congresso fee).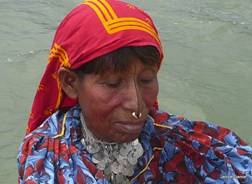 THE KUNA INDIANS
The Kuna are peace loving people who rule Kuna Yala almost autonomously, even though it is officially part of Panama. There are approximately 55000 Kuna living both in the islands and on the mainland, this is only 10% of the population that there was before the invasion by the Spanish conquistadores. They were almost wiped out.
Kuna are a very small people, second only to the pygmies in stature. They are perfectly proportioned and surprisingly strong for their diminutive size. The women decorate their faces with rouge and henna, the henna is drawn in a line down their noses. They also wear gold rings through their noses and their arms and legs are adorned with strings of beads. The Molas they wear are all hand made by themselves.
The traditional arts of Mola making are still practiced and provide a valuable source of revenue, with some Molas costing as much as $60. They are exquisite, made up of several layers of different coloured material and very fine stitching. The more colours and the finer the stitching, the higher the price. But it isn't only women who make Molas, the men do too. In fact we bought our Mola from a Master Mola Maker named Venancio, but more about him later.
The children make beaded bracelets, anklets and necklaces, the whole family works together to support themselves.
They travel between the islands to conduct their business by Ulu ( local dugout canoes) or by water taxis.
As we have seen elsewhere, everyone uses the ulu's, children, women and men. Women will load up the Ulu with the children and buckets of Molas and bracelets and paddle out to yachts as they anchor off the islands. Often the men will paddle the whole family out to trade.
The whole family, even babies, will go out to fish and will sell fish, lobster and crabs to the yachts ( we have dined extremely well since we have been in the islands I can tell you!)
Ulu's will come and sell you fruit and vegetables.
But what sets the Kuna Ulu's apart from any others we have seen so far is that they also have sails.
It's not surprising when you consider that they sometimes have to travel many miles between islands.
They have their own language, though many of the younger generation also speak Spanish and some English. We learned some useful phrases in Kuna and it proved very helpful in creating a good impression at immigration.
I will write them phonetically as I have no idea of the correct spelling anyway.
Veeaahh daneekee? = where have you come from?

Why dat rat bali? = how are you?

Dehgee taygar = hello (this is followed by Nooway gambee , I am not sure of the translation, but the response is dehgee taygar nooway gambee)

Dehgee marlow = goodbye

Nooehdi = thank you

Iggy benoogar? = what is your name?


Well igualay = I am very happy

Ee Tee Molandoh = Cheers/down the hatch!!! (beware of this one!!!)

Bahnay marlow = goodnight
THE ISLANDS
What can I say? They really are stunningly beautiful and as I mentioned earlier, made more appealing by way of not having sand flies or mosquitos!!!!.
Most are very small and either have coconut trees or mangroves or both.
They stretch over an area about 125miles in length and there are 365 (one for each day of the year!!!)
Many are uninhabited, some have a caretaker family who look after the coconut trees, which is another major source of revenue for the Kuna.
Others are densely populated in traditional Kuna style, the houses made of bamboo and palms others are more modern with the introduction of electricity, while others have forsaken the Kuna way and become totally modern even making houses out of brick and cement, which is a real shame.
Some have mains water piped in from the main land, others have wells while many have to have water supplied by Ulu in big plastic drums. I have to say I am surprised they don't seem to collect rainwater??

Almost all of them are protected by reefs. Which brings me to the snorkelling.
SNORKELLING
There is no doubt that the Kuna Yala has some of the best snorkelling I have even come across. While the coral doesn't seem to be a colourful and vibrant as other places, the marine life is excellent.
We have seen huge spotted eagle rays, sharks, sea cucumbers of a size I have never seen before and in numbers I have never seen either. There were lobsters, king crabs, sand dollar and sea biscuits everywhere.
We have swum with incredible shoals of silversides that numbered in the hundreds of thousands and swam around us for what seems ages.
The water is lovely and warm, the currents are gentle and the visibility is generally very good. Plus there are so many reefs and coral gardens, that if one area isn't very good, a short swim and you'll find one that is.
Each area has its own 'speciality'.
One area will have colonies of sea cucumbers, another, lots of shoaling fish, another, lots of conch and yet another will have lobster and king crab under every rock.
It never gets boring as you always seem to see something new!
---