Brazzaville at last.....!

"Into Africa" More than a Motorcycle Adventure
Howard Fairbank
Sat 8 Mar 2014 19:39
04:16.04S 15:16.87E
7th and 8th March 2014.
Somehow, I was pretty excited waking up today. I guess I knew Brazzaville was a virtual certainty, but maybe more importantly, I thought that by the end of the day, I should have some certainty on how long I'll have to stay there. As my last post said, I really didn't want to be holed up until Wednesday next week or beyond. Fate would lay it's hand….
The one issue that I seem to be in denial about, was that my lower back and coccyx were sensitive from yesterday's 'joy ride', both bruised and suggesting a rest day! Fortunately years of cycling has taught me to override the request for rest day, and work on the basis that the second day will bring 'body learning', that even surprises the most pessimistic complainer! I was hopeful the same would apply today……..
African time prevailed, and as usual this is in diametric conflict with Howard Fairbank, modus operandi! Aime, had said he wanted to leave at 5am (I think, he did add a 'round about', 5am) He slept in the truck, and I was half a kilometre away in my luxury auberge! I set the alarm for 4h30, was up before the alarm…This morning the frogs were even louder and 'better' than the morning before…. We were right next to a river!  I packed and left, walking down the main village road, surprised at how active things were: A few truck crews working on tyre / mechanical problems, all very friendly, greeting me with the standard: "Bonjour". I felt very free, and un-special, as they just carried on with their business. Well, I couldn't believe the line of trucks now present. With Aime, our 'grand prix' driver, we must have almost been first to the Police / Military check, but now there were lines of trucks both sides of the road stretching for a kilometre or more. Good job, I'd taken down 'our' truck number, but even with it, I walked up and down searching for it! I met my side of the deal, there at 5am exactly, but as I climbed up and looked in the truck, there was Aime out for the count. It just felt good, being up and about at this time in the dark, expectant of a new day awakening. In the absence of the soulless gym, and nature provided a very spiritual, star ceilinged, one, I decided to use the time to give my aching body some attention: My self-sufficient routine…..and press-ups, and squats in time with the frog croaks, no other gym members present, this was bliss!   Those ankles and knees are feeling better for it too…..
As the darkness transformed into daylight, the stars disappeared, and I heard a stirring in the truck! Andre arrived soon after, clearly, an experienced 'African time' expert, and by 7am we were on our way: Not quite first off the grid, but maybe 7th or 8th.
Gee, the first half an hour there was just silence, I sensed like me, each was dealing with the reality of being back in the rocking and rollin cab! Somehow, I was pretty sure I wasn't imagining it but the first section roads seemed even worse than the day before. I think the road had dried out a bit, and now instead of soft mud, there were tough clay ridges to be negotiated. Aime, seemed very cautious, and the going was slow, albeit we were catching and passing the 'competition'. The Chinese, 'football stadium equipment', team were formidable, they stuck together, much slower than us, but hard to pass,! I had to attribute that to the poor quality equipment (Chinese trucks) , but I was probably wrong, and it was all about discipline! Thinking about all this, made me realise what a boom for China this whole infrastructure stuff is…. Mercedes would be selling their 'better for the job', trucks in here, but with the Chinese, take all mind set (understandable), the manufacturers in China are getting great growth, and eating away at western world market share. Chinese trucks were second only in number, to Mercedes on this road.
Eventually, after a very aggro battle, we made it into 1st pace, on the grand prix de Brazzaville, and as we passed the leader, both Andre and I shouted "Champione"… Aime enjoyed that! I gained a lot of respect for his driving, as he wasn't reckless, but focused and purposeful…. Good qualities to have!
After about 3 hours, I thought I was seeing a mirage: A tar road intersection ahead.  Aime saw my excitement, and confirmed, 75 kilometres to Brazzaville and all tar ahead!
Andre (l) and Aime (r), Grand Prix Chapione!
We got into his depot about 10 kilometres from, La Centre Ville, at 10h30, I was in a taxi with Andre by 10h45, with no idea where the Gabon embassy was, or even how far we had to go, but it all seemed cool….
Soon we were in sight of the mighty Congo, and I couldn't have imagined how huge and wild it was in this section. A muddy brown, but huge rapids, and fast flowing river, and there I could see Kinshasa on the far shore. This wasn't how I had imagined the river to be…. Sorry no photos, Gabon embassy was the focus, but I do plan on getting back that spot tomorrow!
Lots of traffic as expected, but our driver was, Aime 2, and we were once agin winning! After a few U-turns, and one dirt road, short cut, I was worried if the guy actually did know where the embassy was, but suddenly there up ahead was the flag, and he announce: Gabon Embassado, Monsieur! I was impressed, hopped out the car, said "Arrivour" to Andre and paid the fare.
Cutting the story short: By 16h30, and $210 later, I had both Gabon and Cameroon visas, one in the Aussie passport and one in the South African one, and also a delightful, good value for money hotel! Mission accomplished must quicker than I thought!
I had internet for the 1st time in many days, managed to let a worried Ruth know I was fine, and was soon enjoying a great Asian meal at the hotel restaurant. I could feel my body relaxing as if I was having a therapeutic massage! To finish off the formula, the restaurant had a great Congolese music trio, who played everything from local Congolese favourites, to a few western romantic favourites! I wasn't sure whether to laugh or cry!
Tomorrow was Saturday, and I planned to spend the day walking the streets of downtown Brazzaville, and explore the river front!
It was so nice waking up to a relaxing day ahead, but I could feel the aches and pains from life in that cab! I even had a few bruises in early stage of development, proud medals from my two days of war in the truck!
By 7am, I was on the road walking to town to discover Brazzaville's delights! Well as I walked I had my soul torn apart….One again, by an African capital!
There were icons from the past, even icons from the past few years, but what struck me was how this place was a melting pot of enigmas! It just hit me, that this is how all the cities have been: There is no clear, aesthetically 'nice' area, there are just areas, where there are more better places that eyesores, and places where there are lots more eyesores than better places, but the place seems vision-less, yet in growth mode, but at the same time, "beyond turning around".  I walked down to then Port and so called 'Beach' area, but my inspiration button never registered even a small signal. Moving further upriver, I found the barge and ferry docks, but these too where a disaster: Rotten bananas everywhere, amongst food sellers, the smell even triggering a positive reception on my 99% dead nasal sense.
Walking back, I stopped for coffee at an informal, pavement café, and after declining the beer mug 'cup', with 4 heap teaspoons of sugar, and then sweetened condensed milk, I finally got a semi-decent 'china' cup, and sat on the sidewalk taking in 'a developing Africa'. A trait of all these, equatorial, towns and cities, is high capacity drains and sewers, and right next to 'my café' was a long storm water culvert running from the downtown area to the river. Well it was full of rubbish, and disgusting water, and I had to remind myself that I picked this café!  This wasn't the exception, but rather the rule, everywhere I went, it was just about degradation!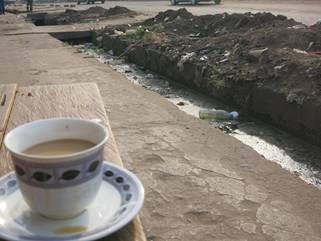 Was I in a bad mood? Was I suffering post-traumatic stress symptoms from my bike and cab experience? No, I was being frank and honest with the truth of the Africa dream! This was all interesting, but not inspirational, and one can only take so much of it!  
I came across the central station, Gare de Brazzaville, and to my surprise there was a billboard with a large map of the extent of the rail service. I'd seen the railway line as we travelled in the truck, but wondered if it actually worked? The billboard was telling me, I could take the train back to my bike…. Hmm, now that sounded interesting! I joined the crowd at the ticket foyer, seeking information, and yes, there was a train, the Gazelle(!) leaving of Sunday at 17h30. Asking around it seemed too quick to be true, so I decided to think about it. As I was leaving I saw a guy who looked like an expat, so asked him whether he knew what the train was like? He was French, but with my Spanish being much better he said he could speak Spanish too. He then told me horror stories about the train, and said I shouldn't even contemplate the journey for long hauls, the service is a disaster!
Stick to my truck plan, time to move on! Every now and then I came across a place that was trying to be special, and one of these was this impressive church dating back to 1943, but still in great condition.
Another was this great patisserie, where the coffee, pastries and ambiance were great, and my waiter Yannick connected to my adventure story! He was a passionate motorcyclist and had dreams to explore Africa!
I walked, and I walked around Brazzaville, and satisfied my curiosity and understanding of what the Congolese capital is about, but on returning to my hotel I felt drained of my soul and needing of writing this email for my personal inspiration!
Also helping with my association an inspiration called 'The Triple Package, what really determines Success' and have found it very aligned with my journey, and understanding the 'drivers of drive', and what makes niche communities stand out for others. What was really fascinating was how the truly successful have used traditional ladders to traditional success, to help them get to paths of non-traditional success. I DO believe this is my holy grail path… being able to redefine success in terms of the ability to find meaning in things beyond the traditional definitions of success, through connecting with one's spiritual being, through deep experiences outside of one's comfort zones.
Anyway, it has been a long, and very interesting day, and I'm going back to have a romantic dinner for one, listening to my Congolese musicians again!
Tomorrow, I need strength for my challenge to get back to my motorcycle. Now that I have my visas, I'm excited about that, and look forward to another dinner with "Mr Felix", getting my back to 100%, before I set sights for Gabon!  
Bye for today!
PS: a, 'by the way':
French creativity, alive and well in Brazzaville: Who would have thought of associating a bird with a gasoline brand to create the 'nature / green' link!
---