A great welcome 'home' by "Mr Felix', re-united with my bike, and then another day of adventure!

"Into Africa" More than a Motorcycle Adventure
Howard Fairbank
Sat 15 Mar 2014 10:48
03:28.90S 12:12.19E
10th March 2014.
Even in my strange bedroom, I once again slept like a log, and when the alarm woke me at 3h30 I must say, I could definitely have slept a few more hours. This was made all the more difficult as I lay in pre-get up mode wondering if Forest worked on African time, like I'd experienced on my trip to Brazzaville, and he would only knock much later. Well, we all know about assumptions, and how wrong they can be, so I decided to fully dress, pack up and be totally ready to leave by 4am, but then doze on the bed till the knock on the door. Well to my surprise at exactly 4am there was the knock on the door, and I opened it to a surprised and smiling Forest. We were soon in the vehicle and arrived at the other guys' auberge. They were not waiting outside (as I expected) so he blew the horn, but still there was no sounds of life. He got out and shouted, and then surprise, surprise, the four of them appeared, with not very passionate "Bonjours" and we were soon sardined in again, and on our way on Forest's plan. The problem was a few of the larger trucks had the same, early start, plan, and with Forest's very cautious night time driving, we ended up getting caught behind them, making for slow progress. I know everybody in the back seats was happy that I was getting out in a few hours, most of all me!
We nearly missed Mandigou, as Forest had taken one of the illegal new road short cuts, but fortunately I knew the turnoff and stopped and directed him, to La Nacional, 'mini-Hotel'…. It was just after 6am and there was nobody around, all the doors were locked so I couldn't even reconnect with my bike. Within minutes 'they' arrived, first Caia, then one of the ladies, and soon the surprise, Mr Felix. All with huge surprised smiles on their faces, clearly happy to see me back. Mr Felix, seemed genuinely worried that I had got to Brazzaville OK, was surprised I had done it so quickly, but 'scolded' me for not leaving any contact details as they were worried about me!
The now, more famous, Mr Felix.
We were all soon enjoying our 'last coffee' together, as Caia eagerly produced my Nescafe and Coffeemate.
I had quite a bit of work to do on the bike, and we chatted and they looked on as I got on with it. Mr Felix directed me to a 'mechanic' just down the road who had a high pressure water cleaning gun, and we rode, with him on the back down there. Good idea, my bike was soon back free of encrusted mud in all the functional areas. The operator seemed quite disappointed that I didn't want a perfect, cosmetic clean up, as well, but I knew that within minutes of being on 'that road' the bike would be muddy again.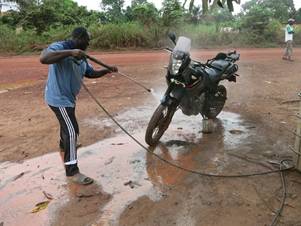 By 9am I was saying goodbyes, and then hit the mud road out of Mandigou, feeling good to be free and more or less in charge of my own destiny again. I had about 110 kilometres of mostly difficult, but at least known road ahead, and as a reward I envisaged that great coffee, and pain de raison I'd had at the patisserie in Loubomo. From there on the road was unknown, but that was for later in the day.
Well the road was certainly better than when I'd used it the first time. There had clearly been less or no rain in the time I had been away, and I could see where some of the flooded patches had dried now, leaving a light grey waterline mark. There was still lots of water around, but I'd set a goal to try and use the illegal, new road as much as possible. With this strategy, progress was better save for two hiccups. There were always earth mounds across the new road, some had informal 'gates', but others none, and just a narrow path either over or around the mound, where the 125cc bikes had carved their illegal way. At one of these I lost my nerve halfway around the pass, as it was very narrow with a deep culvert on the one side and the bike reacted in response to my hesitation, and we fell over…. Fortunately not on the culvert side, the fear of which caused the whole incident. Well nothing too serious, but a delay and my ego again. The lesson being that my big bike can't always go where the 125cc bikes go…!
With this lesson firmly in front memory space, I came up to a very narrow, motorcycle 'gate' through one of these barrier mounds. This one, in it's almost formal construction, looked like it was almost legal. I judged that my panniers were too wide, but then saw some other motorcycle tracks going around through a mud 'puddle' to the left. Just what I need I thought, and so took this route, only to find that it was a hidden culvert, packed with mud. The weight of the front wheel was OK to go over the mud, but as the heavy rear end crossed I had this sinking feeling and then the bike was suddenly at a 45 degree angle, wheel spinning, and me just able to have my feel stabilise it, but unable to get off the bike. The bike wasn't going anywhere fast, and I was stuck keeping it upright…Quite a predicament, and nobody around to help! As always happens, when there is no help around, one finds a way out of predicaments, and so with about 10 minutes of wiggling and wobbling, at almost full revs, and with me right forward, the bike slowly climbed out of its near mud grave. Two incidents, that cost me a bit of time and stress, but the many kilometres of tar road I enjoyed more than made up for it.
I finally rode into Loubomo on the new road which was now open to light motor vehicle traffic, so I was saved the terrible road I'd used to get out of the town. As I looked down from the tar road, onto the mud river of a road below, and a truck struggling its way through it, I thought how lucky I was.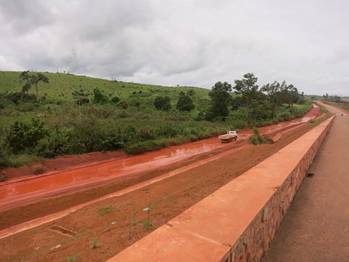 Ten minutes later I was, seated at 'my patisserie' enjoying it's known offerings. The trip had taken me two and a half hours, much shorter than the four and a half when I was going the other way in the rain five days earlier.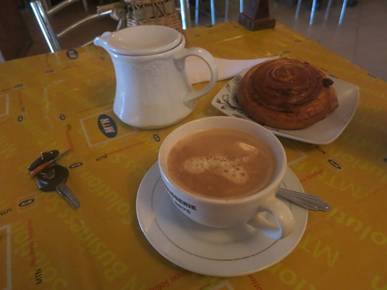 Nobody I had spoken to could tell me what the road to Gabon was like, but while having coffee, I tracked down an army guy who could speak English, and he confirmed what I was fearing: The road was a very similar dirt / mud road to the one I had just travelled on, but without the new tar road relief. He did say there was little traffic on that road, which would make it better. Hmmm, the Congo party was far from over, and I needed to buy tickets for the next act…. I had to fill up with petrol, but everywhere I went in Louboma was out of fuel. My may surprisingly indicated that the first town on my way, Louvako, was larger than Louboma, and the station attendant confirmed I'd be able to get petrol there, so no big problem.
Focused and ready I headed off, with Gabon the detention, but day and time of arrival unknown, being road and rider dependent. After 25 kilometres the local signage seemed to indicate I was in Louvako, but hey man, this was a very small place. Before I knew it I was through the inhabited area and back in rural forest. That must have been it, and I'd better go back and see where the fuel station is / was? I eventually stopped outside the only 'decent' size building, the local government office and regional chief's house. He came out, was very friendly, and grabbed his motorcycle to show me where I could get fuel. Well we stopped at a small general store, he went in and enquired and before long a guy arrived with two litre Pernot bottles full of a clear liquid. I asked him what it was and he said 'essence' and pointed to the two 125cc bikes parked outside his shop. Hmmm, the gasoline I need isn't clear, and so what do I do? He told me to smell it, but with my sense of smell no more, my only way forward was to ask a few more questions and then trust them. It was time to get the chief who had brought me here, behind his village's brand. We formally introduced each other , and his name was 'Placid', and interestingly he had lived up to that name so far… He helped me over the trust line, and soon I had emptied eight Pernot bottles into my bike's tank. The cost almost double what Loubomo price was, but I knew that up front, and anyway with all the unknown ahead, and no fuel in Loubomo, there wasn't an option, These people were also really nice people, and all felt good!
I was soon on my way again, and dealing with my new road! For the start the road was very dry, almost dusty, clearly the heavy rains had been curtained from here. There were almost no other road users, save for a few, Chinese driven, heavy timber, logging trucks on their way from their 'killing ground' to Loubomo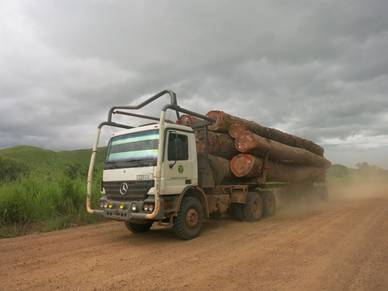 Sometimes one just comes across simple human interactions that touch one's heart and create an unspoken, yet mutually understood, emotional bond. In stopping to take the above photo of the truck, I parked just opposite a local mud hut, where two late teenager girls were sitting chatting. Seeing me take out my camera to catch the truck, she sprung up, with her mobile phone in hand, clearly in camera mode, and tentatively approached me almost bashful to be seen to be photographing me. I was clearly a 'prize' for her, and after taking my truck photo I rode slowly and purposefully, across the road towards her and her side of the road. Initially she seemed concerned about this move, maybe I was going to protest, but as I indicated to her that she was welcome to take all the pics she wanted, her friend sprung up and tried to seize the camera from her, so she could take the shots. I removed my helmet posing for more shots, and the look on their smiling faces as they reviewed the shots and then asked for a few more was just very special. This was all about having the time to give and enjoy a simple yet special human moment. I have no doubt that my actions and response will have an impact on how they view tourists. We parted, both smiling and waving, never to see each other in real life again!
The road led me into this area where there were was a very unusual terrain. These large symmetrical mounds of earth all over, clearly formed from some underground turmoil, but now rich, bright green, grasslands for as far as the eye could see, yet in a localised area. Once again, it was hard to capture with the camera, the extent of the hillocks, and their area.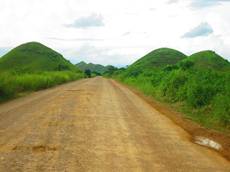 By 4pm I was tired and felt I had achieved a huge amount for the day, and the village of Kibangou conveniently arrived. A check with the police at the control point, confirmed there was an auberge and restaurant. One of them hopped on the back of my bike and directed me to the only place to stay in town. It was all I needed, and I was so tired I decide to have a short nap before 'dinner'.
I woke to the sounds of a referee's whistle and obviously a big soccer match going on outside. Quite a serious community match, I watched with a bit of envy for a while, boys just enjoying the fun of competition, while trying to impress their admirers on the side-line. My police 'guide', in casual gear joined me at the restaurant, where there were no cold drinks as the generator was off all day… I chose a 500ml carton of vin, and I could see him expecting me to buy him something. We chatted, but not much intellectual stuff, more about him asking and listening. He eventually took me to view the restaurant food, but after seeing it, no matter how hungry I was, I just couldn't order any of it. He suggested I then go to the local shop, and there with a huge 'selection' as shown in the photo below, I chose tinned sardines and butter biscuits! As we were chatting at the table below, I guy walking down the main road on the other side, just stopped in his tracks, turned away from facing our direction and just had a pee on the road. Life on the road after a tough day hey! Character building stuff!
Another guy from the 'bar', joined us for a while, he was a builder, with his own business based in Point Noir, and here in Kibangou to build the chief's mansion!
He had interesting perspectives on the laziness and work ethic of the Congo village people.
My last 'visitor', clearly interested to meet the 'tourist', was the captain in charge of the police. He was a bright 36 year old, clearly moving up the police ranks, and he had been posted to Kibangou from Louboumo, 9 months before. He was really struggling with the parochialism of the villagers, and we had an interesting chat about the Congo and how I saw things versus what he said was really happening.
At the end of that, I was really ready for bed, so I walked back to the auberge, and it's jerry cans for toilets and showers, I looked above for inspiration, and just marvelled at the full moon, partially greyed by the fast moving clouds. I knew then that I just longed for some real aesthetic beauty and similar value interactions, around me, but it is still a long road yet, and the learning will continue.
Africa's 3rd worldliness, and the constant views of poverty and squalor is getting to me…… There is very little of beauty created by humans here, and the nature that could be presenting a balancing face, is also being defaced by man. I thought I was above it, but my emotions and mind-set are telling me otherwise…. Maybe it had just been a long day….or a series of a few long days,…or just the Congo?
---