Day 163- Day 164: Great Gorilla viewing the a Waterside Base: Lake Kivu, and Gisenyi

"Into Africa" More than a Motorcycle Adventure
Howard Fairbank
Thu 17 Oct 2013 05:31
01:42.11S 29:15.52E
Up early, great buffet breakfast, and excitedly off to the main gate of the park. Put into a group, seemed like nice people and then with our guide we drove to the start of the walk, me on my motorcycle.
Great experience, and a good bunch of people in my group.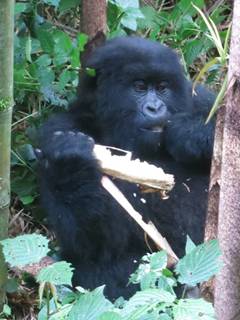 Great ride to Gisenyi on Lake Kivu. I booked into the Belvedere Hotel, which had great views of the lake, and I decided to stay for two very enjoyable, relaxing and pampering days!
15 Oct, by diary
---