My Four days in Yaounde Central Hospital

"Into Africa" More than a Motorcycle Adventure
Howard Fairbank
Sat 22 Mar 2014 07:20
Evening of 17th March to Morning of 21st March 2014
Having accepted my Hospital 'sentence', I was now in the waiting room, waiting to be shown my bed and 'home' for the next, unknown 'period'….  I needed to get my 'overnight' bag, and also find a safe place to park my bike for what could be a few nights. A security guy just outside the emergency ward, could speak a bit of English and helped me with a solution for the bike. I went back out to the crowds, and through the security check point where the main gate guard enquired if I had got sorted? I told him I was 'moving in' and asked him if he would open the gate and allow me to ride my bike up to the emergency ward? There was no public vehicle access, but my tourist status must have worked and he was happy to let me in. With my bike safely out of the way, I unclipped my top box, pannier, and returned to the waiting room, overnight baggage in hand. I could see the others around were quite amazed at how organised I was, arriving back with a largish 'suitcase'.
There were two emergency wards, one either side of the waiting area, and with the one door of the double doors open for each, I had a glimpse of what awaited me…? It all looked pretty basic, with open air ventilation, dim lighting, and scruffy looking bedding. I guessed there would be no food, nor drinks included and while food wasn't an issue for at least 12 hours, I did need a good source of hydration. Asking around, I found a guy called George, dressed in orange overalls and clearly a general helper around the place. He confirmed there was no service within the hospital, and then I asked him if he could go out and buy me some water and cold drink, to which he seemed delighted to oblige, as if it was exactly his job!
The doctor was clearly in demand, and a very busy man. I saw him moving swiftly between wards attending to patient issues as they arose, while also trying to handle new patients like me. I moved into a patient waiting mode, every now and again, thanking my lucky stars that I had got this far, and also acknowledging that my issue, seemed less of an emergency than some of the others I could see around me.
Around 5pm the doctor returned to me, with a sheet of paper, and asking me 'if I had a friend' here to help me, as I'd need to go to a pharmacy and buy the drugs and medical supplies as laid out on the paper. Hmmm, I wasn't used to this, nothing supplied by the hospital. I didn't have 'a friend', and I had no idea where the pharmacy was, and wasn't in a condition to go walk the town searching! As is often the case 'in Africa', there is someone who makes 'a living' out of being ready to help someone else with the basics. Another helper, this guy in blue overalls, and had been sweeping the ward floors, came up to me, indicating he can do 'it'. I had no idea how much it would be, but he was clearly experienced in sourcing stuff, gave me some idea, I gave him the cash, and he disappeared to source the vital supplies. There was quite a buzz around, people were coming and going, but I was made to feel OK, that they were preparing a bed for me. 
By 17h30, my friend, was back with a large bag of supplies, some change from which I paid him a 'service fee' and my bed spot was ready for me to move in. Well at least it was an end bed, with the ward wall the one side. No sheets, nor pillow, my helper asked me if I had sheets or pillow, to which I replied: 'No probleme"!  The guy next to me was 'sheet-less' and I could always get my sleeping bag from the bike, it required. As for a pillow, I had the bag with all my clothes that would fit the bill…. The pros of travelling with your house and all you need, always with you!
I needed to have my left leg elevated, and without anything else suitable around, my versatile, top box pannier, moved up onto my bed and from baggage to leg rest functionality.
Well it was now peak visiting time, and the ward was chock a block with friends, family and even the police! The noise of everyone talking, some shouting, phones going, and one person even with music playing was quite enlightening. The police were down the other end of the ward, focused on a patient who looked quite traumatised, and had huge bandages around his head, and most of his face. The guy next to me looked in serious pain, and he had his arm and part of his chest bandaged up. The doctor arrived and together with my neighbour's family they were holding his x-ray up to the light, and talking excitedly about what they could see. It didn't sound good, and I thought it impolite to even try and look at the x-ray, so turned to my little space, wondering how  was going to deal with this chaos, that would probably go on till African close time!
Through an inter room, window across the ward, I could see nurses donning mouth and nose masks, in the operating room where I had been consulted by the doctor. Maybe it was the operating theatre I thought? Time was running on, I'd been at the hospital for nearly four hours now, and yet I had not had any medicine administered that would start my new road to recovery. Lying there on my own, thinking about my leg deteriorating, I started getting agitated, but calmed myself down when I acknowledged that the inactivity wasn't through tardiness, it was because the staff were really stretched.  As I was thinking through this, the doctor's head appeared in the interconnecting window, now also with a mask on, so I assumed  he was now about to start an operation. I was low down on this priority list, and just had to accept the rational realities. It wasn't easy though, but a visit by a woman from one of the other patients, changed perspective. She was a friend of a friend of one of the other ward patients, had heard me saying I don't have anyone to help me, and felt sorry for me, so came over to offer me her help. Gee, how nice was that? She could speak great English, and it turned out she is a Film Producer, Masters, scholar, at the main Yaounde university, and clearly enjoyed the opportunity to talk to someone outside her parochial, social confines.
Around 8pm a nurse arrived, greeted me, and started scratching around in my medical supplies bag. She discovered that 'I' hadn't bought syringes, and that this would prevent the treatment starting. The pharmacy was closed now, and the situation seemed serious, and I was beating myself up for not having checked that my, blue overcalled, 'friend' had bought all that was on the list. Gee, I was now also managing my hospital service! Anyway, the nurse could see the situation, the amazing African empathy model kicked in. She scurried off, returning with two new syringes she said she 'borrowed' from someone else, and I'd have to replace them in the morning.
With a few aah's and oou's, I was soon on a drip, had a serious injection in my one shoulder, and then was having my drugs forced into my vein with the borrowed syringe.  My new treatment had begun, and that felt good, as I knew my body had more outside assistance, and we would now be better equipped to conquer the baddies!
The staff were very friendly, and with their, little, English, and my, very basic, French we hit some communication blocks, that were always solved with a few nervous laughs, and my hope that all was understood.  By 9pm the doctor was still around, and I had to admire the guy for his dedication, and how he seemed to take it all in his stride. Even coming to see if I was OK, before leaving, clearly after more than a 12 hour, full on, day. I thanked him very sincerely for his quick, and firm, diagnosis, and told him how comfortable I now felt with 'our' plan.
The friends and family had brought meals for their loved ones, and the ward turned into a picnic spot, with my neighbour indulging in what looked like a hearty beef stew, and noodles, right in front of my envious eyes. My cupboards were bare, not a thing for dinner, but I had prepared myself for a fasting night, hoping 'George' would be in early, and be able to source me breakfast from the local market. 
The ward rules suddenly changed, or someone decided they needed to be enforced, because suddenly the security guard arrived in the ward and started telling everyone that each patient was allowed only one visitor in the ward. Well this didn't go down well, and ended with one or two visitors in stand up arguments about who the chosen one.  
Eventually, by 11pm the visitors had all left, except for one girlfriend who seemed committed to stay the night with her special one. By this stage, I had started becoming aware of the presence of mosquitoes in the ward, and with windows open everywhere, I concluded that I was in the mosquitoes space rather than them in mine. The bad news was that there was no 'hospital solution', and without a sheet, I didn't have any solution for preventing them feasting on me the whole night. It was also hot and stuffy in the ward, and so dressing for protection would end making for an unbearable, hot and sweaty night. I would just have to suck it and see, hoping that the mosquitoes had a peak hour or so, and then would magically disappear.
As the ward progressively dosed off to sleep, I looked around, confirmed where I really was, and that I wasn't dreaming, thinking to myself: "Is this fun and success, mate?"  In all the strange spaces I've been over the years, this question always pops up, and the answer is always the same, the only measure of how challenging it is, is how long it takes me to rationalise my way back to that answer! I always conclude that the experience is where the life value lies, and because the experience is linked to a voluntary pursuit, there is a huge sense of freedom and thankfulness that comes over me, as I embrace the moment and its richness. As the mind moves from resistance to acceptance and finally appreciation, I then find the connection to the experience's wonderful references and basic, human values, levelling processes. This brings a sense of humble appreciation of one's own, knife edge vulnerability, and yet immense inner strength. Experiencing, and then understanding what defines the personal boundaries of this edge is where the personal enlightenment lies for me.
Well the lights didn't go out, the snoring started, and the mozzies seem to all move to the easy picking, sheet-less, patients. Eventually it was just me and the dedicated girlfriend who hadn't moved into the removed peace, of dream world.  I was tossing and turning, and trying different pieces of clothing, and with each try I bought myself a short period of sleep, too short to move to dream world, but the dedicated girlfriend noted my struggle, and we exchanged struggle support as she dealt with her compromise of not even having a full length bed. Inside me, I did feel good that I had taken action and as hard as it may seem, in the big scheme of things, it really wasn't that hard. I should be really thankful I was on the repair road, and in what appeared to be good, basic health care.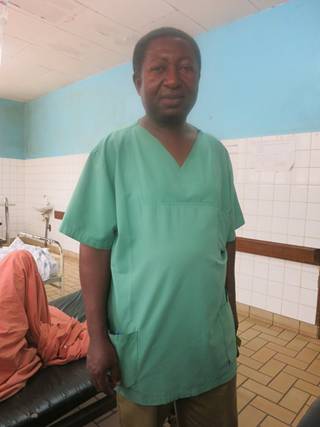 The Night Superintendent for the whole hospital, came around to the strange tourist!
Morning brought with it a sense of shared accomplishment, as I smiled at the girlfriend, and gave her the thumbs up that we had made it! What a lucky boy to have such a unselfish and dedicated carer….! Maybe it is not as simple as that…..?
George was an early starter, and keen to be of service to me. I put in my order for two baguette's with cheese and whatever he could find, and a cup of 'café au lait', with no sugar, and gave him enough money to cover the purchase. Gee, was I looking forward to that, but did warn myself not to expect too much, too soon. Well he was back quite quickly, with the two baguettes, but the cheese, although there, was hard to find, and then for coffee I got a  glass jar of warm, diluted condensed milk, minus any coffee! Beggars can't be choosers, I at least had some sustenance, thanked him and paid him his service fee. 
'The girlfriend' could see my new state of elation, and I asked her if she could she could take the picture below, of me in my bed, complete with baguette and full anti-mozzie, leg gear on!
I was told I'd be moved out of the emergency ward today, and this news hit me quite badly.  Having survived the night, and having almost a network of people around me, I had some, albeit small belonging to the ward, which provided exponential leveraged comfort. A new environment with all its unknowns would mean another day of reorientation and settling in… Anyway it wasn't a choice, I was no longer emergency status, and emergency beds were in short supply.
This hospital, the largest in Cameroon, is part of the university training arm, and around 10 am a whole bunch of medicine students arrived in the ward, led by my doctor, and accompanied by the Professor, I was told. The doctor started at the other end of the ward, and went through each patients issue with the group, bed by bed. They discussed the cases, with the students asking the patient questions, or inspecting, touching, and looking at x-rays. I wondered what would happen when my turn came up, and to my surprise, the doc spent a long time explaining my case, and the Prof showed an unexpected interest, even asking me a few questions.  
The students. That's the Prof in the blazer, and my Doc, next to him in white coat
Just before being collected for my transfer my doc rushed in with a new prescription for antibiotics, that I'm sure came at the recommendation of the Professor. I called in my 'pharmacy man', gave him some more money, and he was off to buy the latest, improved, infection fighter. I must say in all this, I did feel real care and interest in my case, and this did give me a good level of comfort.
Well the wheel chair arrived, and they helped me pack up to leave for quieter pastures. George was the wheelchair driver, and seemed proud that he had been selected to take me to my new residence. It was quite a journey, and this tourist being pushed in a wheelchair, created quite a lot of curious stares, and I just gave the two thumbs up and rattled off "Bonjours" as we passed them by. It turned out to be the 'private ward' section which they had thought most appropriate for me , and I was shown a room all to myself, complete with en suite bathroom, and very airy corner room window arrangement.  The imagination around the word 'private' can't run too far, as this was a broken down building, with only a few rooms working, and first check saw no curtains, no towels, no toilet paper, no soap, and not even pillows.
The strange deal was that it was $200 flat rate, for up to 10 days stay. I honestly only thought I'd be here for one day, so that seemed quite steep, but for 10 days, including the 24 hour nursing services, it was a steal. I had no real option, and didn't know how long I'd stay, so took it, and then spent the next few hours finding out that there was no running water, the lights had stopped working, the power points, didn't work, and still don't, and the mozzies are worse than the public ward! Yes, I do have privacy, and the nurse care has been very friendly.
This is my third night here now, and since last night, I have resorted to sleeping wrapped up in my fully zipped up inner tent, as netted protection against the mozzies. The war with the mozzies is full on her, and from what I hear, Malaria is quite a problem in this area. I have my full trust in my, once a week, anti-malaria tablet, but this hospital environment must be testing its effectiveness to the full!
The good news is that the swelling and inflammation in my leg has reduced remarkably quickly, to the point that I yesterday, I was given the go ahead to leave today.  My drip was removed, and I have been switched to oral medication to be continued for the next 14 days. I was very impressed with the process used to make the decision that I could discharge, Two new doctors arrived, and did a very thorough examination, and asked lots of questions. They then said they were going off to discuss with their professional panel, and would return with a prognosis. They did this, and I was able to ask quite a few question that were worrying me. I really sensed they cared for me, and also found my case quite interesting and challenging.
Being off the drip, I was now self-sufficient as far as my medication goes, but from the stream of staff who came up to my room, asking me whether I was OK, or reminding me that  had to take medication, it seemed like they preferred it when I was more needy! The African social priority hey!
The one big positive of being in the private ward, was that I could eat at the canteen. Noah the waiter there got to know me quite well, and I also had two very interesting chats with doctors taking a lunch break, and curious about my presence.  I haven't really had a chance to get into the soul of Cameroon yet, but in these short discussions, the subject of the Chinese exploitation and linked Government corruption did hold a lot of the conversation space. It seems like both are alive and well here in Cameroon too….. I did find it interesting that the one doctor, maybe 40 years old, and clearly quite a worldly guy, had six children!
The food at the canteen was, exactly that: Canteen food, but at least I got my daily quota of protein and veggies.
I was excited with the prospect of getting moving again, and woke this morning (Thursday) feeling mentally the best I have felt since the swelling began. However on waking and getting up from the, horizontal, leg up, position I was still experiencing quite serious pain, and decided that four or five hours sitting on the bike, and then walking around a new city exploring would not be best for recovery. I spent another day cooped up in my room, with my leg elevated, just going down for breakfast and lunch at the hospital canteen near where I am.
Well it's 5am, Friday morning, and after the worst mozzie night 'on record', I woke knowing today is it, I cannot stay here any longer. Even though I was protected by my tent, the noise of them buzzing around all night, was almost as bad as them being actually 'with me'! My leg does feel noticeably better each day, and the move forward since yesterday, confirmed my plan to leave today was a good one. Yesterday, I was a bit surprised when I was given a further 14 day antibiotic prescription, but with the pace of improvement, I can see this isn't a short healing process. I reflected on where I was now versus on Tuesday when I checked in, and I had to admit that this whole thing was a lot more serious than I had initially thought, and these guys had treated me just perfectly.
I am really looking forward to freedom again, and an interesting ride to Douala and then onto Limbe, where I hope to spend the night.
---