Freedom from Luanda......A slow day, and N'zeto is the reward!

"Into Africa" More than a Motorcycle Adventure
Howard Fairbank
Sat 1 Mar 2014 11:56
07:18.78S 12:51.68E
27th February, 2014
Gee this Luanda got into my veins like a tropical fever!
Yesterday, looking at all it had to offer, I was contemplating staying another day in Luanda, and see if I can 'get into it'…? , This morning I woke feeling it was 'time to go', and that no amount of time here will make me bond more than I have… I think what really did it, was when I went into the bathroom and there was no running water again, then went upstairs to the lovely outdoor veranda for breakfast, and at 8h15 all was closed up, even though there was a sign saying "Open", and I'd been told breakfast is from 8am! Yesterday, after one cup of coffee for breakfast, they said they'd run out of coffee! This after they said they had no milk, and I ended up having to go back to the room to dig into my camping supplies of 'Coffeemate'! When I asked the staff what the issue was, they looked at me as though I was be demanding! I remind you that this is all for US$140 per night! Interestingly, also the power goes off every few hours, and then this huge generator, not far from my room kicks in, making the dungeon, now totally unacceptable! It was time to go….!
I sense I'd also been preparing myself for the solo road ahead, and flipping between the 'comfort' of delaying, versus the 'apprehension' of heading out in there in the unknown to the Angolan / DRC border some 450 kilometres away, all without a border crossing solution? It's funny for me, how when it IS time to go the apprehension transforms into 'rise to a challenge' excitement, and the 'comfort' synergistically transforms into energising leaving of the 'fear of stability, boredom'…! When that happens, all feels right, and I know, it's time to Act…..
So act I did, and packed my gear, hopped on the bike and headed out for the last time to Ihla de Cabo, the narrow spit where all the beach, clubs and restaurants are, so I could send all the blog emails, that I hope some of you have read by now! One of the bar / restaurants is called 'Miami Beach', so you can just imagine….. but the owner was very friendly, and invited me back to meet his biker friends and said I could use his wireless internet….. Well his friends never pitched, but he became my Luanda internet service provider!
In riding to Miami Beach, I thought I'd fill up with petrol for the journey ahead, but at 9am, all the fuel stations on the route to the city had forecourt, pump, queues at least three, or four vehicles deep. The service stations here are very modern, very big, and are designed to have great through flow, but clearly they already aren't big enough! There are competitor signs, conveniently placed near each service station, saying where their service station is, and exactly how far it is away…! Petrol (Gasoline) is pretty cheap versus the other African countries I have visited, so somehow the Government have resisted this easy income source in favour of facilitating transport efficiency.
Anyway, I finally got to Miami Beach, and there were just two of us there for early morning coffee… After finishing posting all the blogs, I approached the other customer, an elderly woman, who could speak English, and interestingly, she told me she was born in Luanda. Lived there till 1965 when the war forced the Portuguese out, and she, like many others, moved to Lisbon. She and her husband, a professor at Luanda University, moved back 4 years ago…. She confirmed that the growth is stressful, and that the rate at which the cost of living has gone up in those four years, is incredible. She told me that unlike Mozambique, the political conflict is behind Angola, but the current challenge is high level corruption and the rapidly widening gap between the 'haves' and the 'have nots'. Petty crime is increasing, but overall the city is pretty safe. Many Portuguese, suffering with the EEC problems in Portugal and beyond, are leaving for the seemingly fertile, if not greener pastures of Angola. We really had a good chat, and we had a warm goodbye, as I set my sights on the unknown traffic chaos getting out of Luanda.
Although it was easier than the challenge we had coming in, because I essentially had to follow the coastline for the first 30 kilometres, the road condition was much worse than the one coming in: Huge sections of totally, broken road, with deep ditches, rocks, mud, and large puddles, then the road often narrowed to single lane either way. The usual, unruly drivers, were forced to go slow by the deep ditches which required concentrated navigation in often tortuous routs around them. It was good on the bike, as I could nip in between the vehicle struggles, but every now and again the whole road choked, and there was no option, but to stand and wait….Me and my bike, always attracting attention, and I respond with a smile, and a thumbs up. This lasted for 30 kilometres, which took just 1.5 hours this time, and then I was on fairly open road.
As I rode further away from Luanda, my sense of freedom came back, and the reality of what I had gone through started becoming very clear. Luanda had been a huge challenge, not very inspiring, and then dealing with being on my own again, after the 10 days with Rob, and constant company. I intimately know the different mind-sets needed for being solo, versus with someone else. The experiences are just so different, that I do know if you long for the one, while you are in the other, a deep seated incompleteness results. Initially, with Rob, there was a struggle within me that I was missing the deep, intimate intensity of the solo experience, the mind-set that allows me to connect deeply with my environment, and unlock my creative mind processes. Being with Rob, was not about that, it was about sharing experiences, both past and present, and building our friendship…..
As I rode on and on, I felt myself getting back to myself, and to the real purpose of what this trip was about: Immersing myself deeply into Africa, and ALL what it has to offer…. The uncertainty of what lay ahead, became a welcomed, critical piece of this journey, and my adventurous spirit would deal with all that came with that….
I wasn't sure of what the road to Soyo would be like, as I had confusing feedback from the various people I had asked, some said it was tar the whole way, others said the road was real bad, and the 2007 travel guide I have, said the road was real bad, but was scheduled to be tarred by 2010. I do remember one of the earlier roads, checkpoint police, telling me the road was not good, and just from the way I said it, I stored that in my 'pessimistic realism' file, as something to be cautious about….
The tar lasted up to about 70 kilometres from Luanda when a fairly insignificant sign pointed to a 'devusio' (detour) to the Nzeto road, off the main Congo / Luanda road I was on. This was a fair dirt road, and I immediately thought, well this must be it, I have 200+ kilometres of dirt road ahead, just knuckle down and accept the 50 kilometres an hour, road condition, imposed, limit. It was pretty isolated, no villages, and very few vehicles, and I started wondering about, food and water for me, and fuel for the bike….? (In Luanda, I hadn't quite filled up to the brim, as I usually do.) The infrastructure so far in Angola had been great, but I was heading more remote now, and maybe things aren't as developed here. These are all the demons that run through one's mind…. Then 10 kilometres further on, I see a tar road T-junction and spirits rise unexpectedly…. Yeah, I was back on tar, and had tar for a lot of the way to Nzeto.
I was planning to try and reach Soyo, by the end of the day, but I Nzeto looked nice, I was tired, there were dark purple grey clouds around, and it seemed a good place to overnight. In helping with this decision, I had now had it confirmed from a local at one of the villages I stopped at, that from Nzeto, it was all 'dirt' road, and quite challenging.
Something special about this all this.. Alone, the road, the sky, the trees...Surviving Africa, man!
Riding into Nzeto, on a double lane 'highway', I was struck by the level of recent development and modernity of the place. Clearly it was an African town, but someone was developing it, and with a mission. The 'highway' was covered in a thin layer of mud in places, reminding me that I was in equatorial rainstorm land, and need to be always prepared for that…..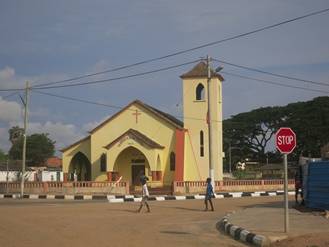 Coming to the main four way stop in the town, complete with a colonial day church on the one corner, I saw 'my late lunch stop', restaurant and pub on another corner, turned left towards the sea, and there was a reasonable looking hospedario on the left, and suddenly the main road was potholes, and mud laden, with old style central island fuel dispensing pumps, and I felt like I was back to old Africa…. I rode the kilometre down to the beach, and it was fish market time:
The quaint fishing boats had arrived back on the beach, and the locals were all down there buying the fruits of the catches…. The place was very festive music playing, and a few informal restaurants tapping into the crowds…. I parked the bike, and just walked around from fishing boat to fishing boat, greeting the people, and looking at what was for sale? Some large fish, but mainly smallish, 'single helping', codfish. All were very friendly to me, and not one person begged, or seemed to worry that I was 'different'… So nice, and also as I thought back to the calls on "Mzungu" (white person) that I had been tormented with most other countries last year, I thought these people are somehow different… They don't know tourists, and don't care about me being there, they are just getting on with their lives… I bought a beer from a chatty local, and then went and sat up on a wall to take in the scene. Soon, two guys walked up to me, and with a warm friendly greeting, they started chatting to me, clearly very interested to know about me and what I was doing on the bike. So refreshing just to have an 'adult' to 'adult' chat, no begging or altruistic motives, needed. As I move north through Angola, I sense the lack of tourism, and foreigners in this region has kept it almost pure, where people only have expectations about their patch, and no western, greed, we want more, desires…..
The guys I chatted with, left on a cool scooter!
A checked into the hospedario I'd first seen, and then headed across the road to my targeted late lunch stop to satisfy that one hungry boy….!
After lunch I explored further up the beach, swimming in the Atlantic, complete with body surfing waves, and a ship wreck!
Tomorrow will no doubt be an 'interesting' day, and I want an early start….!
---