Day 165: Down Lake Kivu shore: Congo Nile Trail by Motorcycle to Kibuye....!

"Into Africa" More than a Motorcycle Adventure
Howard Fairbank
Sat 19 Oct 2013 05:39
02:04.04S 29:20.47E
I decided to see if I could do the Congo Nile trail down Lake Kivu by motorbike. I'd met a local working at the small tourist office, who said it was possible……
Well it turned out to be another one of these ones where I ask myself: Why do you always want to take the challenging route! Sipping a well earned beer at the end of this tough day, reminded me why: That feeling of satisfaction that I had overcome the ordeals for the day, is very special!
I met the Rwanda hikers, otherwise I was all alone, save for the shocked villagers, always shouting "Umzungu"!
I ended up finishing the day in Kubare, staying at the unlikely named, Best Western Hotel…..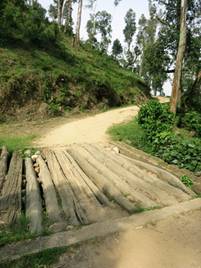 ---