Day 145- Day 146: Across the Equator: Uganda, a Refreshing 'New Show', Jinja, and the Magical Nile

"Into Africa" More than a Motorcycle Adventure
Howard Fairbank
Sat 28 Sep 2013 05:17
00:24.55S 33:12.12E
Woke up to a blue sky morning, and everywhere looked like it had been washed down and there was this feeling of clean freshness, and huge puddles as evidence of the extent of the washdown!…. The power of those heavy rains! I went for a run, I really wanted to experience Lake Victoria, a bit more intimately than I had….. Ran past the once grand dream, now derelict, Kisumu railway station, down to the port, where the security guard told me things were moving forward and within months there would be a commercial ferry taking people to the islands not far off…. Islands I had tried to see how I could get to, the previous day….
Arrived back at the hotel to a busy breakfast verandah, and two guys who made eye contact, greeted me, and clearly were interested in my 'strangeness' and wanted to find out more…. I pulled up a chair and we chatted… Both from Nairobi, the one working for the government and bitter about life and his lot from the world, the other an ex police officer who had been fired from the force for exposing a drug corruption ring, where the police were involved. He had been forced to leave Nairobi, and to my surprise he told me he was now the owner of the hotel. We had very interesting discussions about corruption in Kenya, and life in general…. He also gave me the story of the Kenyan marathon runners and Eldoret where they live and train because of its unique combination of high altitude, mountains and equatorial climate. I was sorry I wasn't going to visit there, but that was the compromise when I decided to go to Kisumu. This stuff is so valuable for my Africa journey, not that I rely on a single person's view, but the tapestry 'patch' each of these deep chats creates is why the end tapestry will be so valuable.
Getting out of Kisumu was a struggle and not pleasant, as firstly I took the wrong road, secondly the roads were I bad shape, and thirdly the traffic was serious…..
I soon got to the Ugandan border, changed my money, took the chance of not taking, the required, 3rd party road user insurance, had no problems with the customs immigration people and I was soon in another new country: Uganda. It immediately felt different, it really did. The people seemed more friendly and the village infrastructure looked more substantial and cared for…. Africa is not a single country, there is rich diversity and I was about to explore more…. The Nile lay ahead!
Eventually arrived at Jinja, the down town area not very inspiring, but I soon found 'the nice area' on Lake Victoria shores….. Checked into the BRISK hotel….. Hmmm, it looked OK, but as I started immersing myself it started feeling scary….. Me the only guest?, a huge number of rooms, a beautiful but pathetic waitress, and then the swimming pool area, where clearly the public come to spend their Sunday afternoons… Anyway the view over Lake Victoria was special, and I was in a good position to explore the Nile and all its surrounds….
Went to the official source of the Nile…first just to the tourist viewing spot, then in a canoe, with me and the owner paddling upstream to get into the Lake, and experience the actual flow of the Nile as it leaves the Lake…. Gee, this was great, 2 hours and I really enjoyed the wonderful river bird life that this area offers…. The owner was really surprised when I asked him for two oars, one for me and one for him, he told me all the tourists he ever has are 'lazy' and never want to go by canoe, let alone paddle as well….
I then met a white water rafting guide whose job had fallen away with the recent hydroelectric dam project that had wiped out the best rapid… We had a very interesting chat about what had happened in the last 10 years in this area, how it was once a paradise for water adventure tourists, with a Dutch guy having started a wonderful eco friendly, local friendly, adventure business, and had now become a congested nightmare, with cut throat operators no longer using local guides….. Anyway, we did a deal whereby he'd come on the back of the bike, and we would go and explore the area, going down the Nile to Bujugali Falls, and the latest Hydroelectric power station….. He wanted the experience of riding on the back, and I wanted him to show me, and then together we were giving each other something unique in parting our life stories to each other… A great deal, and I really enjoyed his company and insights. Hey, some of the roads we went on were challenging, but a really great experience….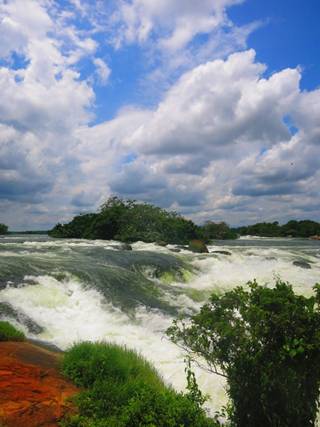 After that I stopped at Nile River Explorers, and ended up having a great chat with the SA manager Jacques and his wife….. They being part of the mafia, that my guide friend had mentioned….so I got another perspective!!! Did a deal with Jacques to rent his Landcruiser from Kampala for my Northern Uganda exploring…..
Crossed the Equator…. BRISK Hotel,
---