Well this was totally unexpected.... Thought I'd be in Brazzaville.??? And what an ordeal, including the rewards... Madingou!

"Into Africa" More than a Motorcycle Adventure
Howard Fairbank
Sat 8 Mar 2014 05:47
04:09.72S 13:33.08E
5 March, 2014
If you read my posting a few days back about 'Adventure', and 'Ordeals', today is almost the perfect example of the concept…..
It all started around 11pm last night: The heavens opened up and the rain just started bucketing down, Lots of corrugated roves around my hotel, and so the noise was horrendous. However, soon lightning and the inevitable thunder took over the stage, every few seconds, drowning out the noise of the rain, and clearly getting closer and closer…. The jolt that did it seemed to strike right inside my room, and with that, the whole city went black, and for me, the TV, air conditioning, and lights were no longer a luxury I could choose with the mere flip a switch! On these balmy, hot equatorial, nights, air conditioning is not so much a luxury as a basic necessity, and also helps keep the mosquitoes at bay, when there are no nets over the bed as my hotel was set up. I managed on and off sleep through the night, hoping for a stop in the rain, but it just bucketed down relentlessly. I thought about the morning and should I leave, or wait for the rain to stop, and what time should I plan to leave, now/ My plan was to leave at 6am, just when the light was OK, because I had the big ride ahead. On one's own, dealing with these decisions, it's always very easy to just take the comfort option, and say, "No, well wait until the rain stops, weather clears, and then go. What is the rush, Howard?" Well, believe it or not I do have a plan, I believe all expeditions do need a plan, and doing this type of stuff alone does need discipline! One can't just balk at the obstacles, shy away from the tough times or discomforts, so I made a commitment to myself, that no matter what I'm leaving at 6am. I prepare myself so that on waking there are no wobblies, or doubting, it is just about getting up and going!
I was packing up with my headlamp on, as although the rain had eased quite a bit, it was drizzling, but there was still no electricity, and as I looked around the city, most seemed black… This was a huge storm, and power outage, but I was set to ride, in the rain, or whatever…
The guy at reception fast asleep when I left at 6am!
I headed off with full rain gear, not knowing exactly how to get out of the city sprawl chaos, but having a good feel for the general direction. I could see the roads in the inner city were struggling with the heavy rain, but it seemed OK, and I felt good to be moving again. It wasn't long before I was in the sprawl, and here the roads were a different story: Many were flowing rivers, hiding the potholes, and making for very challenging navigation. I stopped to ask the way, and wondered why I got two divergent directions from separate sources. It was soon clear: I took the route that my gut supported, but soon I was riding in water up to the crankcase, and literally a river was in flood across the road, forcing my front wheel to become like a rudder to keep me from being swept downstream. Cars were turning around ahead of me, clearly the going was too risky ahead, and so I decided to do a U-turn myself. I managed to take in the scenes on the side of the road. Clearly the bed and wardrobe manufacturers had been caught by surprise: The river was flowing right through their open air showrooms, which they had left in their 'display' positions overnight. Beds were being carted down the river, wardrobes were smashed over, and I really felt for the owners as they recruited others to help them stop the carnage. As I got out of the flood water, a guy on the sidewalk explained to me that I needed to go back and take a big detour around the river, apparently there is a single bridge that provides the only entrance / exit to the city in times like this…. No I understood, why the first had been directing me what appeared to be the wrong way…. With the heavy traffic now, creating more than usual chaos, this was all quite disorientating, but somehow I felt alive, and knew I'd eventually get out of this mess.
I found the bridge, followed my nose, and after about half an hour of sprawl chaos, I hit a roundabout which had a tiny sign, "Brazzaville (N1)"…. Great! Yes, N1 does mean National Road 1, so my logic says it should be the best road in Congo? The sprawl ended, and I was soon on a great tar road, with very little traffic, and I thought to myself: The plan is working, Mate, you'll be in Brazzaville tonight, juts going slowly in the rain, prepare yourself for a long day in the saddle, lots of stops, and enjoy the journey! )
The terrain soon became hilly and very dense equatorial forest. Other than the light rain, that occasionally got heavier, I couldn't have asked for a better riding experience. Soon the rain stopped, and I could then really appreciate the magnificence of the forests. The road snaked up and down the hills in relatively tight radius bends, that forced me to go slowly and take in the scenery even more. The green colour of the foliage is a shade of green, almost luminous in its lushness, and I had never seen it to this extent before.
I stopped at a little roadside village for what I was hoping would be coffee and a baguette, but the coffee was not available, but a sliced avocado pear with fresh baguette was still a treat. The locals very friendly, curious about my journey, and taken by the bike. As I chatted I saw a woman selling handful sized clear plastic bag encased phials of a light brown liquid. She had one on display on her cool box, and my curiosity couldn't help me, I must have one of those. She dipped into her cool box, and produced a nicely chilled one for me, and I paid her the nominal amount. Well, this was the perfect Howard drink: Chilled, freshly made ginger water, but real strong ginger, that almost forced you to drink slower as it burnt my throat… As they watched me drink it with clear enjoyment, I told them: "Si bon", and asked her for another one! They asked me if I wanted them to take a photo of me…. Gee, that is so thoughtful, I haven't come across that that often…. Then it was photo time, after they took of me, I took of them, and each then wanted one…. All good basic fun, and eventually it was time for me to head on.
The N1 was living up to my expectations, other than it was very twisty, and so my average speed was below what I needed for a comfortable arrival time in Brazzaville, which wasn't a 'life threatening' problem, I was having fun. As I rode deeper into the forest, it became apparent that building this road, through what amounted to at least one hundred kilometres of dense equatorial rain forest, was quite an engineering feat. The truck wreckage every now and again, reminded me of the tortuous road, and that full concentration was required.
I saw the turn off to head north to Gabon, but I was on a short, 'there and back' trip to Brazzaville. After about 160 kilometres I turned off on a unmarked turnoff, that I was told was where I'd find a fuel stop. I was expecting the sizeable town of Loubomo, but I didn't see any signage that said this was it…. ! After a 5 kilometre lead in, along a most unlikely road, I was suddenly passing, brand new government building, and realised this is Loubomo. I found the fuel stop, plus a lovely Pattiserie, that served 'the best' coffee and pain de raison…. It was pouring outside, and having this warm comfy refuge for 30 minutes was just bliss. I was feeling quite cold, so put on a second layer of top gear.
I'd worked out that I didn't have to go back the way I came, but rather continue through the town, and was looking for N1 or Brazzaville signs? There was one: "Brazzaville", but not really N1 type I was expecting, so I passed and looked down the turnoff and it looked like, never mind a secondary road, but a tertiary, mud road. I continued on but there was nothing more, so I went back to the mud road, and asked a guy if this was 'the only' road to Brazzaville? He confirmed it was, so I justified the road as being a short temporary bypass to get back to the good tar road I had, just before coffee?
Well the road got worse, and worse, there was little traffic, and I was convinced I was on the wrong road. Asked more, and all confirmed this was it: The N1 to Brazzaville. Whoopsie, this wasn't in the plan? Soon I found what I wanted: the mud road came to a tar road 'T' junction, and I was now happy that my thoughts had been right, this was just a mud road detour around the town. Well at the 'T' were two heavily armed police guys, who refused to let me onto the tar road and showed me over it to the continuation of the mud…! I stopped took of my helmet for a serious talk with these guys. They told me that this was 'it', it was dirt and mud almost the whole way, from here to Brazzaville. The new tar road was under construction, but is not available for traffic. This was shocking news, and they didn't seem to care!!.I did some quick mental arithmetic, that concluded at the pace I was going it would be three days to Brazzaville. I was in denial, but they confirmed, that I'll have to overnight….No Brazzaville tonight!
Well, from there the plot thickened, as I encountered some of the worst riding conditions I have had on this whole Africa trip. Mozambique was bad for soft sand, Rwanda was bad from steep, muddy and rocky roads, but this took the prize for deep mud, and lots of deep open water, with unknown underwater surface. It took me 5 hours to do the next 120 kilometres, but at least I was going faster than most of the traffic. I had to drop the bike once: I tried to go 'up and over' a steep mound to 'illegally' access a section of new road, and lost my nerve at the top, so ended up sliding back down, and couldn't hold the bike…. No big deal, but used dented pride!
The Chinese are busy building the new road for the Congolese. Quite a project, and I must say I have to admire the Chinese they way they have taken these road infrastructure projects on. This one, like all the others I have seen, was being run very professionally, and one can see the Chinese traits of focus, discipline, and ability to deal with real, remote hardship. Most times I'd just see one Chines supervisor, complete with his conical shaped, straw hat, meticulously going about his business of supervising the work. I would really like to understand the whole quid pro quo payment model, because it is very clear there is no love lost between the Chinese and the locals. The Congolese seem to know that rape is on the go, but are just standing back, without a plan B to strengthen their position.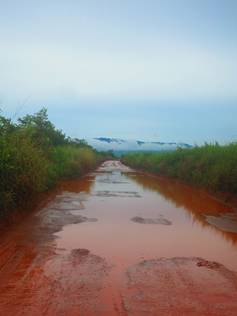 As I have said before, for me riding in these conditions is very mentally tiring as you have to be 100% focused on the immediate surface ahead, and can't lose concentration for one second. So by 5pm I was pretty tired, and as luck had it the village of Madingou came up, being one of the few fuel stops along the way. I rode into the village, and the main road was a very slippery mud river, churned up by both local traffic and the passing trucks, on their way to Brazzaville.
Catholic Church opposite La National Hotel
The first 'hotel' I passed was called 'La National', and I checked they had a room for me, before heading right into the centre to see what else there was and fuel up. Well the centre of the village was abuzz with people selling everything from food, clothes, to hardware items. I was clearly a novelty for the locals, and all greeted me very warmly. I was told of a 'better' hotel, off the main road, and so went to explore. Well the road down to it was even worse than the main road, and then I had to cross a rain eroded 'gorge' to get to it. As I arrived at reception, I thought: "This is not for you mate", and decided to head back to La National. The ride up the hill, back to the main road, against the 'mud flow' was challenging, and by the time I got to 'La National', the red, 'overheating' light, on the bike, was on! Gee, now that's strange, I never heard the cooling fan cut in, as it sometimes does when the going gets tough, so it must not be working for some reason…. (The bike did take some serious dunks underwater today. The one time just hinting at spluttering and drowning as I thankfully pulled through the low of the hidden trough in the road. So maybe that had something to do with it…?)
I finally check into La National, being welcomed in by 'Mr Felix' the owner, who could speak great English. There was a Mercedes sedan parked in the drive, and as I couldn't get around it, I left the bike outside to cool. There were a bunch of village, businessmen, drinking outside in the garden pub, and 'Mr Felix', explained that the car belonged to the one guy, who was a high ranking government official, who lives in the village. Mr Felix, made me real welcome, and organised a 'warm' beer for me, and then joined me with his gin and tonic for a chat…. I was desperate for something cold, but he told me they had also been affected by the storm of last night, and had been without power since midnight. Apparently the whole area is supplied by hydropower and the rains / river level must have caused problems at the plant.
We finally got the 'Mr' out of the way, when I told him my first name is 'Howard', and asked him what his first name was? He said "Felix", and so I challenged him to then either call me 'Mr Howard', or drop the 'Mr' in 'Mr Felix'! He accepted the point, and we seemed to have moved things top the next level of open-ness. I was intrigued by his stereotyping of me as a non-African. He was surprised I wanted African food, and even knew about cassava. Then he got overly protective of me, and told me that 'mosquitoes could bite me tonight', and that he would get me some spray. When I reminded him, that I was African, and I probably knew more about Africa than him, he did acknowledge his wrong stereotyping assumptions. I was truly an enigma to him, as I confused him with my redefined, definition of life success. This was all good stuff, and we had lots of banter about the fickleness and corruption tendencies of many politicians.
It became clear that he is also a senior politician, and the hotel is just a side business. I wondered if an attractive woman helping with drinks was his wife, but he said she works for him, and then in a very 'matter of fact' tone, said: "Would you like to sleep with her tonight?", adding, 'You must use a condom, and I'll talk to her and tell her she must look after you." Gee, I didn't even know this guy, and we are at this point already…! I thanked him for his 'thoughtfulness', but said I don't do that type of thing." We chatted about 'life and everything', and he organised dinner from the 'chef' for me, consisting of two freshwater fish, and cassava. I offered him the one, and he seemed delighted with the gesture, formally joining me for what turned out to be an interesting dinner.
More and more people arrived at the outside pub, all friendly and welcoming of me. All the time, I'm thinking about the fairly 'bad' situation I'm in, and given the progress of today, I realistically probably have two days ahead of me, till Brazzaville. Then I thought of the fact that I would then need to ride all that way back again to get to the Gabon road…. It also stressed me a bit that today, and all its information had really rattled my overall plan, and I was a bit upset with myself for not having had better information on the road condition. I had checked the road conditions with Stephan, the Spaniard I'd met a few days back, and he only spoke of relatively good roads, and so I didn't probe the details. Then again he didn't go to Brazzaville. The next few days seemed like madness, but I didn't seem to have too many options. Then the reminder of the overheating light, and also I had noticed that my chain oiler had stopped spraying its oil and the chain and drive was making a terrible dry metal, rock and mud, scrapping, squeaking sound. I had a few 'issues' to deal with, but for the moment I was absolutely knackered, it had been a big day! I know in situations like this it is best to sleep on things….!
My bike taking a well-earned rest at Hotel La National pub area.
I retired to my water-less, power-less room, self-sufficient with my headlamp and my spirit of adventure, still strong within. I knew tomorrow is another day, and a new path will be awaiting!
My bed 'viewed' from my headlamp! Did I sleep well…….!!!
---