Day 149 - Day 152: From Bike to 4X4; Jerry and I do a Huge Northern Uganda Adventure. Following the Victoria Nile.......

"Into Africa" More than a Motorcycle Adventure
Howard Fairbank
Thu 3 Oct 2013 05:23
02:28.50S 31:49.22E
Well I was due to pick Jerry up at 6 30am, and Tata, the Uruguan had asked if we could give him a lift into Kampala as it was on our way…. As usual I was ready before I needed to be, and once again this proved useful….!! I was feeling a tad bit anxious about the new vehicle that we were relying on taking us on quite a wild adventure, and quite remote…. I understand this well: We have to build trust, me that the vehicle is up to the trip, and the vehicle that I can drive ok, and look after 'her'…. We hadn't started that journey, and I felt nervous about the vehicles ability to deliver!!!
I thought I'd better make sure the vehicle starts OK, and bring it around to a better park spot… Well, when I tried to start the vehicle it was dead…. Jacque hadn't told me about a dicey battery, so what could be wrong…. Gee, I was pissed off… Got help to push start, but it was steep terrain and only a short run area us and I couldn't get it started…. I felt this was a sure sign that I shouldn't be doing this, but anyway I thought best I go meet Jerry on the motorbike and see if he has a friend who can help…. Long story, he did have a friend, and we finally got the vehicle started and left Chilli Hideaway some two hours behind schedule and that put us right into Kampala rush hour traffic…Just what we had tried to avoid. Now, I wasn't sure if the vehicle had a battery problem or somehow I'd left something on that had drained the battery overnight. So, there was to be no stopping of the engine in town while I drew cash, I'd give it a good charge and then some time later in the day we would find out if it was holding its charge…. We were off, but to be honest I wasn't in the best frame of mind…
Anyway, it was soon all behind us and the new team were learning about navigation as the team…. I wanted to take the non typical road to Murchison, as I had seen a road on the map that virtually followed the Nile.
We found it, and then realised there was a ferry we needed to cross the Nile, and then after crossing with the ferry we were told by locals that the road was flooded and impassable by motor vehicle…! Hmmm, what the hell we will try and try and succeed we did, with the help of a local or two we crossed quite a few deep flooded areas, some had loose rocky bottoms that added to the excitement. It was worth seeing the Nile and being out there and I after not knowing why I would want to take the harder route, Jerry was beginning to enjoy this… We had a very interest lunch at the ferry stop, where Jerry was able to communicate in Luganda, and organised us a good selection of homemade delicacies from a very rural kitchen.
That night we camped at Kurma and went to the town for another traditional meal, sitting next to the truckies.
The next two days were spent in Murchison Park, were we did game drives and the classic boat trip up the Nile to Murchisson Falls. This was special and Jerry was blow away. The second night we were alone in a campsite and got caught in a serious downpour which forced me to abandon my flooded tent, and join Jerry in the vehicle. Leaving the next morning we were faced with a deep mud road, and it was the most challenging 4X4 driving I have ever done, as the vehicle just ignored my streering direction and headed off on its own into banks at the side f the road or into waiting trenches. We did get stuck once where I was about to call it quits and start looking for how we could get another vehicle to come tow us out. This after 1 hour of serious struggle. On my final effort with Jerry's shoving help, the vehicle inched itself out of the dilemma.
There are many, many stories for our time together, these from wild life, to adventure, to eating out, to sleeping out, and to the discussion and our relationship together…. Unfortunately, writing this in hindsight means I will not be able to capture all the richness here..Sorry!
The last two days were spent outside of the Park, driving down Lake Albert and then across the Rift Valley, through the Equatorial Forest, and onto Masindi…. I can honestly say that the last of these two days were on the worst roads I have ever driven on…. This from a bone shaking discomfort, and need to have full concentration all the time…..
The last day was from Masindi back to Kampala, and I highlight was a stop at the Ziwa, private Rhino Conservation Sanctuary…. Most impressive and inspirational, and it did start connecting me back to my original African expedition goal!
Finally Jerry invited me back to his home, to meet his wife and kid, and also see his recording studio….. He is in audio media marketing… All in all a very intense and satisfying time away with this 32 year old Kampalan.
The final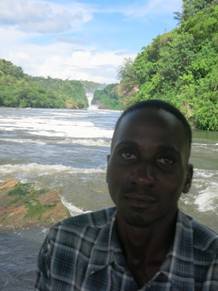 Entered at Wangkwar gate
Luwero, Lwanpanga, Nakitoma, then Ferry across the Victoria Nile, through Atura to Kamundi, right next to the Vic Nile.
2 to 5th Oct by diary…..
Wangkwar Gate, Murchison, Lake Albert, Rift Valley, Equatorial Rain Forest, Sugar Plantations, Chinese miners, Worst roads ever from bumpy…
---