Porto Ambiom

"Into Africa" More than a Motorcycle Adventure
Howard Fairbank
Thu 27 Feb 2014 08:10
10:43.77S 13:45.23E
23rd February, 2014
If this was Hollywood, and we hadn't had the last minute, make shit mattress solution there would have be a great story to tell:
Two motorcyclists wake up in the exotic, Angolan seaside town of Benguela, lying in 'their' double bed together, it's a sleepy Sunday, and they ponder whether they should go down to the beach for a walk and swim 'together'….
Haha, we did lie in our separated beds pondering the day ahead, and whether we should stay in this pleasant town? Because we had arrived quite late in the afternoon, we hadn't really explored it, so with a short riding day ahead we decided to explore the coast and beach on foot….
There was lots of evidence of wild beach parties from the Saturday night, but what was also pleasantly surprising was that the municipal cleaners were already out cleaning up for the Sunday crowd ahead. We had another reunion with the Atlantic, a long swim, with the beach almost all to ourselves. Sadly, the old colonial beach showers no longer worked, a couple even semi capsized in their beach sand foundation, and as we looked north up the beach, we could see a whole line of superbly architected, old colonial, beach front legacies, now in ruin and wait some visionary entrepreneur to reincarnate them into something more appropriate for the new market.
As we strolled up the beach we met a few people running on the sand, for their Sunday exercise and inspiration. I have been surprised to see so many individual runners along the beaches in both spots now…..
Further along we meet with the Africa that is hard to understand: There were two guys, ankle deep in the water, with four young dogs, just beyond puppy stage, electrical cable flex, as leashes, tied with slip knots around their necks. One by one they threw with great force the unwilling dogs into the sea, and then watched them swim in trepidation back to the shore which confused them as to whether it was a terra firma safe haven, or merely the starting point for another re-launch back into the sea. The dogs were thrown back and back into the sea, the owner seemingly getting pleasure from throwing them higher and higher into the air, and watching them land at awkward angles and high speed, going straight underwater. By the time we got close I was beside myself, and the dogs must have surely been on their last legs as they cowered away from the owners struggle to pick them up, for the next flight.
I'd seen this cruel 'procedure' in Beira, Mozambique, last year, just a single dog then, and there was more compassion, than this terrible sight. Then I had tried to make some sense of the human's logic, and distracted the boys metering out the cruelty by asking them what they were doing and why. There was no logic it was the cruel side of human's and they called it fun. I said to Rob, I can't deal with this and am going to intervene: I shouted at them loudly to stop, and this they did, but not seeming to understand what my 'issue' was….. I'd at least engineered a break for the dogs, the youngest one was lying, terrified, and completely exhausted whimpering, as the owner tried to pull it up the beach with its lead almost strangling the dog in its resistance to go anywhere….… As in Mozambique, I eventually concluded I was an outsider here again, and I had no right to intervene in a process that could even be culturally related, that I didn't understand. Rob, and I moved on, hoping our presence had brought some sense into these youngsters, but as we got further away I could see the process starting up again, and I wasn't left much time to deal with my pain, before we were presented with two adult dogs stuck in the act of intercourse, while a crowd of locals watch trying to use a thick rope to separate them. Mothers, fathers, sons and daughters all around the two dogs trying to facilitate the separation….
This was Sunday morning, supposedly a quite stroll on the beach! I was sick inside, and said to Rob, that this is what Africa does to you man, it challenges your soul, and what's right and what's wrong, and makes you realise there are no rights and wrongs just beliefs what is right and wrong!
We walked on, getting to the boat builders, with fishing boats up on the beach, turned upside down, and being repaired. Ere they were using epoxy resin to calk the gaps between the planking, everywhere else I'd seen them boatbuilding they used sheep wool, that gets forced tightly into the gap, preventing the ingress of the ocean into the boat.
We turned and walked back to our place, taking another route and passing a market where there was a whole variety of goods on sale, all for locals, there aren't tourists here…. Well we haven't see any obvious tourists around yet!
The other thing I have noticed is that the 'usual' NGO workers and their named vehicles driving around town, are virtually absent. I'd like to confirm this, but it appears to me that the NGO crutches are not valued, nor wanted in Angola, and Angola want to help Angola, and if they do bring 'help' in it's on a commercial basis not an altruistic basis…. This could be very interesting as it prevents the dependency culture developing….. More research to be done, so just unsupported theories for now!
We were soon on the bikes, and did a motorcycle exploration of the down town area. I was surprised how large and business like it was…..
Riding out on a road parallel to the ocean, we passed a huge, central railway construction yard, owned by the Chines and clearly part of the big infrastructure build. I wonder what the deal here is….?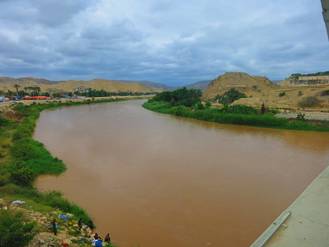 Crossing the impressive Cutembela river into the town of Lobito, I was amazed at the development and growth going on…. Angola really is in boom times! At Lodengo, we turned left off the main road which started heading inland, and continued following the coast, albeit quite a bit inland. The road was very interesting in its corners, and hills and valleys, unlike many of the long straight roads we did in Namibia.
Signs of boom times. We saw identical pink buildings at three towns
We decided to stop at Porto Ambiom for the day, a nice short, interesting and varied day's riding. It was clear this little ocean side town was going through some form of rapid expansion. As we motorcycled around looking for the elusive pension / hotel that everyone directed us to but we couldn't find, the picture became clearer. A sizeable harbour is in the process of being built to service the oil fields off the coast. Apparently, the Dutch and Chinese involved, and this will change the landscape of the place. A dredger was busy pulling mud out of the harbour area, and dumping it on Porto Ambriom beach, in what seemed like a very unsightly expansion of the already acceptable beach!
Porto Ambriom beach at sunset, with new harbour where the lights are
The beach front here was a collection of new and old resort type restaurants, and after another lovely Atlantic ocean swim, Rob and I settled into a very long and relaxing dinner, that also involved some planning for the Luanda days ahead, and our inevitable split up…. Rob was deep in thought about his decisions on continuing with me or returning to his car and trailer at Kasane, Botswana. I have lots of unknowns ahead of me as I attempt to cross into Cabinda, and then visa issues for Nigeria and the Cameroons, plus a lot more uncertainty in the months after that…. Rob was dealing with the exact opposite, the thought of tracing back the exact path that he had just come, to get back to his car, and then ultimately his family. We humans are complex hey, we want some uncertainty, but not too much, and some of us want / need a lot more than others….. Comforts vs Challenge!
In searching for this elusive and only accommodation in Porto Ambiom, I ended up going the wrong way down a one way street right in front of the Police station, with all the policeman standing outside! As I realise what I had done, and saw the 'old man', cop shaking his finger at me and then waving me over, I thought: "Well this is it, now you REALLY are testing the Angolan police character, and you deserve to be fined." Well, I apologised profusely, and got down on one knee to show him my remorse, and to my great relief the guy was fine, and was more interested in ensuring that I knew it was the wrong way. There have been quite a few times, where a corrupt mind-set would have delivered personal rewards, but in every case we have seen no evidence of any desire for bribes, corruption or even a form of begging I have seen from policemen of other countries.
We finally did find the 'only pension', and what a dump this was…! Our room, being the now, 'standard' dungeon, no windows out, no towels, and my bed had to be moved slightly each time we wanted to open the main room entrance door was also Rob's introduction to waterless bathrooms, where there are showers, urinals and toilet bowls, but no piped water, just a big drum of water in the shower, and a large water jug to execute the necessary! This all for US$100 per night!
Anyway after our long dinner, we both agreed we could sleep anywhere, and Luanda was probably going to really set new, value for money, standards!
---