Day 170 - Day 171 : An amazing ride down Lake Tanganyika to Kigoma.... I'm back in Tanzania

"Into Africa" More than a Motorcycle Adventure
Howard Fairbank
Sun 27 Oct 2013 07:47
04:52.49S 29:37.22E
I left Bujumbura, at 06h15, wanting to beat the traffic, and try and avoid another accident. I'd seen how busy the exit road I needed to use was, yesterday.
Well, I couldn't believe it the road was almost more busy this time of the morning, people walking to school, heading to work, and fortunately on the bike I could take the gap between the two lanes of traffic, but this time watching eagle eyed for the outlier drivers.
Soon I was free of the city, and it was actually a very abrupt change to open lake shore, with a village every couple of kilometres but wilderness in between. All the villages had serious subsistence fishing operations, and I did wonder how the lake's balance was being managed?
A very pleasant, 200km ride down to Nyanza Lac the point where the mountains (the face of the Rift valley) come down to the lakeshore and make it impossible to continue by road. The road heads inland, and essentially winds up the face of the valley in huge switchbacks that eventually took me to the plateau at the top (1800m).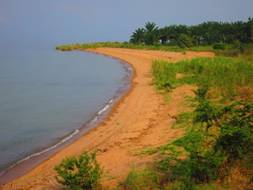 Half way along I found this single Lake resort, and stopped for a very special French style breakfast, complete with fresh croissants and cafe ole! I was the only guest, and the place looked geared for upmarket tourists.
Further on I came across the African Palm Oil industry at its best…. Huge African Palm plantations, and then every so often the primitive refineries with locals working to extract the oil.
Once on the plateau the scenery was very different, and instead of Palm tree plantations, bananas were the main crop. After about 50 km of tar road I had to take the dirt road fork to Tanzania. Five kilometres of dirt road brought me to the Burundi border post, which was very casual and easy. It was then another r10km to the Tanzania post, and I went through there without hassle. Soon I was back on good a tar road, gradually rolling down towards the Lake again. Kigoma was my goal, and I was pretty excited, given its history. The T junction saying Ujiji left, and Kigoma right, somehow meant a lot, as I knew both places had been significant in Livingstone's era.
I booked into Lake Tanganyika Hotel, yes another one, and this was my base for the next two days, as I did research on visiting Gombe Stream National Park, Mahale, and went down to UJiji to check out the Livingstone Museum etc.
22 October as per diary
Lake Tanganyika Hotel
23 October Ujiji, and Dr Livingstone
---