Gee, its nice to be free again, and at the ocean.....'Paradise' on the Atlantic at Limbe,

"Into Africa" More than a Motorcycle Adventure
Howard Fairbank
Tue 25 Mar 2014 09:52
04:00.58N 009:12.42E
21st March 2014.
After another restless night in the hospital, I was packed, and ready to leave by 6am, but it was still dark! (Typical Howard Fairbank, excitement, impatience, drive, call it want you want, but it is me!) I went down stairs to say goodbye to the nice staff, not sure what was the right thing to do….? Eventually I concluded that giving money would send the wrong message, and just gave them a very warm and sincere "thank you"….. I was back on the bike by 7am, riding through a still awaking Yaounde, so the traffic wasn't as bad as when I'd come in. After a much needed stop at a great patisserie, I was soon out of the clutch of the city, and on the rural road to Douala. With overcast skies looking threatening, I was always aware I may have to stop for raingear, but for the moment, the freedom of being out in Africa again, with my 'casual biking gear', was what I needed to savour and enjoy. There was quite a bit of traffic on the road, and it was clear that the road facilitates a strong commercial connection between the administrative capital (Yaounde), and the commercial capital (Douala).
Roads like this one, are always full of strange motor vehicle sites, and it always astounds me to see the carnage, and associated scrapheaps, on most African roads. Many times I had to ask myself how the accident happened, on a seemingly straight, or low risk road. The other thing is how many vehicles are parked off road, sitting on tree stumps, with wheels off, engines out, but clearly never going to see the road again. Then there are the vehicles that have made it through some serious trauma, but the owner clearly couldn't afford the appropriate panel beater. The still twisted chassis makes for a vehicle that crabs it's way along the road, with the front wheels on a different track to the rear ones The mind boggles, but hey THIS IS Africa live!
There is little evidence of tourism here, in both obvious tourists, and tourist offerings, it is almost as though this is Africa, just for its inhabitants. So it was quite a surprise when I passes a place displaying wood carvings, and a few paintings. I decided to turn around and go chat with the guy. Well, what a good decision, the site was a home, the guy was the 51 year old artist, and he welcomed me in, also introducing me to his wife. When I arrived he was busy, with a huge, open book wood carving, and I could see the guy was very talented. It turned out, he is a painter, sculpture and musician. What struck me was how content he seemed to be, just doing what he loved. He did explain to me that he was on a tourist bus route, and each year the number of tourists is growing. It was clear that tourist for him also meant Cameroonians who were travelling to the Atlantic ocean for a seaside holiday, similar to what I was doing. Challenging my thinking across many dimensions, he pulled out a wooden bicycle that he had made himself, and uses regularly for transport!
What was just great in the experience above, was that there was no in your face, persistent, sale process. I told the guy that I had no space for stuff, and also what I did, and he was just genuinely interested and wanted to share his life. Interestingly he called his wife to take the photos of us with his camera. He was genuinely inspired by my adventure, and the concept of really exploring oneself on one's own.
After the open equatorial forest, I could feel I was soon approaching Douala. Just before I reached the outskirts, those threatening clouds, decided I needed to experience their overladen offering, but rather than change gear, I pulled into a service station for a coffee and snack. Loud music, blaring, a vibe convenience store, and I knew the big city was close.
Well, with the clouds now happy with their lighter load, I set off to find the metropolis. No signs as usual, just the hope that I'll eventually hit the ocean, and then turn right to head up the coast somehow. Well the density and chaos of the initial, city sprawl, maze increased, but the signs of a downtown city 'centre' didn't. Seeing a newish, centre barrier, road heading off to the right, my gut said to take it…. Whether that turn was right or wrong, a good decision or bad, I'll never know. I spent the next two hours riding in very stressful traffic conditions, not knowing where I was going. It all looked the same, and being flat as a pancake, there were no opportunities to see ahead, or get perspectives. The motorcycle 'fleet' was probably the biggest of any major African city I had been to, right up there with Kampala, but here the motorcycles were almost in control. They come at one from all directions, and any slight, 'safety gap' that one leaves open, is immediately taken by some guy keen to show off his navigational superiority. Interestingly, in the Africa Phase 2, I have yet to see a woman in charge of a motorcycle. I think I saw five or six in East Africa, but here none. Once again, the motorcycles are used to carry anything and everything. I have seen many bikes with four adults on them, then piled with bananas, or carrying goats, strapped to the saddle. Interestingly here in Cameroon, lots of bikes have permanent umbrellas above the saddle, for bot sun and rain protection. (Clearly, with the traffic congestion there is no high speed risk!) The roundabouts in Douala were a real challenge. No right of way rules, it's just about getting enough vehicles around you to then take on the completion entering from where you want to go. On the bike, you just find a truck or car, take 'leeward' protection behind it and move as it moves.
After reluctantly agreeing with myself that this was the time I have got the most lost in a city, I did see some large, harbour type, oil tanks and a slight rise ahead. When I got to the rise, I saw railway line, and with a few thought through assumptions decided where the harbour was and where I needed to head. Well it all turned out good, and a finally saw a very small insignificant sign saying "Linde", and I knew I was there. I'm almost embarrassed to not know whether I had taken the 'perfect route', or I had done a few spiral circles to get to this other side of the city? The ego says it was the perfect route, but logic points to a disjointed hybrid!
Douala is on a huge river estuary, so not really, 'at the sea', and as I crossed the main river bridge, I could see the busy port, with ocean going ships docked, but I'd seen enough, to know this city won't rank anywhere on my favourites list!
Getting right to the outskirts again, I hit my first toll 'gate': On a real busy, yet single lane, main artery, out of the city, there is a rope barrier, with two woman, collecting the equivalent of $1 in exchange for a paper ticket torn off what looks like an old bookies ticket wad. Bikes don't have to pay so I was waived on….
Thankfully, I was soon out in 'the green' again. But this was commercial 'green', clearly, one of the agricultural powerhouse areas of Cameroon. I saw huge rubber, cocoa, and palm plantations, everywhere. The forests had been cut down and the hills were just covered in orderly planted farms.
Limbe, a beach side resort town, is the start of the tourist area, around Mt Cameroon, some 45 kilometres from Doaula, and this was my destination. Well I felt like I was back in Alaska, with lots of 'mile by mile' billboard advertisements for accommodation / restaurants
etc… eg "Mile 18 Maison Blanc, speciality food, Limbe". There is a maybe 100km section of this coast that has lots of holiday / tourist offerings, and the competition is clearly keen.
Riding into Limbe, I could feel it's more relaxed, sea side town, feel, and had soon found my home for the night, the delightfully 'quaint', yet in need of repair, Atlantic Hotel. Sea views, in an old colonial icon, with me probably the only guest. The sea view included a view of the many oil rigs just off the beach, and the night time entertainment was the dull roar of their generators, that turned them into sea grown, Christmas trees, at night!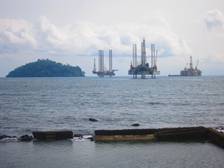 One of the real attractions in Limbe is the Primate Park, and I had to visit. In 2007, I'd raised some money on my Africa cycle for a project that was looking to revive the almost extinct Cross River Gorilla's. The Cross river is just North of here, and I wanted to find out more. Well, first up I met Jonathan, the zoo keeper, and we bonded to the point that he offered to show me around. Yes, they did have a Cross River gorilla, and it is the only one in captivity in the world. All their primates have been rescued from human abuse / captivity situations, and in 1993 the 'zoo' had been rescued from its likely demise, by an American couple. Jonathan had been taken on a Sunday visit to the zoo, by his Dad, and he was blown away with what he saw, and what could be done. His father wanted him to be a teacher, but he told him he was going to become zoo keeper! Well in a truly wonderful story about following your passion, Jonathan went from an unpaid volunteer, to now, proud zookeeper. He hand reared many of the inmates, and specifically the Western Gorilla in the picture below on the left. He told me the story how he lived 24 hours a day with this magnificent creature, but the day came when it was accepted that human contact with all the primates was not in the way to go, and they had to separate in their physical relationship. Jonathan told me that it was a very sad and difficult day, but he knew it was right, as the gorilla had got so strong, his adult to adult playfulness was a risk to humans, even though the animals intent was companionship. As I saw Jonathan communicating with his friend, now all alone, untouchable behind the electric fence, I had a deep sadness within, thinking about the difficult emotional journey both Jonathan and the gorilla would have gone through. The gorilla, not understanding the harsh action, would probably be struggling the most…..
Cameroon has some very unique and special primates. Unfortunately these are pictures from a zoo, but at least I saw a Mandrill, and then the almost extinct Drew monkey, which this Limbe primate park has taken on to rescue.
Here is a picture of Jonathan, what a remarkable, and inspiring story, and what I lovely guy!
I have been trying to get a decent photo of these iguana I see everywhere. They are special, but unfortunately also very dumb! So many times while riding along the road, I see one run out onto the warm road, getting past my line of travel and almost to the other side. It seems me coming, head bobs up and down as it's brain thinks through its options, it then rather than take the short route to safety, commits suicide by taking the long route back. It is almost like a suicide pact, as no matter how I try to avoid them, they lock onto my wheel. They are beautiful though!
---