Day 154: Queen Elizabeth Park, camping at Mweya

"Into Africa" More than a Motorcycle Adventure
Howard Fairbank
Mon 7 Oct 2013 05:26
00:11.12S 29:54.05E
I left early from my little cottage down at the lake, as I had a long day ahead, and also it was an exploring day: To find out if I could motorcycle through Queen Elizabeth Park, whether I could get to Ishaha Camp site by bike, and whether could get to Bwindi Impenetrable Forest from the Northern side? And finally I was looking for a road that was shown on my map as a short cut back to Kibale National Park, that would save me huge distance, on my return to see the Chimpanzees. Few would have done this tortuous route, but I wanted to maximise the use of my time, and yeah the way I had ended up getting Chimp[anzee and Gorilla permits had made this necessary. Anyway it would all be a great adventure, I assured myself of that…..
Instead of going back to Fort Portal, I opted to continue south on the dirt road, with a view to connect back to the Fort Portal Kasese Rd some way further south. Well this dirt road proved quite challenging in that it split and T'd quite often, so the villagers help came in quite handy at least three times!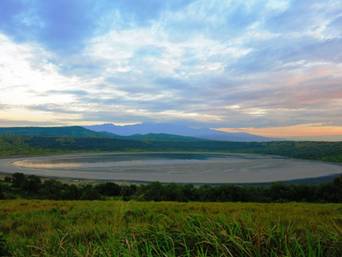 Mweya Campsite
7 Oct, by diary
Drive to search for road to Kibale, all the decoys…
Then Pavillion, OK to ride the park, and Ishahsa
Down to Kazinga Channel midway between Lake Edward and Lake George
20km game ride on my bike was very special….including the wallowing Hippo I nearly rode into…
Boat trip, great views, Aussie policemen, locals falling asleep, African skimmer,
Campsite, rangers paranoid, lions and hyenas that night, cell phones at 4am, French couple.
Elephant on the ride to set up tent
Mweya Safai Lodge lunch and dinner, all felt pretty good
Aussies from Murchison 's falls
6 October
---