On the move again!

Summer 2022
John Andrews
Sun 16 Jul 2017 09:48
38:40.8N 28:12.2W




Velas, Sao Jorge

We are on the go again! We have spent the last 25 days in Horta, unable to move on because our engine had to be removed from the boat. It transpired that the large following seas reported in our last blog had caused sea-water to get into the engine, past all the safety mechanisms designed to prevent such an occurrence. As a result, when we tried to start the engine, it seized up completely, and we had to sail the final 750 miles to Horta and be towed into the marina. It appears that being 'hydraulicked' is not that uncommon with boats arriving in Horta, so the problem with the engine was quickly diagnosed, the engine removed, spare parts ordered and the engine rebuilt and replaced. We carried out sea trials last night to test that all was well and set off this morning to motor the 25 miles to Velas on Sao Jorge.

There are worse places to be stranded for a month. Our first few weeks were very sociable, meeting up with friends old and new – some from Bermuda and some from the OSTAR who had been caught up in the hurricane force winds further North and had limped into Horta with severely damaged boats. Brother Tim who was due to cruise the Azores with us for 10 days in the event came for a quick visit to Horta so we hired a car and toured the island, fitting in a walk around the caldera and a visit to the moonlike ash-covered landscape of the Capelinhos volcano. We flew back to Flores for a four-day visit – a fabulous wild island – and made several visits over to Pico.

Ben and Fernande are due to join the boat in a week's time so we are planning to stay here for a few days before sailing to Ponta Delagada to meet them and set off for the UK.



Horta
Linda at the Caldera with Pico in the background
Flores
Messages on the Harbour wall in Horta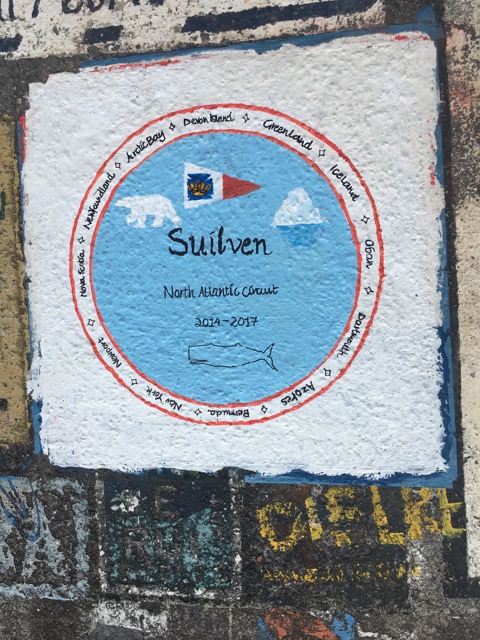 Suilven's Message
---