Crossing the Arctic Circle

Summer 2022
John Andrews
Wed 22 Jul 2015 16:18
Crossing the Arctic Circle
Today we crossed the Arctic Circle as we made our way to Sisimiut.
We have continued with our leisurely passage up the West Greenland Coast, enjoying the splendid weather and spectacular scenery, only slightly frustrated by the accompanying lack of wind. We'll forget how to deploy the sails if this goes on for much longer.
We have occasionally been reminded that we are in Greenland however, when an all enveloping damp, cold fog comes in. This has mainly happened out at sea, and as there are still icebergs around, good use has been made of the radar.
We have enjoyed making our way through the inner passages where depth permits using the beacons to help keep us on track and have found some delightful anchorages.
Most have been at abandoned settlements or fishing harbours. Although described as abandoned, a lot of the settlements actually have quite a few well looked after houses, which are used as summer or weekend homes.
We went ashore in Narssalik and were hailed by a Greenlander who was wheeling a bed up to his summer house on a wheelbarrow. He spoke excellent English and was an engineer at the power station in Paamiut. He invited into his house for coffee where we met his wife and young family. His wife also spoke good English and we were made to feel very welcome.
Another delightful anchorage was in a beautiful bay just North of Paamiut, at a settlement called Avigait. Again the houses were all very well maintained and new houses were being built. We were hailed from the shore and there were a lot of hand signals and wavings which we didn't quite understand until the next morning when we found ourselves rather close to a big rock which had appeared out of the water at low tide. A young couple came out in a motor boat to talk to us – the woman spoke very good English. There was a gun in the boat, and they explained that they were just off to go seal hunting. We asked if she knew how to deal with a dead seal and she just giggled and said that her parents would deal with it!
We've also anchored in some old fishing harbours and these really are abandoned, with the rather sad remains of what must have been really large fishing operations in the past.
There seems to be rather less ice on this coast than last year, so when we were in Nuuk, we decided to go right into the Fjords and look for it. There is a glacier at the top which calves a lot of ice into the fjord, and we had to abandon plans to anchor in Quornoq because there were some big pieces of ice in the bay. We had a bit of fun weaving through the ice, reminding ourselves of our ice experiences last year, but preferred to sleep soundly in a big ice-free inlet nearer to Nuuk.
A few days ago, we made our way up the Evigshedfjord to the spectacular glacier at the top. This is a wall of ice that must be 300 meters high. There were loud explosions and cracks as bits of ice fell from the wall into the sea below. We went as near as we dared, and then retreated to the impressive Tassiusaq anchorage nearer the mouth of the fjord.
It was in this fjord that we finally saw signs of abundant wild life. The cliffs surrounding the glacier are home to hundreds of kittiwakes, razor bills and other sea birds. We also saw a whale, apparently just resting at the surface.
We have seen a couple of whales at a distance and very few seabirds this year, apart from the ubiquitous fulmars. We have seen two sea eagles with their huge wingspan and distinctive white tail. We have also seen an arctic fox. It was creeping up on some nesting seabirds when there was suddenly a tremendous racket and screaming from the gulls and the fox scampered back up the hillside, its white tail making it very easy to spot. It had a second go with the same result and then disappeared. We've seen lots of seals of course, but mostly at a distance. They don't put their heads up for long – life span is very likely quite short if they do!
In our travels around the world we have got used to rubbing shoulders with heads of state – the President of Guyana in 2013 and the ex-president of Greenland in 2014. This year has proved no exception but this time with royalty – well nearly. We were told in Maniitsoq that they were expecting a visit from the Queen of Denmark the following Sunday. We didn't want to stay that long so set off North to the magnificent Evigshedfjord. On our way into the fjord we passed a Danish warship and then spotted two Greenlandic 'security' vessels, and finally almost at the top of the fjord what can only have been the Danish royal yacht anchored in a beautiful spot where a glacier comes tumbling down into the water. We raked the ship with our binoculars, but couldn't catch sight of anyone, let alone the Queen – perhaps she was having tea.
We may not have been invited to tea by the Queen, but we were invited on board Arctic Monkey for an excellent burger supper. The boat is owned by an American family with three young daughters, sailing a Garcia designed yacht, the same as Jimmy Cornell's. They were planning to attempt the North West Passage with us last year, but their youngest daughter was only two years old so they postponed the passage to this year. They are making their way Northwards up the Greenland coast, so we will no doubt keep meeting up with them. The girls need regular trips ashore to burn off energy and made a beeline for a snow drift in the Nuuk Fjord.
We also bumped into Bob Shepton on Dodo's Delight2 there. He is making his way South with his team of climbers before going back to Scotland. He came aboard Suilven and regaled us with stories of the frozen North and first ascents – marvellous stuff!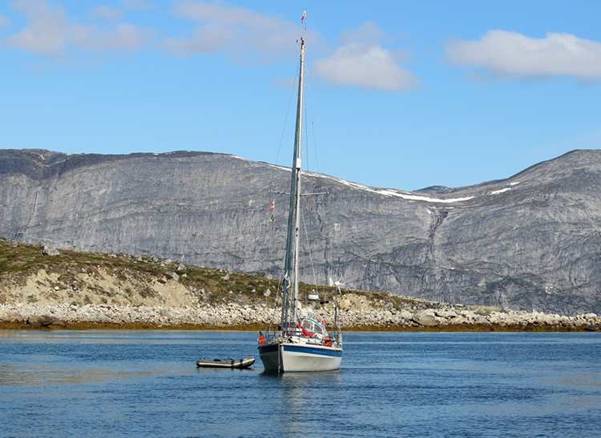 ---