FW: Shetland Part 1

Summer 2022
John Andrews
Thu 13 Jun 2013 12:24
The Shetlands Part 1
We have been in Shetland for a little over a week now, and have made our way from Lerwick, through the islands on the East of Shetland up to Unst, the most northerly of the islands. We have made a strategic pause here, fog and rain to be precise, as we want to make sure that we have good weather going over the top of the island, past Muckle Flugga, the most northerly lighthouse in Britain.
We have been sailing in a very leisurely way, doing only 10 to 15 miles at a time and have met the full gamut of Shetland weather, brilliant sun, dense mist, drenching rain, but thankfully no strong winds. In fact we have had to do rather a lot of motoring. The tides between some of the islands can be ferocious, but by doing all the calculations we have been able to make best use of the tides and have not had to deal with any of the problematic 'roosts'. Since leaving Lerwick, where there were quite a few visiting yachts, including RCC yacht Kelpy, en route to Norway, we have come across no other yachts at all. We have seen the odd ferry scuttle between islands and the occasional inshore fishing boat, but mostly we have been completely on our own. The islands are all low lying and treeless and from a distance look like gentle waves of green receding into the distance.
Closer to, however, there are some dramatic cliffs where the seabirds nest, strictly segregated by species and dominated by fulmars.
We have seen some puffins, guillemots, gannets and shags, and a few razor bills who appeared next to us when we were anchored in Fetlar. We have had several days out in the hills, mainly on peat moors and have seen countless lapwings, curlews, dunlins and golden plovers.
We have been made very welcome on all the islands, with people seeking us out to talk to us. We had the good fortune in Burravoe on Yell to arrive at the weekend when they were holding their 'Carnival'. This included a regatta on the Saturday with a fleet of about 12 boats, mostly Albacores, sailing well out to sea. In the evening there was a procession, with something like 6 floats, Pirates, Vikings, Star Wars, etc, followed by a barbecue and then two choices of music; traditional in the community hall or a band and disco in a huge agricultural shed that had been turned into a 'venue'.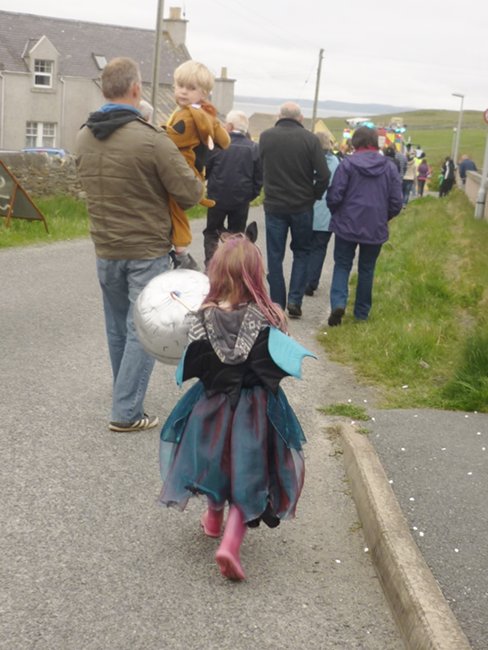 There are only 800 people living on the island so this was truly impressive. The only downside was that it was extremely cold and with no heating in the shed we huddled in our thermals and wet weather gear all evening. The cold didn't bother the Star Wars girls though. They happily sat there all evening in their diaphanous, skimpy gear – so not unlike London in mid-winter!.
Having walked through the village earlier in the day to find out what was going on, we found that we were greeted almost as old friends. A lovely evening in Shetland.
There were excellent facilities here, installed primarily for the use of campers, including very clean and modern showers and, joy of joys, a washing machine and tumble drier. All these were in a building which had as a roof and upturned lifeboat.
Our next stop was the small island of Fetlar. We had been having trouble with the outboard engine for our dinghy and now had a borrowed one from Lesley Bervin, a fellow RCC member from Lerwick. We were not completely familiar with the engine and had had to row back to our boat in Burravoe when we failed to get it started. With no suitable pier or pontoon we anchored some distance off a beautiful, award winning but deserted beach. Although fairly calm the wind was occasionally quite gusty, and we didn't feel confident about going ashore in the dinghy in case we had to row back against the wind. I was quite disappointed as I wanted to see the very rare red breasted phalarope that nests here in some numbers. So we had to content ourselves with sitting on the boat and witnessing the most beautiful sunset.
This picture, believe it or not, was taken at half past ten at night. Sunrise is only 4 hours later, and the sky barely darkens. They call it the 'simmer dim'.
Our next stop was back on Yell, where we saw the golden plovers up on the moors. We were intrigued, too by the peat cuttings. The peats were stacked to dry and they all had a white line about half way down them. On closer inspection, this proved to be a layer of sand. We could see the layer about a metre down from the surface where the peats had been cut. We read that peat gets laid down at the rate of about 1 milimetre per year. This meant that we were looking at an event that had occurred around 1000 years ago, around the time of the Norman Conquest and two hundred years after the arrival of the Vikings.
On then to Unst, the most Northerly of the Shetlands, boasting the most northerly post office, the most northerly inhabited house, the most northerly lighthouse, I suppose the most northerly everything. At the beginning of the last century, it was the largest herring fishing port in Europe, importing 10,000 workers in the season to cure and barrel the herrings. Now it consists of a few houses, a school, post office and two shops. We had one glorious day here when we walked over the hills, following geological trails and visiting nature reserves in brilliant sunshine, only to find ourselves holed up the next day in pouring rain and practically nil visibility. A local highlight is 'Bobby's Bus Shelter', voted the Best Bus Shelter in Britain by, yes, Buses Monthly Magazine. Check out the website – www.unstbusshelter.shetland.co.uk – it is a hoot. The current theme is sheep as can be seen from photos below.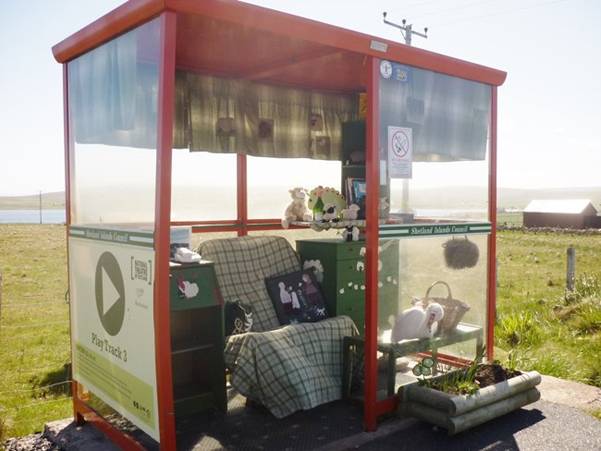 The other place of interest near us was the Baltasound Hotel, where we thought we could at last find somewhere to eat out. Bear in mind that we are almost as far north as you can get in the UK and in a particularly isolated spot, we were surprised and disappointed to find that there were no tables available for the next five days. They couldn't even squeeze two of us in. This was due to the fact that they had won an award as the best restaurant in the Highlands and Islands. Sadly, we will not be able to pass comment. The salmon(see below) remains excellent however – our Waco freezer box is doing its stuff.
Shetland is an odd mix of the very ancient and the very modern. Despite being part of Britain, and very enthusiastically so, no Scottish independence wish here, it seems strangely foreign. The place names are predominantly Viking in origin with their voes, hamars and burras. The countryside is littered with ancient remains. Iron age brochs sit on many of the promontories, so many that a lot of them are not marked on the OS maps.
There are numerous sites of old Viking long houses and more recent medieval castles.
There are also the remains of countless crofts, the inhabitants evicted to make way for sheep in the 19th century. Even more ancient are the remains of Neolithic settlements. The extraordinary site at Jarlshof near Sumborough Head, combines all of these elements. The older parts have been astonishingly well preserved beneath the sand dunes and date from 2000 years BC.
Even older are the rocks that make up Shetland. We have tried our very best to understand how the rocks were formed, and there is a lot of information available, but frankly the words are all too long and meaningless and the timescales just too vast to get our heads around. You can't really avoid being aware of the complexity of the geology however, and I have found myself collecting samples of pebbles and rocks and bringing them back to the boat trying to work out what they are. I am really going to have to keep this one in check!
On the other hand, Shetland seems to be far more connected to the modern world than the Western Islands of Scotland. They have the most modern fishing fleet in Europe, huge trawlers and purse seiners that are family run and have made some of the islanders extremely wealthy. The downside of this is that you don't get approached by people in small boats, offering you lobsters and crabs they have plucked from their own pots. Instead, one has to make ones way to industrial estates and fish processing factories to acquire these admittedly very fresh and tasty items. We did however, have the good luck to be offered a fresh salmon from one of the fish farm boats moored alongside us in Lerwick. Industrially produced, it had been sucked up from a fish cage along with several thousand others and dumped into a large tank where they had all been administered a fatal electric shock. Despite its unromantic provenance, it was a lovely fish, weighing about 12 lbs and with well developed fins and tail, due apparently to having to swim in the strong tides in the area.
There was so much that we shared it around neighbouring boats, and were still left with several meals worth for ourselves. I can confirm that unlike most farmed salmon that I've eaten, this one had really firm flesh and was absolutely delicious.
The other dominating factor in Shetland is the vast oil terminal at Sullom Voe. This has brought a considerable amount of wealth into the islands. Although it dominates the head of the longest Voe in Shetland, it is really not too intrusive and it is only when you get quite close that you see the tanks and thestack flaring off the excess gas.
Finally, the wifi bat from mailasail is doing excellent service. We have intermittent mobile connection but so far, I have always managed to pick up a signal and log in using our BT account and maintained contact with the real world. Hope this now goes through ok.
---