Battle Harbour and L'Anse aux Meadows

Summer 2022
John Andrews
Sat 22 Aug 2015 18:37
Battle Harbour & L'Anse Aux Meadows
And now for a bit of history.
We wanted to visit Battle Harbour as it has been used by European ships from as early as the 16th Century. It was gradually developed as a summer fishing port and then later as a year round settlement by the British who moved up to Labrador from Newfoundland when the French were dominating the fishing further South. It was in use primarily as a cod fishing and salting facility until the 1970's when the cod fishery finally collapsed. This meant that all the buildings, which were largely original, were in a good state of repair and were preserved with many of their artefacts and are now looked after by the Battle Harbour Historical Trust.
We were given a very warm welcome by the manager, and made good use of all the excellent facilities. We decided to treat ourselves to an evening meal in the restaurant which was excellent. We joined the guests who were staying in the various cabins in the settlement which are all beautifully restored. We had our first taste of Newfie baking, a delicious rhubarb cobbler. Baking seems to be a big thing in Newfoundland, along with home-made jams and preserves made from the abundant berries that grow here. It's all very homely.
One of the excellent facilities in Battle Harbour is a bar and to complete the experience there was a musician who had been invited to come and play for the week who regaled us with Newfoundland songs and stories, almost all about disasters at sea or trouble with women. He was a dab hand with the spoons and had a bag full which he handed round to the assembled company to produce the most dreadful clacking cacophony. He also produced an extraordinary percussion instrument called an ugly stick, which came complete with boot for stomping on the floor, bottle tops on nails to rattle and was topped by a rather spooky doll's head which served no discernable purpose other than to unsettle the audience. He said the instrument was developed for playing in the close confines of a 'kitchen party' which sounds like rather a nice, homely idea.
Ben playing the Ugly Stick
On our second day, the harbour began to fill up with yachts. A large ketch was already moored up when we came into the harbour. Next to arrive from Foxe Bay, just over the water was a small Canadian yacht that overwintered with us in Lewisporte and was on her way back. More were to come, our old friends Arctic Monkey and then the French yacht that we had moored alongside in Nuuk. The French and Canadian yachts had both been very adventurous and had gone well north of Nain to the Torngat National Park and had seen both polar bears and black bears.
The day was beautifully warm and sunny so we were able to enjoy this small island at its very best.
It was so warm that the boys both decided that another dip was in order. The sea temperature was only a chilly 8.5 degrees, but undaunted, they jumped off the back of the boat, and seemed to be positively enjoying the experience.
Our next port of call was to be L'Anse aux Meadows, the site where they have found positive evidence that Vikings landed there in about the year 1000, five hundred years before Columbus 'discovered' America. It was another dawn start in flat calm as we motored out through the bay where the Minke whales were breakfasting.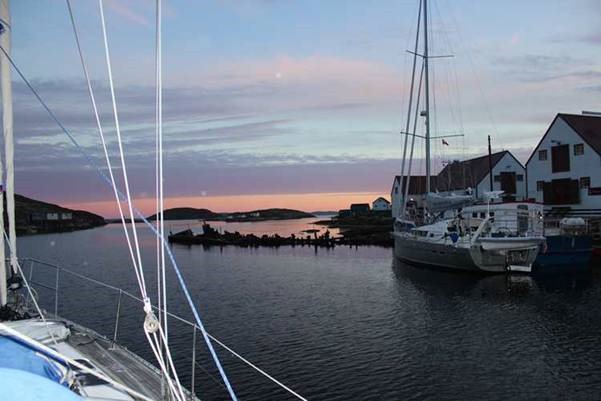 L'Anse aux Meadows is in Newfoundland, across the Strait of Belle Isle, a notoriously unpleasant piece of water, and we wanted to make sure that we didn't hit any serious wind when making the crossing. The wind remained light all the way and we were delighted to see abundant bird life at last and also a new type of dolphin, the white beaked dolphin, a group of them that were feeding energetically, putting on quite a performance.
There are two replica Norse villages in Anse aux Meadows. One is run privately and houses the replica Viking ship that was sailed from Greenland to Newfoundland in the 1990's, but which in other respects appeared to be rather fraudulent, (a Viking church?).
You can also live out your Viking fantasy although rape and pillage is off the agenda.
The other visitor centre is the real one, government owned, and built right next to the site where the original Norse dwellings and workshops were excavated. The museum contains some of the artefacts that were found at the site, surprisingly few, but there were iron boat nails, cloak pins and a round, clay loom weight that seem to point conclusively to the fact that the Vikings did reach Newfoundland. It is thought that they came in search of timber which was not available in Greenland and that they did not overwinter, but made repeat visits over a period of about 10 years. A board walk takes you to the excavated site where you can see the foundation mounds of the original dwellings. They have built a replica village of turf houses with wonderful grass roofs which is 'inhabited' by people in norse dress, going about their daily lives, weaving, cooking, forging iron tools etc. They are very knowledgeable and it's not as Disney as it sounds.
A cafe on our way back to the boat gave us the to sample some more Newfoundland home baking – cream filled doughnuts accompanied by scoops of vanilla ice cream, eaten on a terrace looking towards Cape Bauld, the most northerly point of Newfoundland. The weather is warm and sunny, but apparently this is the first warm weather Newfandland has seen this summer. They have been shivering in temperatures of 8 to 10 degrees enduring fog and rain. Greenland has definitely been the correct option this year.
Our plan now is to make a big hop South to Woody Point in Gros Morne National Park. With a fair wind this is only 180 miles, but the forecast is for head winds, so we may be several nights at sea.
---