January 2012 Blog

If Knot Y Knot
Patricia Day
Tue 31 Jan 2012 22:27
January 2012
Sunday afternoon is usually Dominos, we had arranged to play at the restaurant that we had celebrated New Year – although ours ended at about 10pm, which was past Cruisers Midnight (9pm), but we couldn't last until 0000. I launched the dinghy and put the outboard on and off I went to Sta Catalina island. I didn't get very far when the motor stopped and trying to restart it I lost ground and was heading out to sea. I rowed and managed to go sideways to shore. I was in 6" of water and too shallow for anyone to rescue me, so I tied the boat up and walked to the restaurant. I had a tow back to the boat after I had rowed out into deeper water.
Monday - I topped up the batteries and serviced the 3 pump strainers in the cockpit locker. These are very difficult to get to and they were fine. I had another attempt at the inspection hatch on fuel tank 1. I hope I have made it a tighter fit to save leaking diesel until I can haul out and replace it properly.
I checked the outboard , which had stopped when the fuel had run out of the tank. The fuel pipe had split, this was the second time; last time I cut off the split end, but this time I replaced the pipe.
Tuesday - I was waiting for instructions from Raymarine on how to fit the new motor for the autopilot. I got an email saying that it was policy not to tell me as it was not an end user part, but there was a hint so I knew which end of the tube to start. Luckily this meant I only had to take off the wheel and could work on it attached. Bob came over and we got the old motor out. The new motor required soldering. Steve came over for this as Bob and I are not confident on soldering when it is this important. Evidently the flux is very important and I had forgotten about that. The new plastic cable connector, which was what broke originally and I think caused the low voltage problem, is not a good join so we taped this under the waterproof cover. At anchor I can only check that the motor works, but I hope this will provide me with the extra help I need motoring. The difference between single handed and single handed with autopilot is immense. I do have the windvane, which is wonderful, but motoring into wind and current is sometimes a must and seriously tiring unaided.
Wednesday – 3 boats left, going South and we all moved forwards in the anchorage, there is less roll here, but only 6-7' of water.
Thursday - Got a lift town just to get off the boat. Had a close look at the ferry on the dock to see the damage the Guarda Costa had done to it. There was also a different version of the event, which made them into heroes, preventing a nasty accident – whereas in fact they were the cause.
Also there were 2 containers that have been towed in from the reef, these would have been floating at water level or just below and could have damaged, or probably sunk, any yacht that they came into contact with. One thing about being near the Panama Canal for so long is that you see so many ships loaded with containers you wonder just how many do fall off.
Friday – Rowed to town dock. The island tour was postponed for better weather. There has been an accident and it has shaken the island. The freighter Miss Isabel operates between San Andres and Providencia and brings supplies. There was an explosion and with no time for a Mayday the 7 crew were in trouble. The boat has not been found, but 4 people made it back to land and 3 are missing. One died and two of the others are injured from shark attacks. The only notice to land was by cell phone as they were about 9 miles out and one swam back, taking 19 hours.
I took the bus, which took about an hour to go round the island, 2000 pesos. Today was the first day this year the bus had made it all the way round without breaking down and having to offload passengers onto taxi trucks. The bus is a flat low sided truck with ply seats, sides and roof. When it rained we rolled down the tarpaulins at the sides. Providencia is a volcanic island and very green – ie has a lot of rainfall.
A fisherman was selling his catch from the dock and I asked for one fish, he insisted on giving me 3 and would not take any money.
In the afternoon we had an early game of dominos as we are hoping to leave soon.
Saturday – Wind Whisperer have power generation problems. Either they get their generator working or they borrow an alternator from Sapphire, but they intend to leave with the rest. Tomorrow is Sunday and Monday is a holiday, so I spent the last of my Columbian Pesos.
Sunday - I decided to leave today. I should have checked out yesterday, but I wasn't sure if the weather and seas would have settled enough. I contacted the agent, Mr Bush, at 8.30. I arranged to meet him at 9 and the Port Captain was sitting on his balcony waiting for me. Not until that is done is immigration contacted, so it took 2 hours, which was still really good at short notice on a Sunday and Monday is a holiday.
I walked over the bridge to Sta Catalina to sit outside Bamboo Restaurant, which is the only internet I could get to work, and I could not connect from the boat. Internet has been very bad here and even international phone calls were not going through some days.
The shops are empty of fresh produce and eggs, the supplies were on the boat that sank.
I got back to the boat and left at noon. I motored for an hour to the sea buoy and then sailed for the next 29 hours. I had to put the engine on a few times when the boat was too close to the wind and tacked. This left it 'hove to' and with the strong current and 8' seas it was the only way to turn back into wind. The wind was 15 knots and the angle was good, but the swell was setting me off 60 degrees and so I was close hauled, which was not as comfortable as it otherwise would have been.
Red line is boat heading, Green line is where I am actually going – when the current reduces these come into line.
Monday - In the morning the US coastguard came up, this time they read the name off the boat, they were very close. They asked all the same questions as 4 weeks ago, but insisted. I was not pleased for some reason. Partly because they sneak up without AIS, it is obvious when they are close, but worrying to have an unidentified boat in these waters. Also they ask detailed questions that mark my route, speed and the fact that I am alone; which is information I would rather not divulge off the coast of Nicaragua.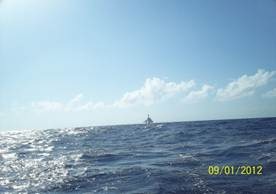 I used to record my position hourly, but I go such a small distance I now do it 6 hourly.
17, 12, 22, 20 and 25 – 100 miles in 30 hours. Time to make a decision. Either I keep sailing which is now a very comfortable 90 degrees and spend 2 more nights at sea, or I motor sail and get in just before dark on day 3. The wind is lessening and generally 10 knots and so I decided to motor sail. I can use the windvane, but now was the time to see if the autopilot works – which it does. I have 100 miles between reefs and usually in under 100' of water, so I can relax more.
PipeDream must have left the day after me. Last night I heard the US Coastguard spotter plane side of the conversation with them. They had tried 2 anchorages on the way, at intermediate reefs, but were worried about the activities of local boats - another reason why I want to get settled into the anchorage. It is good that the US Coastguard is out here helping to keep us safe, but they still shouldn't need to ask all the detailed questions as routine.
Tuesday – I have been motor sailing since 6pm last night. The wind is light but I can average 5 knots and have been making 30 miles every 6 hours. It is still going to be close on arriving in daylight; although I have had a full moon.
There is land to both sides in the distance. On my portside is Honduras, I am officially past the Nicaraguan border, and on my starboard side can only be cays above reef level.
I did not get any diesel in Providencia and might make it to Vivirillos on one tank, 20 gallons.
I am happy to sail at 3 knots, 2 seems slow, 4 is great and 5 is a rarity. Now I have been motoring for over 12 hours at 5 knots, anything below that seems slow. My rev counter is one of the things on the repair list for haulout, I have to go by the sound of the engine.
I was coming near to Vivirillos and there were shrimp trawlers seemingly determined to get me. The first one was scary because they didn't seem to have a course. I abandoned the last waypoint and concentrated on staying out of the way of the trawlers and near to the anchorage.
I was in by 4pm and anchored in 11' of crystal water in a beautiful patch of sand and put out 150' of chain. Once anchored the trawlers changed from scary to impressive as they went out to fish for the night.
I thought PipeDream should be somewhere near and Fine Line also responded to my call. They had left a day earlier than intended and they were going to anchor at the intermediate reefs, but they heard the conversation with PipeDream and decided to continue. They did not have time to get to Vivirillos before dard, but anchored at Hobbies, which is about 15 miles north. They had been hailing me for 50 miles before, but somehow my radio was on 67, not 16 and 68. PipeDream was with them.
I had a good 12 hours sleep.
Wednesday
It is amazing to be anchored in the middle of the sea. Just a few palm trees on sand and a reef.
At 7am I had the genoa down to mend the split at the edge of the sacrificial strip, bad furling causing this. I only used stick on tape, but it should hold until I can sew over it. I was rather hyper all day and kept finding things to fix. I tried to fix the new kitchen timer, but eventually broke it – there are an enormous amount of tiny parts in there, some I don't know where they pinged off to. Then I fixed the old timer and should have left it. I thought it would be a good idea to replace the rusty metal cog with the new plastic one, they seemed the same. So now I have 2 broken timers. I also tried kill or cure on the old camera, so I think that is dead too, but the waterproof case I can give away. Tested the rechargeable batteries and threw away the ones that would not recharge.
After a busy morning of destruction I made some pan bread, followed the recipe, except I read 2/3 cups milk as 2 to 3 whereas I think it should have read 2/3 cup – the 's' makes all the difference. I cooked it anyway and it was disgusting, not even fit for fish bait. Give up, read a book and go to bed at 6.
Thursday
I did manage to fix the SSB receiver and was able to hear the weather at 6am. Wind Whisperer was asking about when to go to Guanaja. Today and tomorrow should be no wind, but no seas either; whereas after that it was forecast to be big 12' seas. Decisions had to be made and the others were staying at Hobbies and would move down to Vivirillos if they did not have enough protection. WW was going to move down tomorrow because I was on my own, which was very thoughtful. I was edgy and decided to go today; PipeDream was also leaving this morning and would be in radio contact for a few hours.
As I was motoring I ran the watermaker to fill the tank. I don't usually do this going along, but it was very calm, no danger of the inlet water being starved. I cannot get the monitor to work with the computer with the navigational program on, so I will just have to use the small screen. It is the sun on the screen that is the problem and so much easier with the big monitor. I also cannot get the mouse to work, but that is definitely a mouse problem, something wrong with the battery connection, but this is also a nicety not a necessity.
Just after 1 I wondered why I had slowed down, because the wind was on the nose, how was this? Somehow the autopilot was going backwards. I had only done a few hundred yards in the wrong direction and corrected this. I had just learned to trust the autopilot again – always be vigilant. Maybe I put something on the table above the fluxgate compass that affected it, let's hope so.
I spoke to PipeDream just after noon, but by 3pm they were out of range. They will be getting in tomorrow. 25 miles out and one of the trawlers passed me going back to the anchorage.
I am struggling to settle and did read , but don't want to be too tired for the long night to come.
The conditions are very pleasant, hot and sunny with a flat sea, but it is a shame that it is motoring, 3.5 knots. The wind is less than 5 knots. I did not want to motor through the night and the wind picked up to 5-8 knots and was downwind. The genoa was not being filled, so I tried wing on wing, but there was now a swell that made that inefficient. I just used the main with a preventer and that got me 3+ knots. 1715 I turned the motor off. This was ok up to 10 knots of wind, when the speed went over 4 knots and I changed to the genoa alone which also gave me 3.7 knots. Because I am having to string this 155 mile trip out for 48 hours I am having to pace myself, so kept reducing the genoa until I only had a small corner out. The swell was very uncomfortable, but I didn't see another boat all night. Two timers down and I broke the alarm clock and am now on my last one.
Friday – 0600 I had done 70 miles with 85 to go, and was nearly halfway by 24 hours, perhaps I had slowed too much. I have Day/Night/Day/Night, get in the following day.
Tried to listen to the weather on my SSB receiver, doesn't seem to cover this area and nobody coming this way asked for a report. I checked my fishing line, I had only caught a large plastic bag and lots of sea moss so far, but they all put up quite a fight to reel back in. It took 2.5 hours to go from dark, bundled in Fleece and towel to keep warm, tidy up the boat, reset the main and balance the boat, to full daylight and shed all the clothing. My course is dead into wind, which has gone South of East to keep up with me. I set a waypoint for the autopilot, left it on standby and that gives me cross track error, which I find most useful for correcting the course, rather than keep checking the Course Over Ground, which can vary constantly in a swell, or the chart plotter, which is indoors.
I mended the mouse, which was battery connections, same as the radio – marine life is tough on electrics. Tin foil on the battery ends helped, but was not very reliable and I will probably have to buy a new mouse. After the mouse took a bounce down the companionway steps later, it is dead.
At 1800 the wind dropped to below 5 knots and I turned the motor on, I left this for 6 hours with the genoa up and was making 4.7 knots. I am not sure that I checked the wind strength much in that time and it may have been too long, but it gave me some rest.
2100 I changed to tank 2, fuel still returning to tank 1, because there was now space and I want to empty tank 1; I transferred ¼ tank.
Saturday - 0000 motor off, 20 miles to go, I arrived off Guanaja at 5am and had to wait and drift a couple of miles off until it was light at 7am, which steadily gets later as you travel North. The monitor was now working and I put it in the cockpit with the computer under the sprayhood. I was very thankful for this and that I had got a little rest, as it was an entrance that needed to be accurate. PipeDream hailed me and said that they like you to check in to Honduras straight away, so I went over to the town. I anchored a few hundred feet off, inflated and launched the dinghy and rowed to shore.
The town is on a small island inside the reef and is chock a block full of buildings with pathways between and extending on stilts into the surrounding water. With the help of one of the security guards at the bank I was directed to Immigration. I knocked and I am sure I had to wait while the man got out of bed. I needed a copy of the Zarpe, so off I went. I used the ATM for Honduran currency, 20:$, and the bank guard directed me to where I could get a photocopy. Back to Immigration and that was easy, 90 days. Now I needed the Port Captain, again the security guard was wonderful. Not only was check in easy, it was also free; which is a good price. I popped into an internet café, just to let people know I was still alive, but could not get a sim card, so cannot get internet on the boat until at least Monday.
Then I had to find the dinghy and the pathways were so confining I had no idea where it was, but all I had to do was get to the shore and work my way round. Then a squall came through and I had to wait on the boat until I could move. I went over to the Bight and anchored with the other sailboats, there were only a few and I only knew PipeDream, but I had never met them. That evening we went to the restaurant onshore and then I slept.
Sunday – the island is a small mountain range with some houses on the shoreline and a very few in the trees. There are no roads, you can only hike the mountains, so everybody has a motor launch. The only town is the one where you check in, you even have to take your trash from the mainland to a boat moored there and they take it and burn it on the end of the island. We went to the bar again and there was a very drunk man that tried to be friendly, I was not in the mood and he got the hint. I thought it odd that nobody did anything about him, then I found out he was the owner – oops.
Monday 16th – spent the day on the boat. Did a lot of computer filing.
Tuesday – Steve is running in a new outboard, as his previous one was stolen, and also has a new dinghy, about 12'. We went for a trip to town, which doesn't take long to circumnavigate. The only play space for the kids is a building with concrete walls made of blocks with airholes in, it is very dark. There is no space between buildings and a lot of building work going on.
The main island has one smaller part on the West end separated by a canal, which is only deep enough for dinghies. We went through the canal, past the tiny airport, to the other side of the island. It is beautiful and virtually no population. The water is clear and is good snorkelling and nice beaches.
Wednesday –Set off for Roatan, about 35 miles to Jonesville. This is the first day trip I have made since Colon to Portobello, back in October. I was leaving at 6, but refused to leave in the dark; I was going out a different way and did not have a track. It was light enough just after 6.30 and slowly I went out through the reef, but this was not as scary as coming in the first time. Tried to motorsail, but the wind rarely went above 5 knots and I motored all the way. PipeDream overtook, they were going to French Harbour and Samurang overtook, but Steve was going to Jonesville.
The autopilot worked very well, although there was a strong swell and it had to work hard to correct the course all the time. It was difficult to see the turn to Jonesville – what would I do without GPS. It was a very narrow entrance between reefs and I anchored.
There is ocean hundreds of feet deep, a narrow reef and then 3' of water, it makes an inland waterway for the boats round the edge of the island, although there are roads on Roatan. Steve has been here before on his boat and his motorbike and we went for ice cream in the next anchorage and then to the shops and BJ Bar in one next to that. This is where I found out that somewhere I gained an hour, it is Central American time now, which was why it was dark at 6am. The only way to get light at 6am is to move 6am until later. We went back to our anchorage and over to the Hole in the Wall bar, well known in sailing circles. There was a shrimp boat, which isn't a small item, on a dock in front of a house, just like you would park a car in your driveway. To get there they had to avoid the shallows and get under the power cables, which are higher on one side of the bay, but still cool. We met a couple there who now live here and they were so familiar I felt as though I had met them both before somewhere, but couldn't have – that would be quantum physics at work?
We got back to the boats at 1900, which is only 1800, but I am very tired and off for an early night.
Thursday – Set off for French Harbour, only 6 miles away and no wind. There are 20 boats in the anchorage and I am on a mooring ball, for probably the first time since Bonaire, but this is free. Hailing channel 72.
I rowed over to the Iguana Park and it is truly amazing, so many and so large, Walking all over the path and on the roof of the cages which hold something that I did not get to see as it was solid iguanas outside.
The lady who runs the Park has a brother, Sherman, and I wanted to ask him about a solid dinghy. I had to wait all day, but he came by and I am going to see the mould tomorrow.
Mike has built a marina, very protected behind the anchorage. He only bought the property 5 months ago and has done an amazing job, it is the centre for yachties. $3 a day or £15 a week for dinghy dock, hot showers (wait till WW get to find this out), wifi and bus to supermarket. They came riound yesterday to take pizza orders which are then delivered to there. Mike also put in the new buoys to mark the channel – 5 boats went aground last year. I had waypoints, but used the buoys instead as it is easier and it was fine.
Friday – I went over to see the dinghy mould and decided to order one, it is 80" long and should be started next week. I am planning on having a hole through the bottom, with a plug, for the babystay and then it can go on the foredeck, but the angle will have to be carefully measured.
Saturday – there is a private bus from the marina to the supermarket. I was going to get my deposit back on my 5 gallon water bottle, but was told to leave the bottle, no return deposit, hmmm. It was a very good supermarket nd , it even had English muffins and Australian soft licquorice, so that makes it excellent.
When I was in Portobello at the end of 2010 Oliver was there with his boat and in the anchorage was his previous boat that he had sold – it was sold to Mike who owns this marina and so the boat is here. I linehandled for Oliver through the Panama Canal to the Pacific side and you can imagine my surprise to find him sitting at a table here. He wanted a less rolly boat for the Pacific and so sold that one in California and bought a catamaran in E US and is heading back down to the Canal to go through again. Small world!
I am trying to drill out four holes on a fitting I had to cut off when I swapped the chain and it is very hard work, so far I have done 3, the 4th is holding out on me. It was pot luck tonight at the marina, but I didn't go. They are a very friendly crowd, but I will go in tomorrow.
Sunday – Swap-meet this morning. I sold my hanging chair, inflatable mattress and a set of imperial allen keys, proceeds $22. I bought a pump strainer, dive weight, 3 zip up pouches and an anklet, cost $12, profit $10 and some space on the boat.
Samarang and Pipedream moved on, I expect the other boats will catch up with me soon.
Monday – I sold my aluminium propane tank for $10 as it needs a new fitting, now I don't have a spare, but without a new fitting I didn't have a spare anyway. I went over to Sherman's twice, but he wasn't there. Later Wayne told me I should go over and confirm my order as Sherman is expecting to hear from me today. I had already said yes 3 times on Friday, but I went over again. A fishing boat was on his dock and it had lots of 4'+ fish, they just kept being tossed up from below; he does seem to have a lot of pies to put his fingers in. He said he would start the dinghy tomorrow.
I gave him the fitting I had been struggling with, to drill out the 4th hole, I have done nothing but try and clean up rust stains from the iron filings in the cockpit.
After putting in the order for the dinghy I checked my email and had one from work saying that they would do without me this year, no money from there to pay for the new dinghy, but after an initial wobble I didn't cancel it.
Tuesday – Since getting the email I have been going over and over whether I should take the boat back to Europe as this is the first chance I have had April to June, or whether to stay here, which means another hurricane season hunkered down, which would be Rio Dulce, Guatamala this year.
I expected to be able to see family and friends when I went back for work, but now it would have to be an airfare just to see them, again from saved funds. I got very down and had to force myself to get on with something. I went over to Fantasy Island a very nice resort with a stunning beach and lagoon to the reef. Then I went to the marina and there had been more than a little contretemps (hint) with a cruiser, who in the end was barred. There are a small contingent that try not to pay the $3 a day and use the wifi and we have had to have new passwords practically daily, so we have just the $15 a week fee. The guy came back with a letter, which is up on the noticeboard – his English is good, but he should just go somewhere else if he doesn't like the rules here, it is a private club and the rules would not have been changed if he had played fair in the first place.
Wednesday – after 24 hours I feel more stable and don't think I will run back to Europe just yet. If the wind was favourable I contemplated heading East as far as St Marteen and then I have the choice, but the wind is and has been strong for a while now and it is always going to have a large Easterly component. I will wait for the dinghy and then reconsider my options. I did not even venture off the boat today.
Thursday – went over to check on the dinghy. Sherman was not there, but I collected the fitting that had been beautifully drilled, problem now is that I don't have the bolts and I can't get a shackle to fit that will then come through the anchor fitting. I visited the iguana park, which is next door to Sherman and he actually lives there. Sherman told me that the boat that had his materials from the mainland had engine problems, so he won't be able to start the dinghy until next Tuesday – is this 'island time' kicking in?
Friday – went in to check my internet and that was the morning gone, but at least the wind has been calming down the last couple of days.
Saturday – went on the supermarket bus. A boat came back from Guanaja yesterday that is trying to get to Panama; they have been trying since December, but the bugs were too bad to stay and wait for a weather window in Guanaja. They told me that the trio of boats I was with arrived there a few days ago. The problem of getting North from Panama is matched by getting East from Honduras – once you get to the corner it is downhill the rest of the way in either case, but getting to the corner of Honduras is tough. I am feeling more inclined to go somewhere other than Guatamala once I have my dinghy.
Sunday – Mask, snorkel, fins, scraper and scrubber and into the water I went to start to clean the bottom of the boat. An hour of that and I can take the rest of the day off – Dominos at the marina.
Monday – another hour scraping the hull and my reward was to be a trip to town. Then the weather changed and it is wind and rain in squalls, so the trip was cancelled. Then it cheered up, it was too late now for lunch in town, but I went on my own. I rowed all the way, which was quite a long way, but it was now calm. Sound Effect were originally coming to lunch and they came in when I arrived as they needed something from the hardware store so I went with them. It is not really a town of any sort, supermarket, fuel station, hardware store. There is a small mall, which I did not go to, but will save for another day. Coxen Hole, where the cruise ships go, is tourist town, I will have to get a taxi or a bus when I decide to go there. The outboard started, but then stopped and I was towed back to the boat.
Tuesday – the day started with wind and rain and it seems set in for the week. I ran the watermaker because it needed to run, but only for 15 minutes. The overcast conditions mean the batteries do not get topped up as there is not enough sun and the wind is just in the squalls.
---