Astra Log Day 9 - Half Way Party - Story & picture of dinner party

Astra
Jeremy & Sally Paul
Wed 5 Dec 2007 15:56
The Curious Incident of the Bird in the Night Time
We put the kite up at sunrise yesterday (Tuesday), made best of the 8 knot wind, stopping for only two things. One was the routine (by now) morning catch (this one a 10lb dorado reeled in by Nicky). The other was our regulation mid-Atlantic swim (probably the only one you'll ever have 1200 miles from land and in 4000 metres depth).
We then had our celebration dinner mid-afternoon as our ½ way stage celebration, cooked by me (JF), fillet steak, onions, potato wedges, red wines jus and magnum ice creams (that will make some boats jealous if they haven't got a freezer!) a nice red wine to wash it all down (kite still up, steered by Alfie still doing a great job).
When it was getting dark we decided to leave the kite up till the first squall, By 10.30pm it had not arrived, very inconsiderate, we reorganized the watch so either I, AR or NR were there at one time and we always had 2 on deck.. Emergency alarm set if we needed to get the kite down in a hurry. We had no squalls, the wind got up a bit and we made 7 knots+ most of the night.
At some time around midnight, there was a flutter and a squawk, and a gull decided to hitch a ride, he slept on the side deck till 9.00am then just left, and also left his/her mark on the teak deck!
Whilst talking about Alfie, he has left his Raymarine passport at home, hope they let him into St Lucia.
TTFN
JF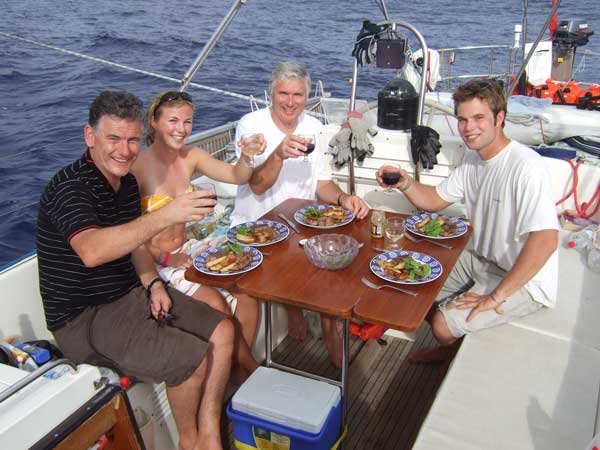 ---