BVIs 3

Tamarisk
Wed 26 Apr 2006 23:08
From Road Town, we motored South and West, dodged between a couple of small islands at the end of Tortola and headed North to Jost Van Dyke. We had 25 knots on the nose and tacked with one reef down - first time we've done that for a while. In squally rain we picked up a mooring off a tiny island called Diamond Cay in between Jost Van Dyke and Little Jost Van Dyke. There's one bar and a bit of land being cleared for 'Waterside Apartments' on the JVD side.
On Little JVD, there's an old jetty and a couple of ruined shacks. You can walk from one island to the other in about a foot of water over the reef. The surf breaks over the reef on the North side. A big flock of terns live on the sand near the jetty. Pelicans flop into the water fishing in the evening. One day a man wandered around the reef holding a large machete - looking for lobsters, maybe? Just round the corner on LJVD, there are rocks around which the current has scooped pools about ten feet deep. These were excellent snorkelling. We saw lots of fish, cuttle fish doing their strange synchronised dance and an octopus that changed colour in the blink of an eye.
One night we barbecued on LJVD with Koshlong and Wild Alliance. When it got dark we built a fire out of driftwood. Another dinghy then arrived with some Canadians including one with a guitar. They distributed harmonicas and shakers among the children and led a fine old sing-song. Penny was in particularly good voice for Coward of the County.
The following day we walked round the North of JVD to a break in the cliff where the surf crashes through into a shallow pool. It was great fun. That night we were all invited to watch Zulu (the film with Michael Caine) and drink port on the deck of Wild Alliance. The children watched another film in the cockpit. In the slower bits of the film, you could look at the stars - both Polaris and the Southern Cross are visible here.
Wild Alliance, Kosh Long and Tamarisk off Diamond Cay, reef in the foreground
Going ashore on Little JVD
Helping Wild Alliance through the shallows
The only sign of habitation on Little JVD
Investigating the rock pools
Anna tells a fishy tale while Eddie swims by in the background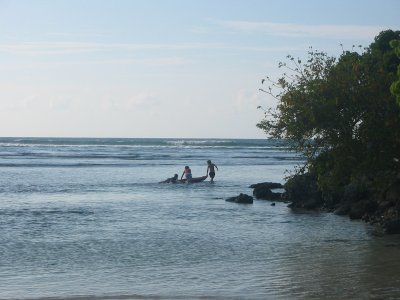 Eddie, Will and Joe play with the Koshlong kayak
Sitting down for barbecue supper
Round the campfire
The blow-hole
More blow-hole
Bruising fun
Eddie and Chloe watch while Penny and Emma come up for air
Turk's Head Cacti - weird heh?
---